Archived News
June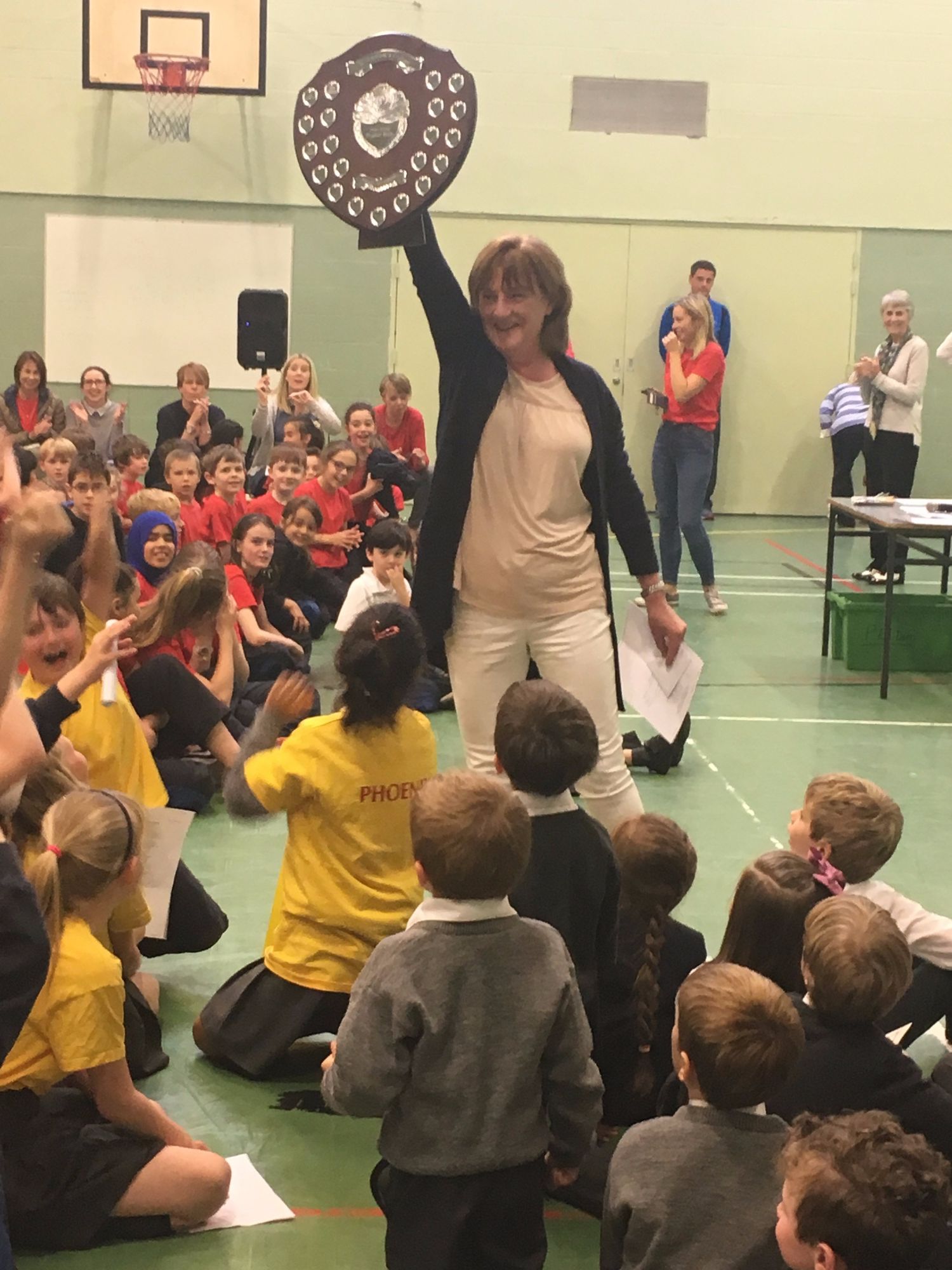 🏆🏆🏆🏆🏆🏆🏆🏆🏆🏆🏆🏆🏆🏆🏆
Congratulations to all those in Phoenix, House Winners 2017!
🏆🏆🏆🏆🏆🏆🏆🏆🏆🏆🏆🏆🏆🏆🏆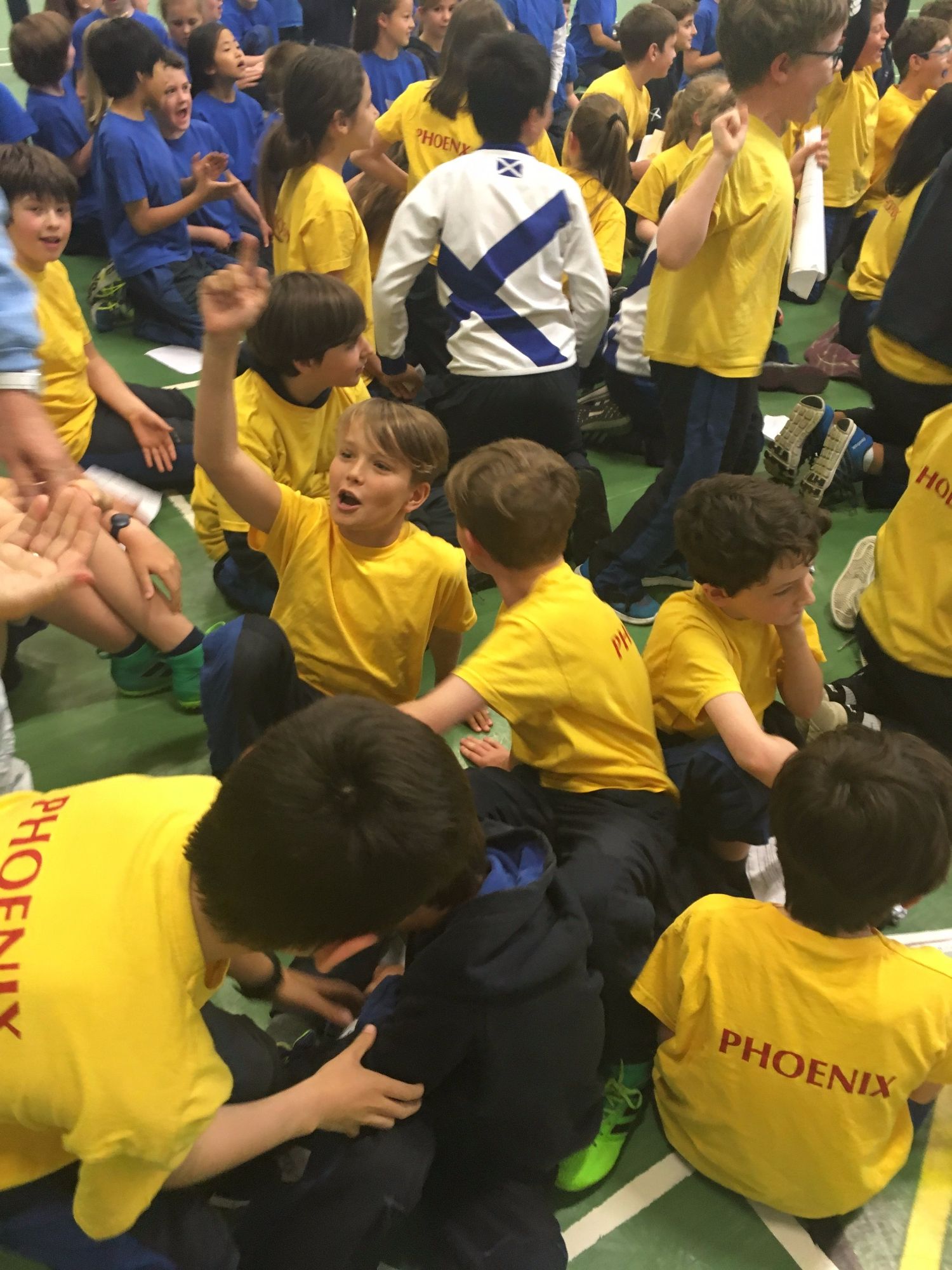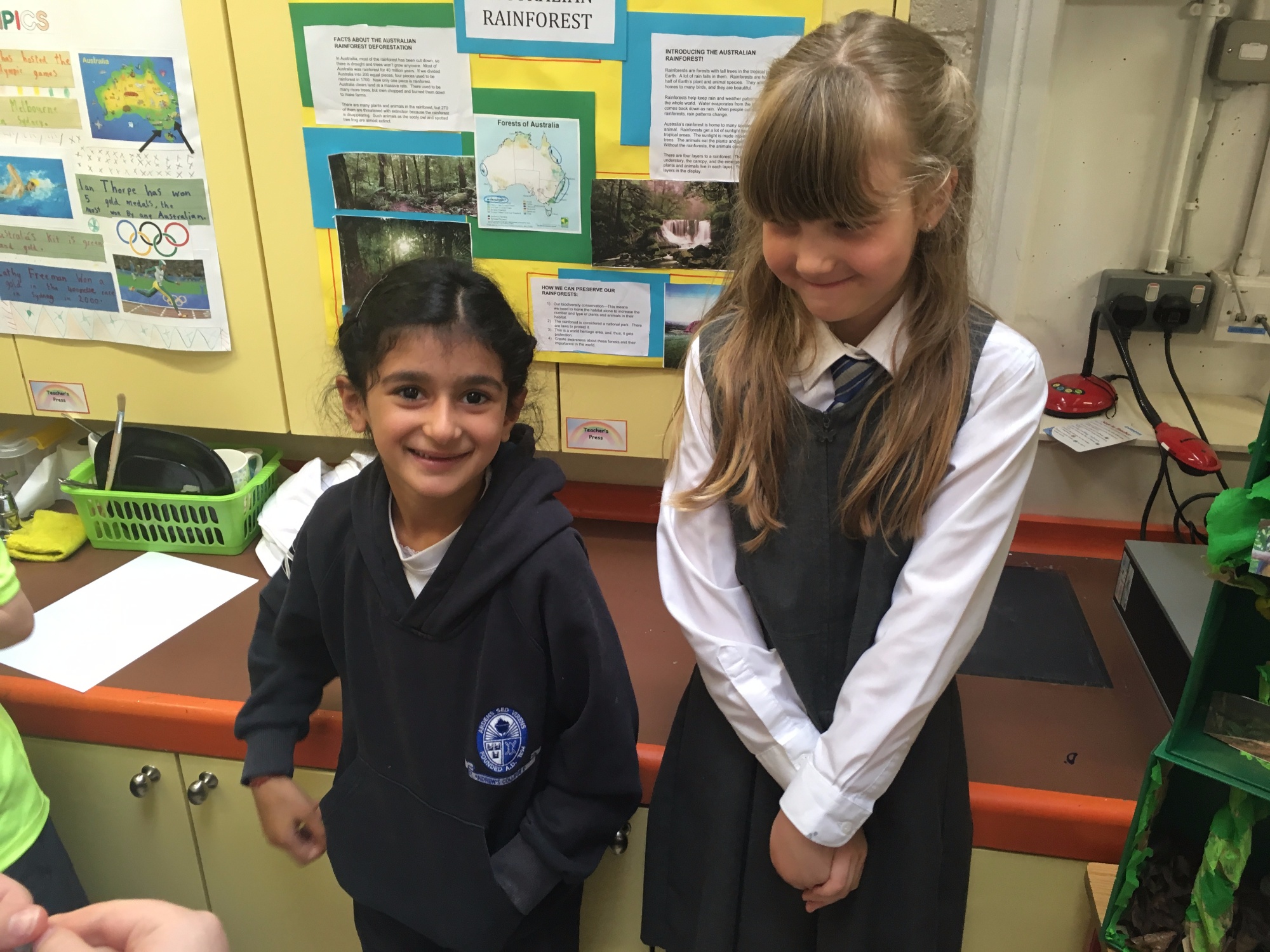 P1 hosts their very own Australia Day!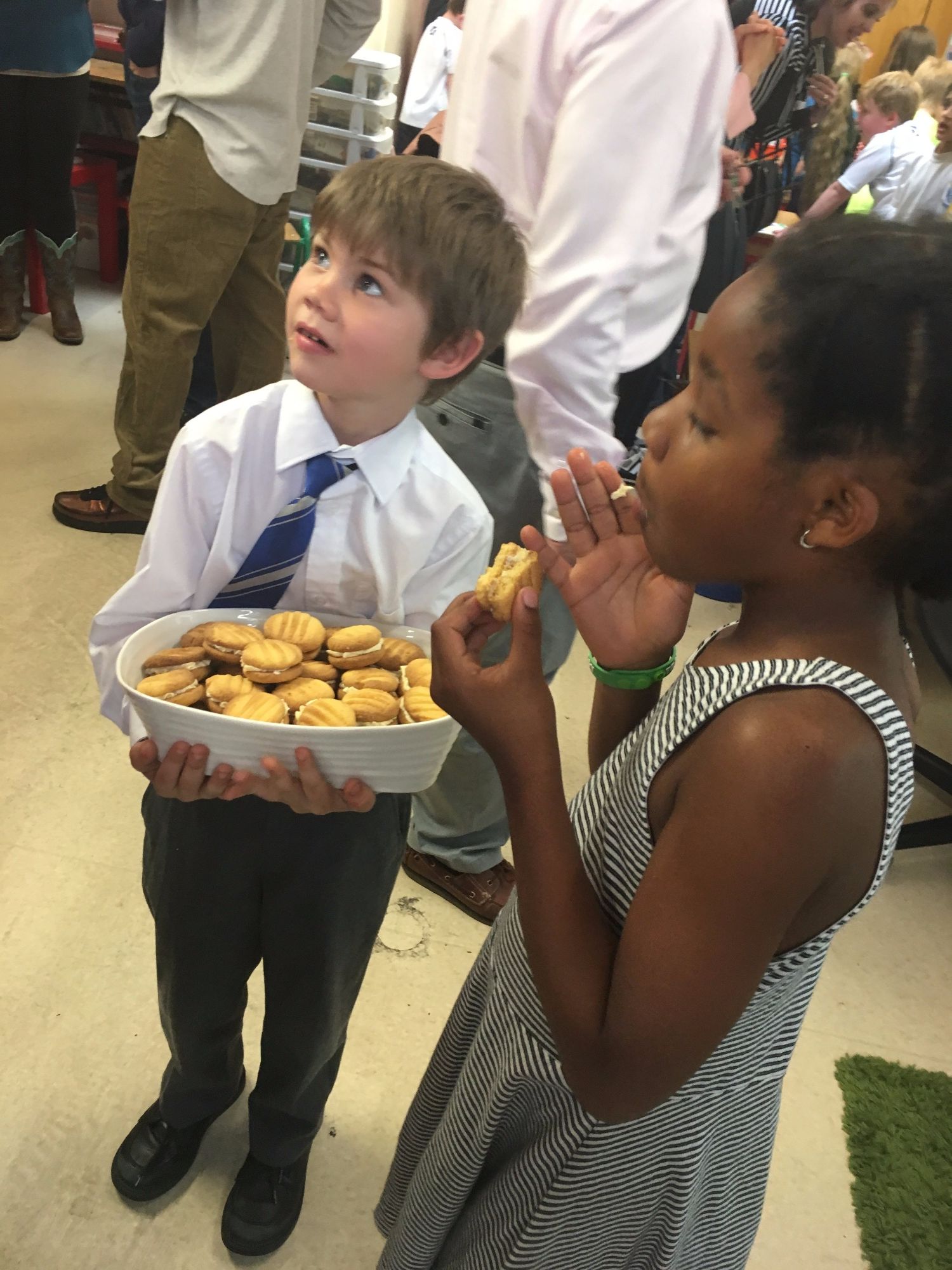 Waltzing Matilda, waltzing Matilda... That's what could be heard from the door of P1 as they hosted their very own Australia Day for the rest of the school and the parents! Congratulations to all on your wonderful projects and fantastic learning about all different aspects of Australi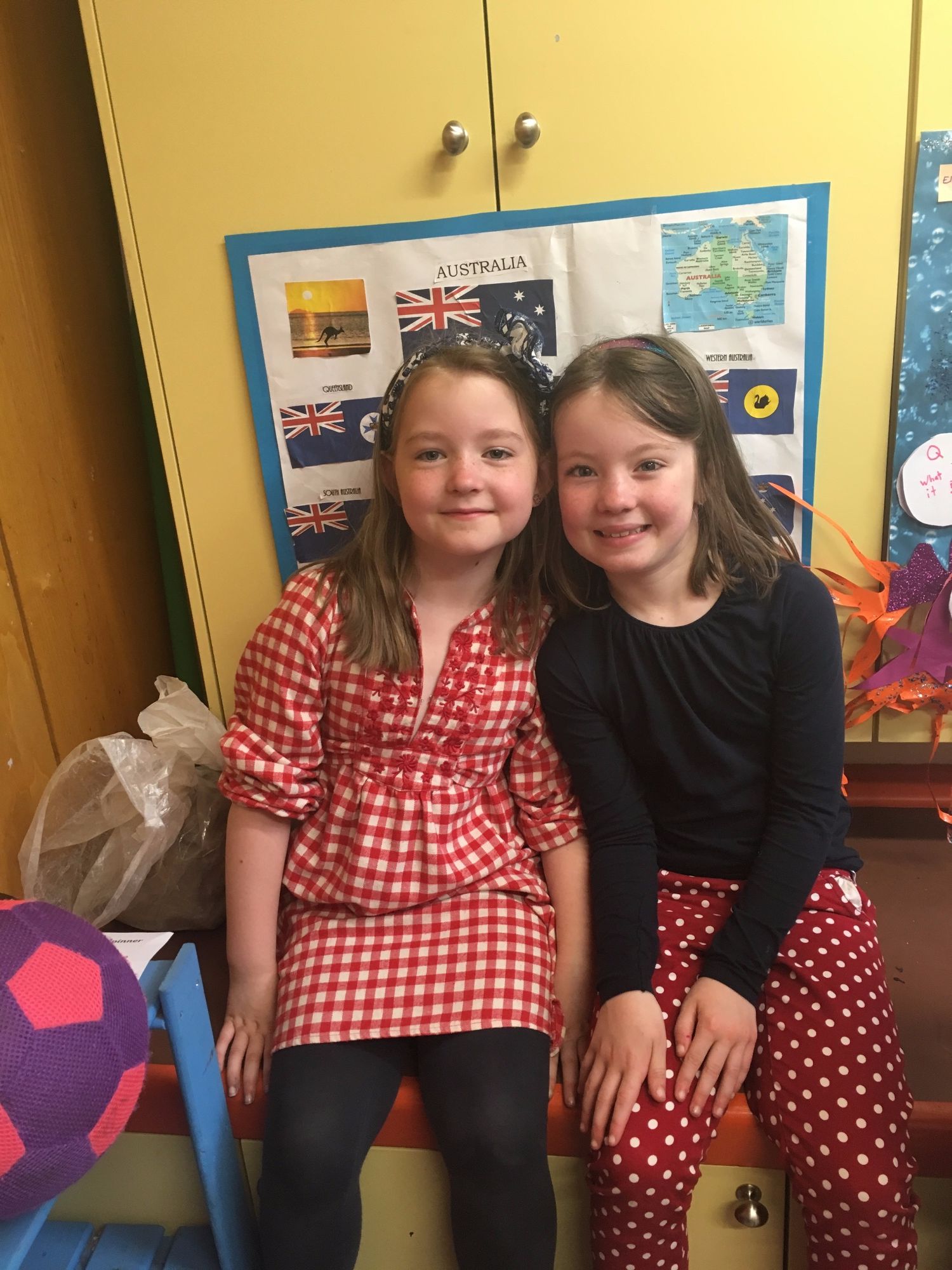 an life and culture!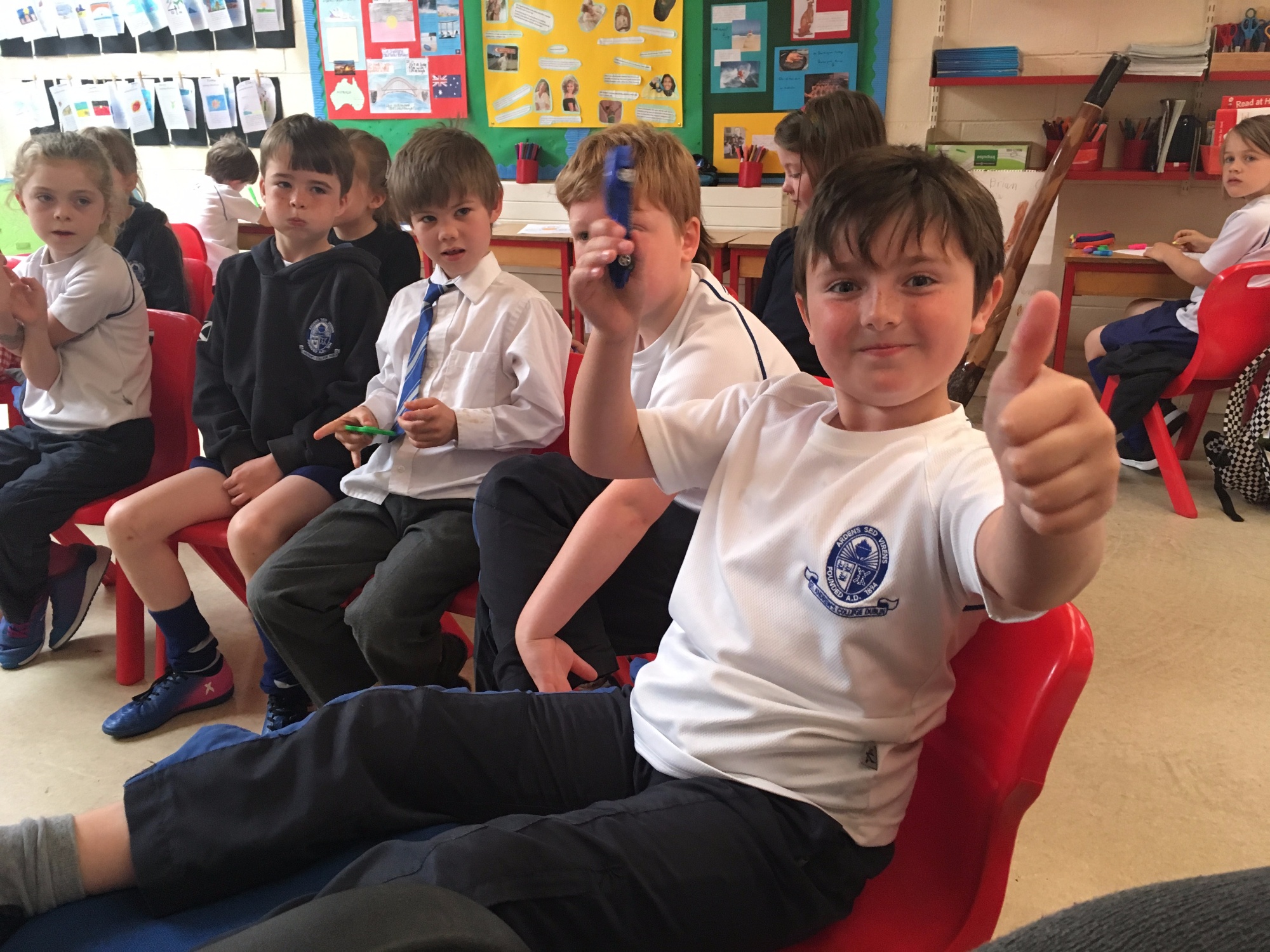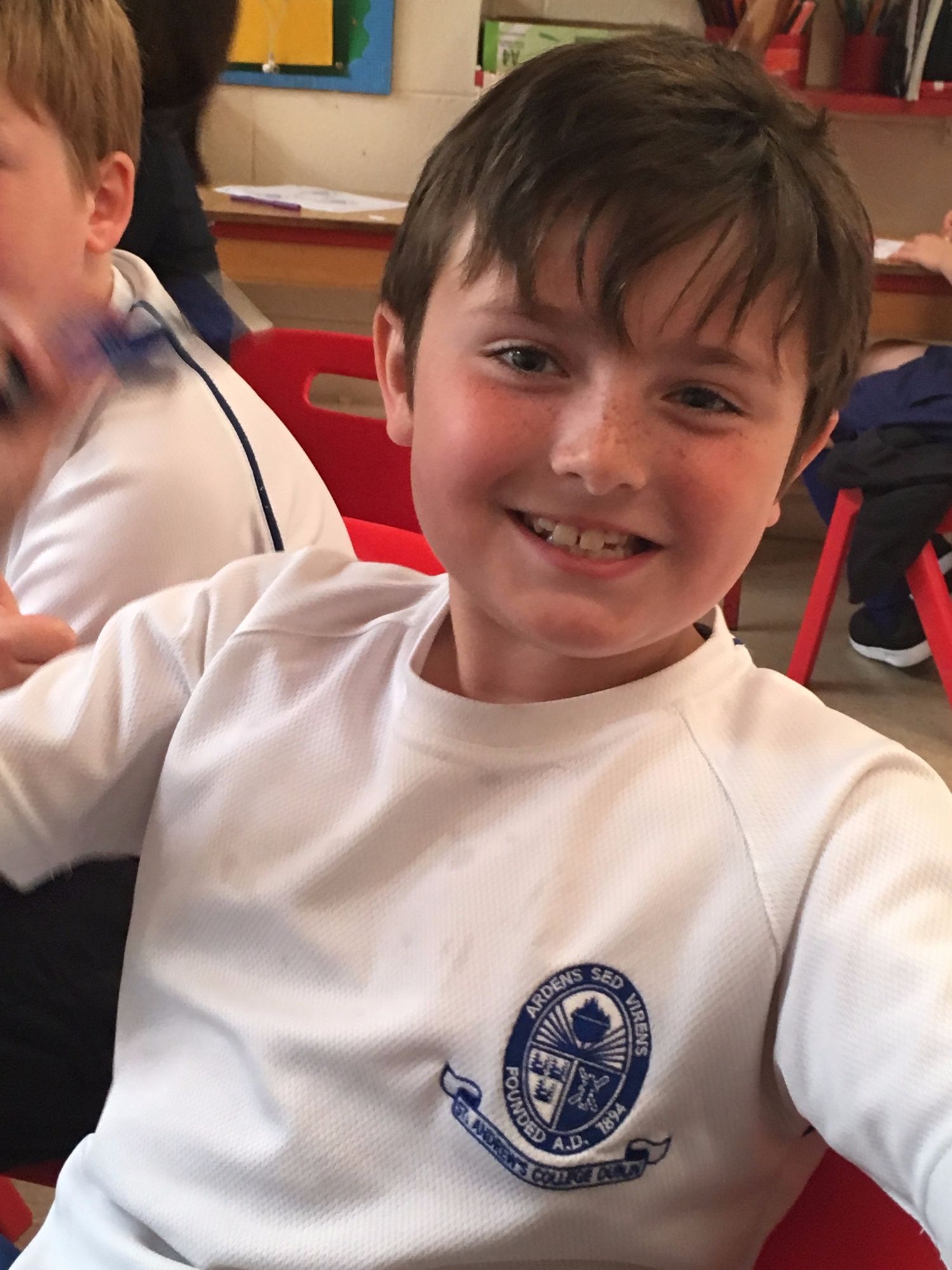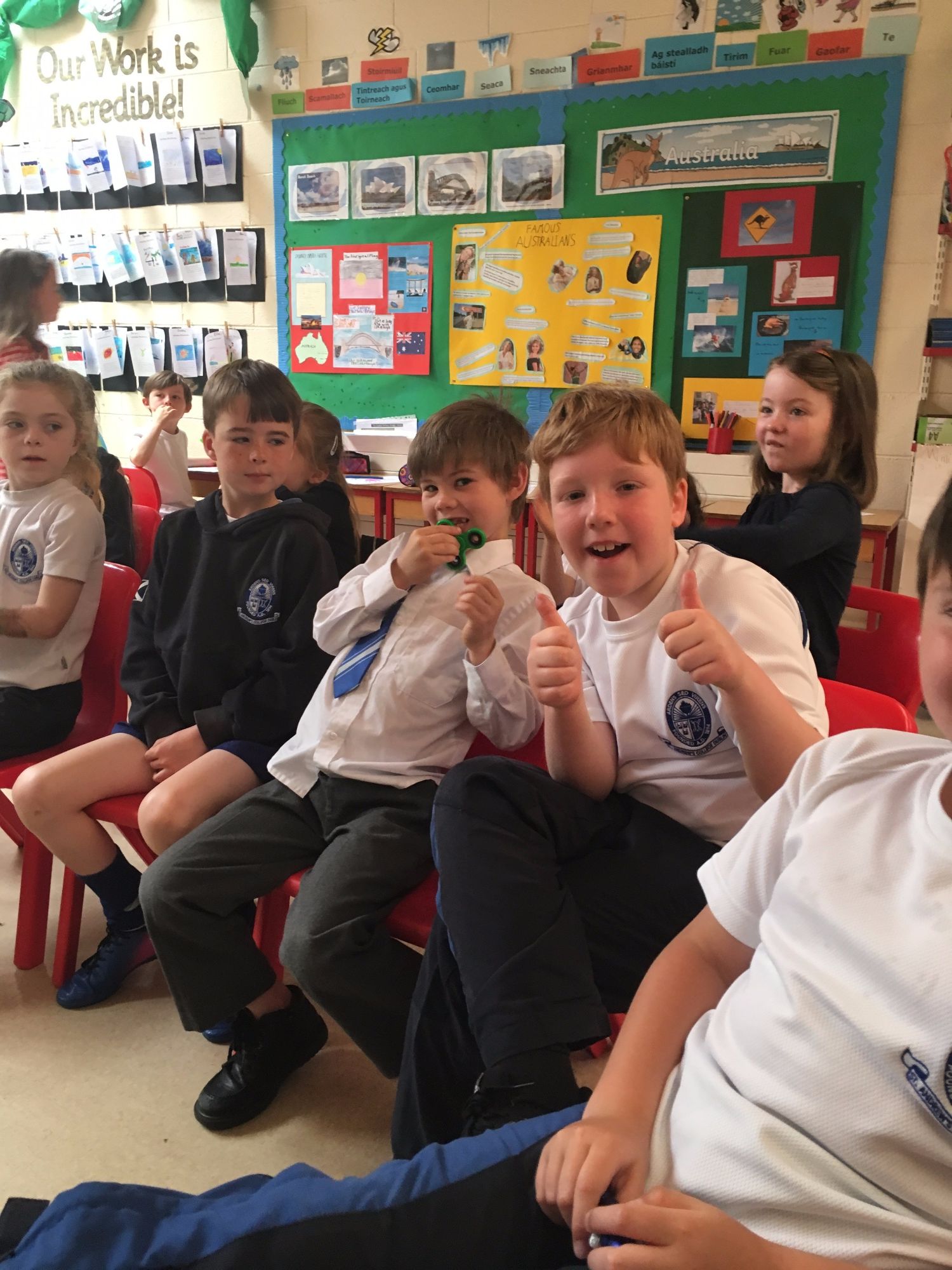 May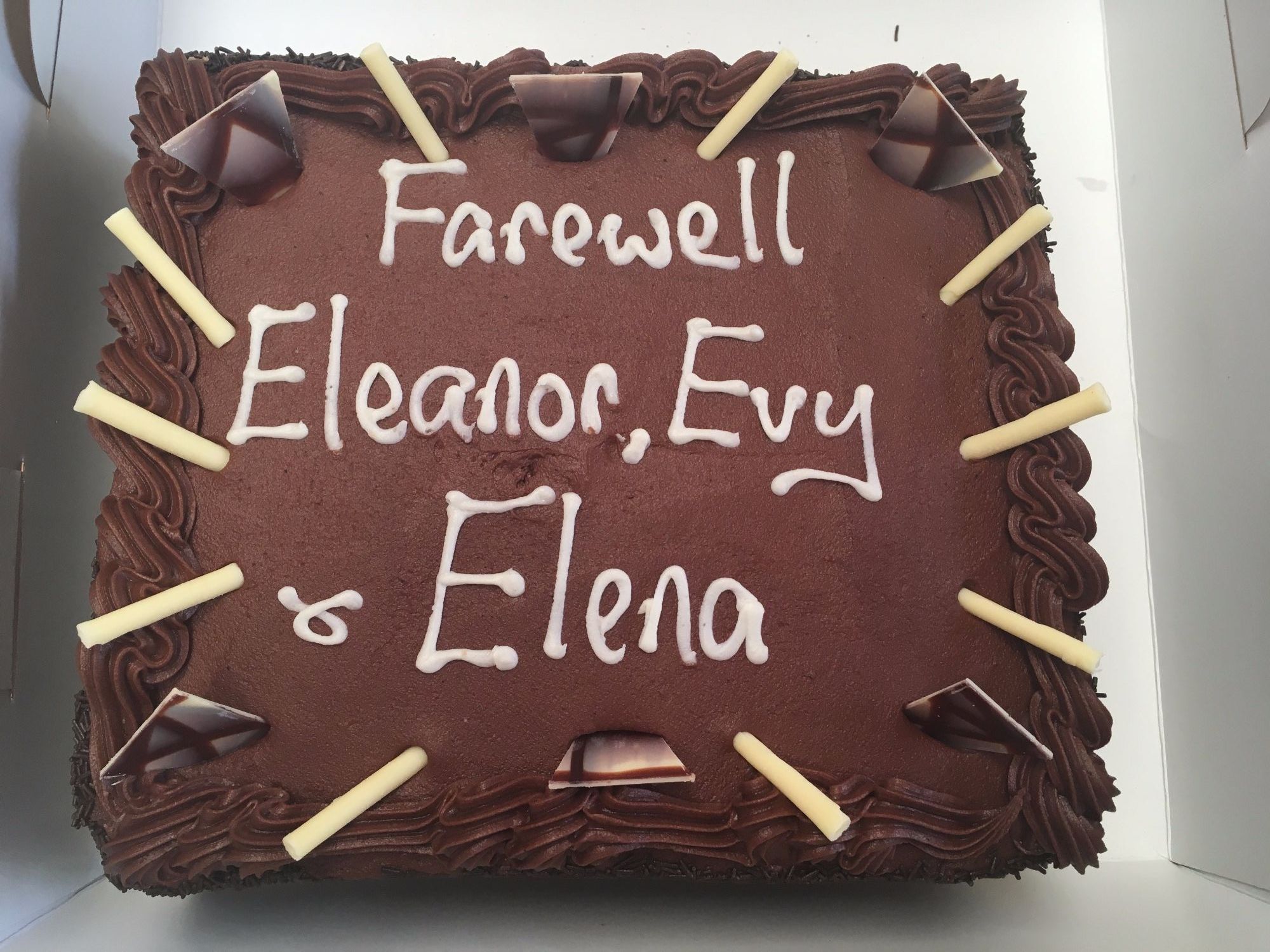 Bye Bye Elena, Eleanor and Evy in P1.
We will miss having you in our class. We wish you all the best in your new school!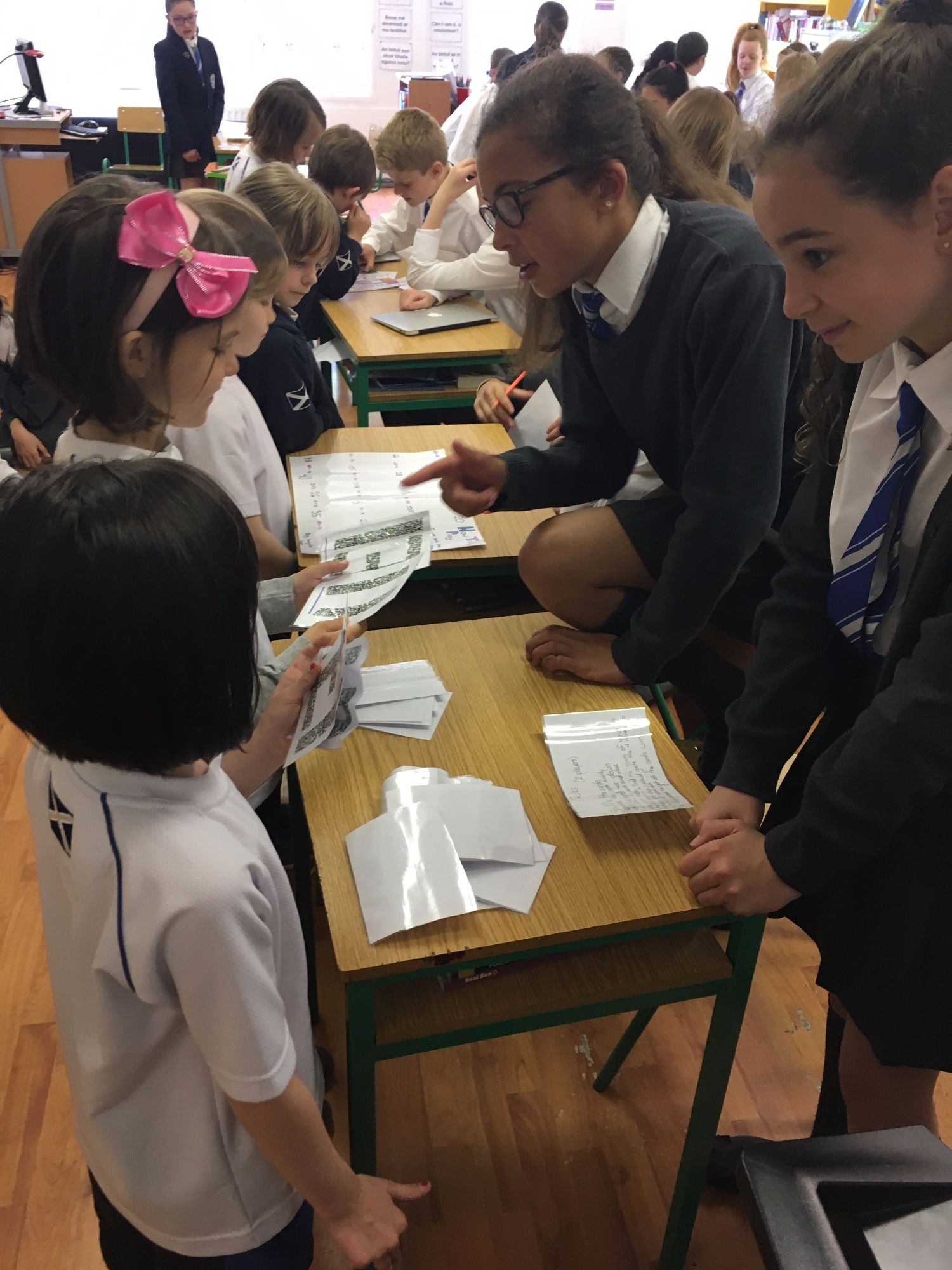 Thank you P6 for making maths games for us.
We loved playing them with you!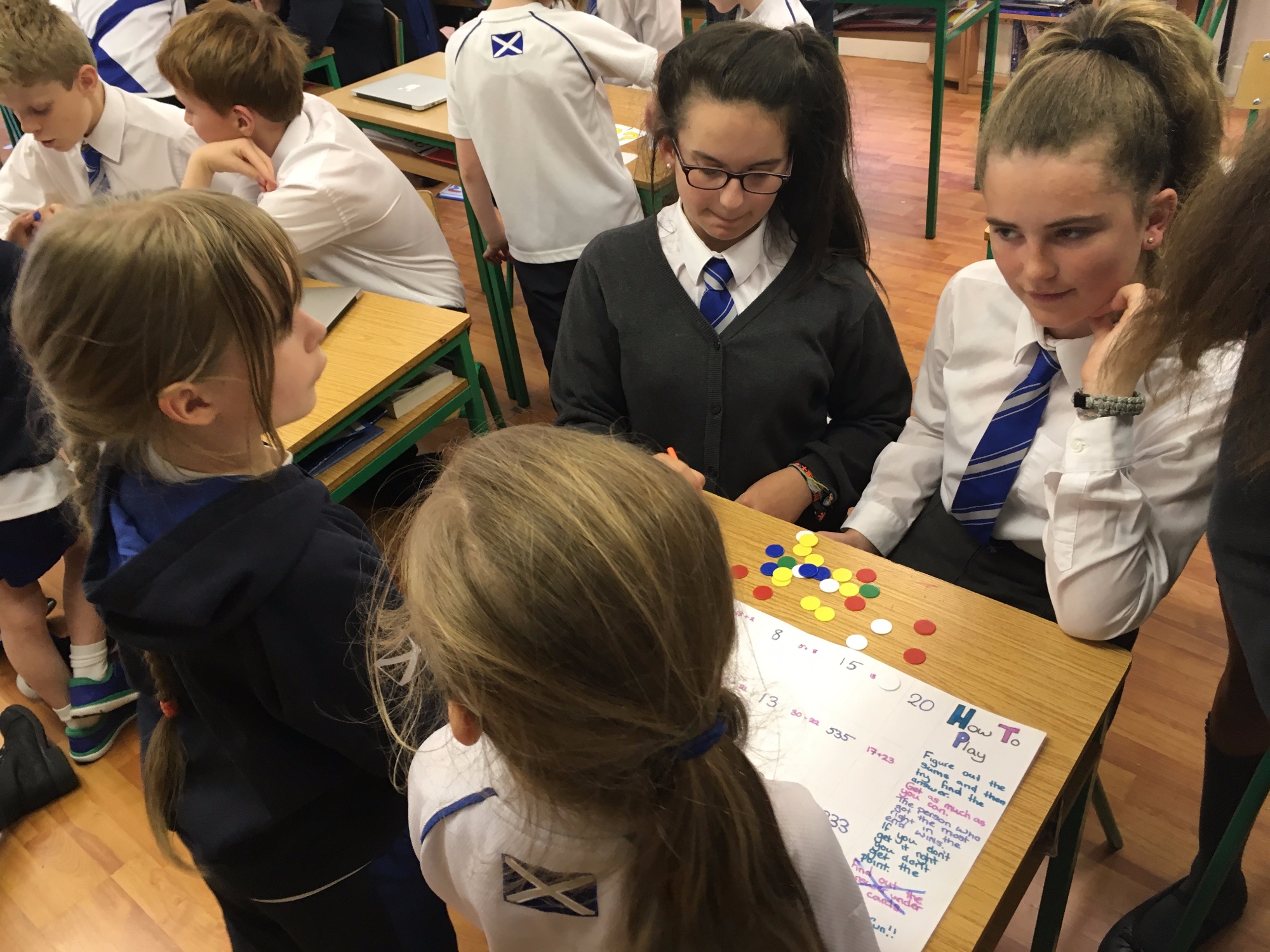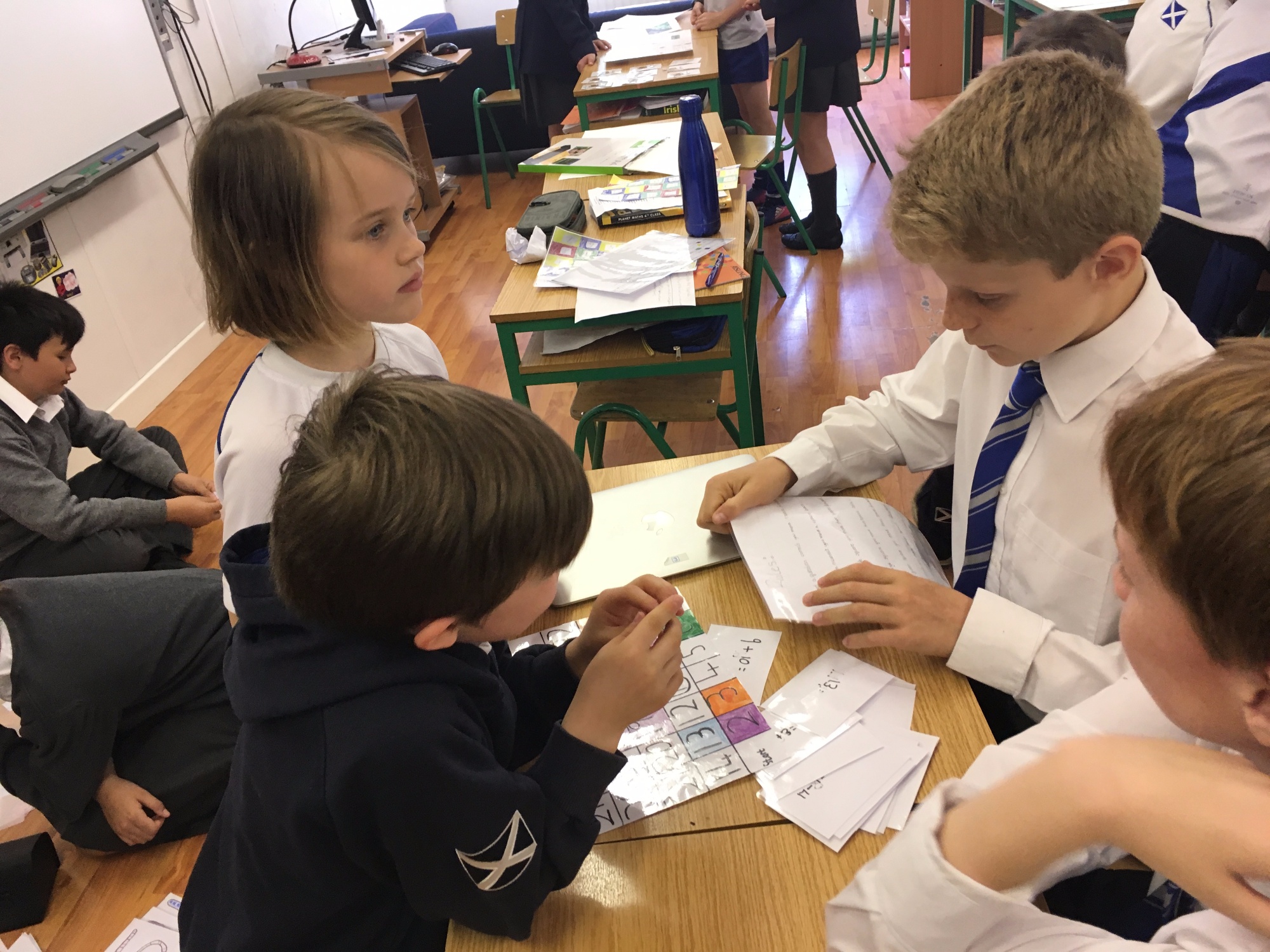 P1 had a great day at Squirrel Scramble for their school tour. Thankfully the weather held up and didn't dampen their spirits as they zipped through the trees!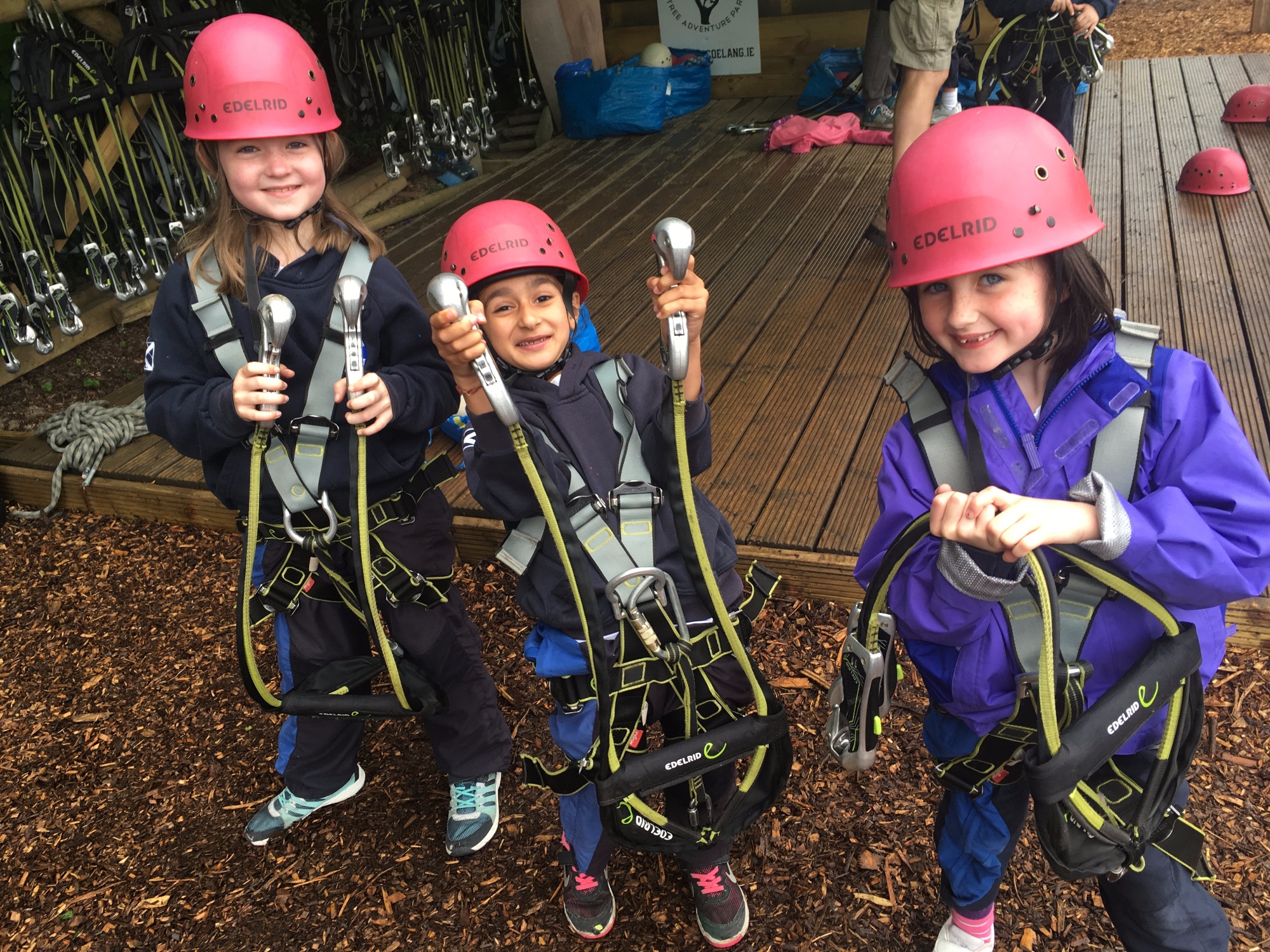 P1 had great fun at Sports Day.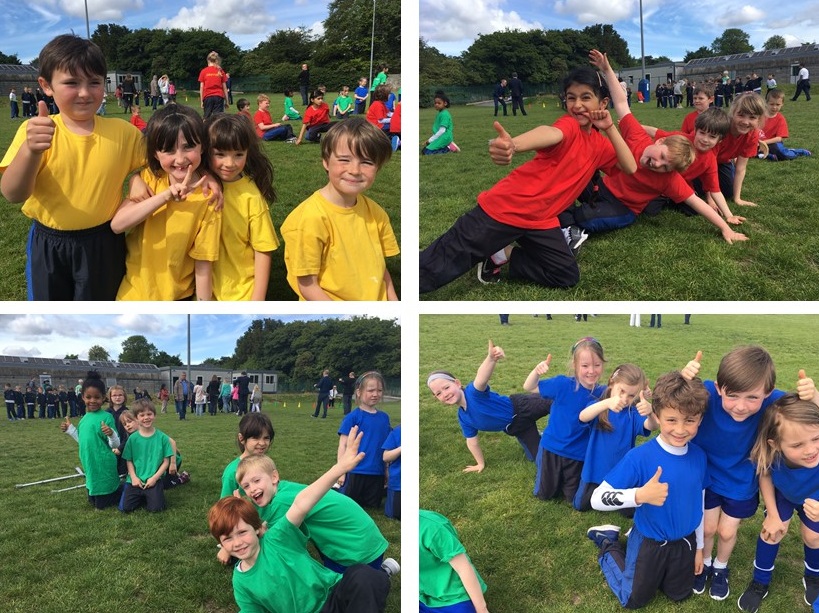 Congratulations Ella on your wonderful achievements in the swimming gala earlier this week.
The P1 Musical – Robin Hood and the Sherwood Hoodies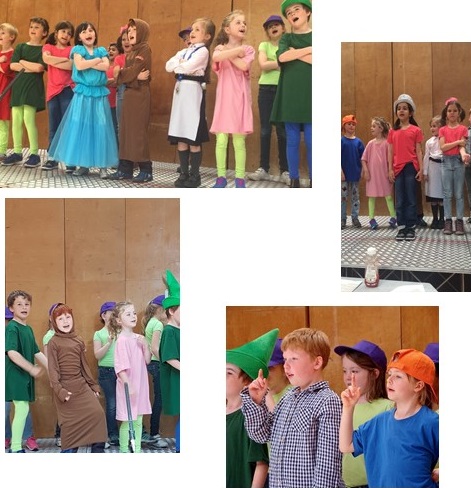 It was all happening in the Sherwood Forest when the P1s took to the stage for their Summer Musical, Robin Hood and the Sherwood Hoodies. With our superb singing, dazzling dancing, wonderful acting and hilarious jokes we sure kept our audience entertained! Take a bow P1!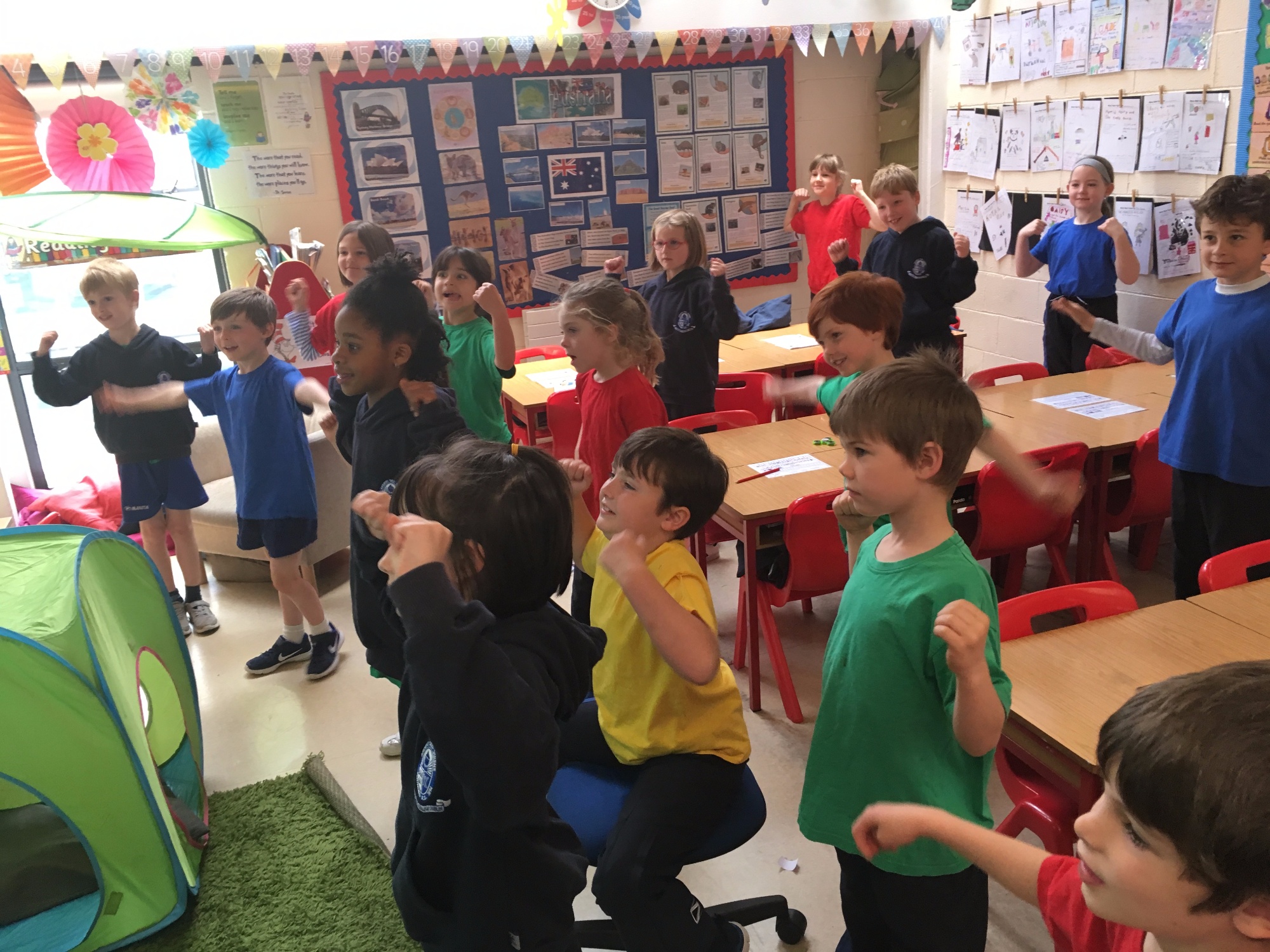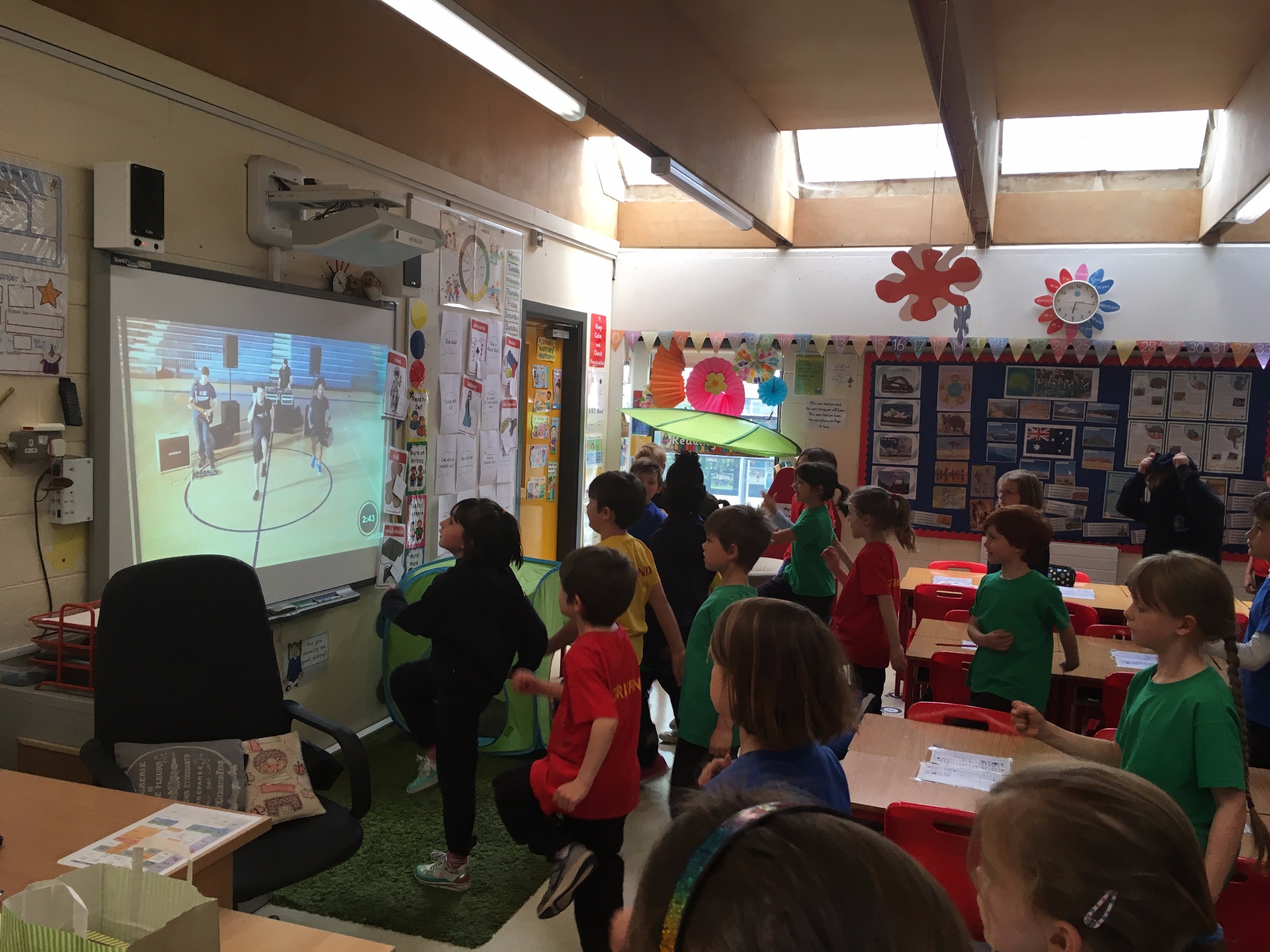 We love our 'brain breaks' in P1! It's good to stay active!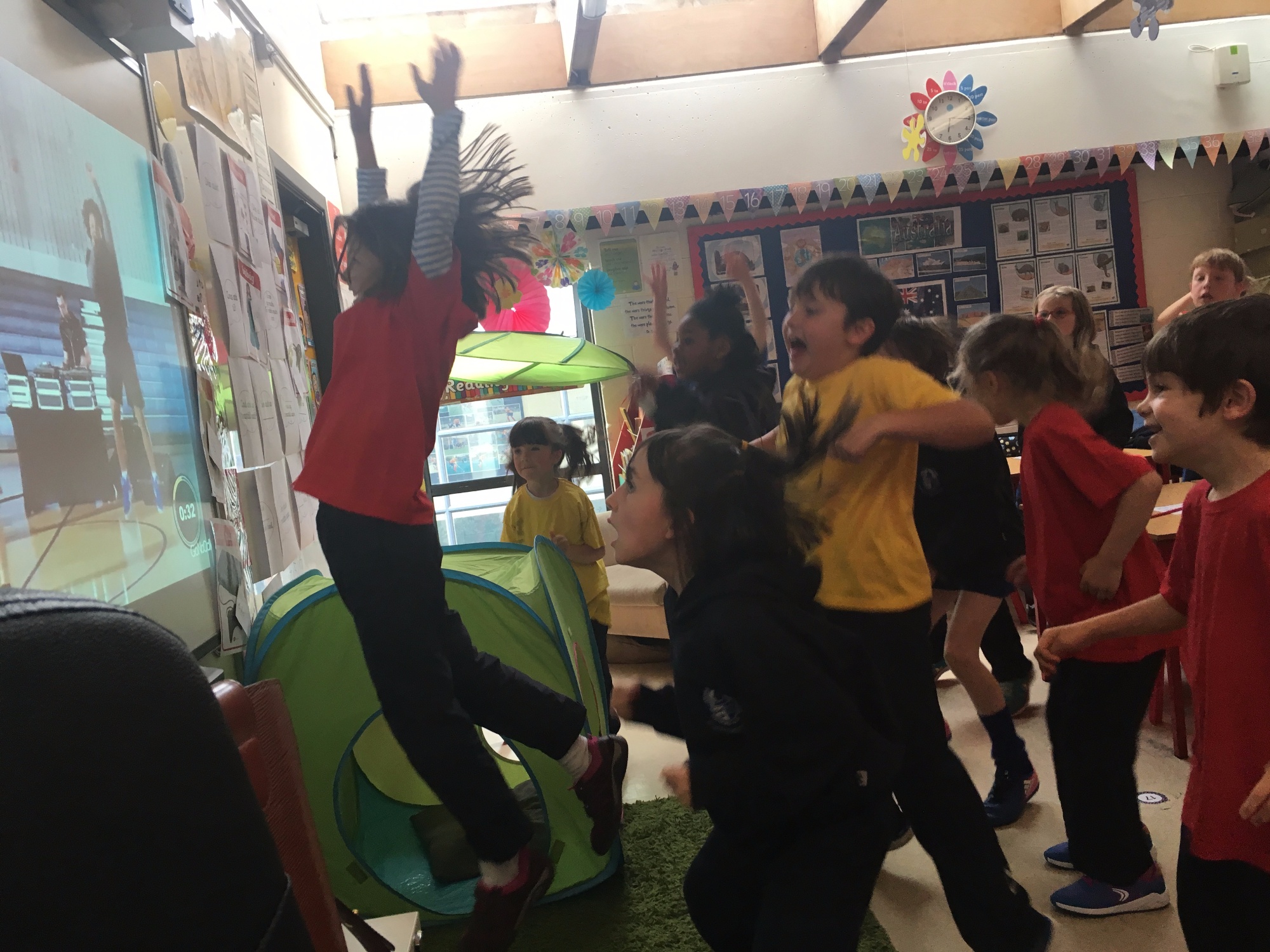 Another wonderful P1 assembly, teaching about the importance of working together!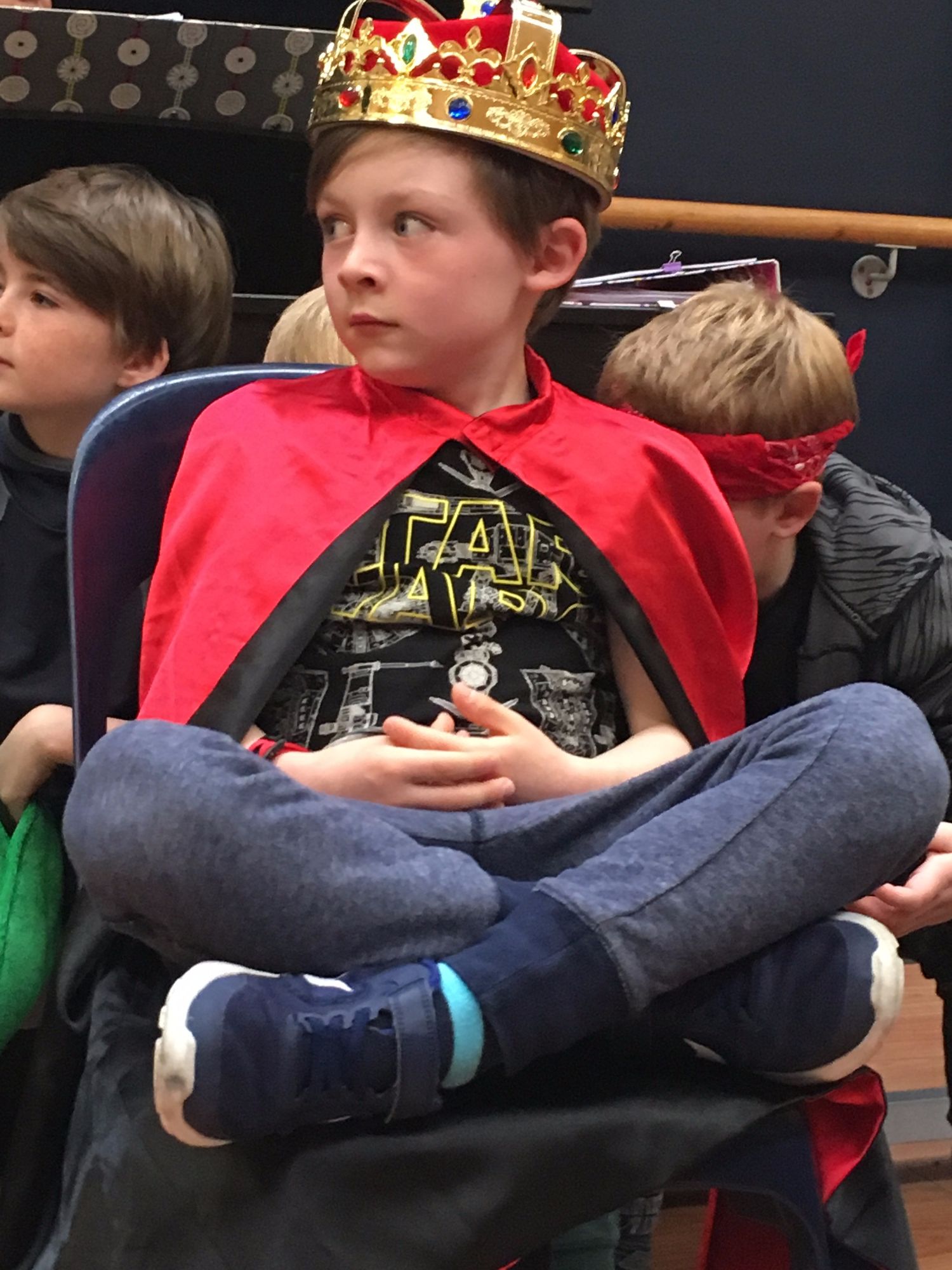 If we all work together,
Our foes will be few,
Yes if we all work together,
Our skies will be blue.
It's time to launch our endeavour,
So join the crew,
For together, forever,
In any kind of weather,
Together, we're strong and we're true.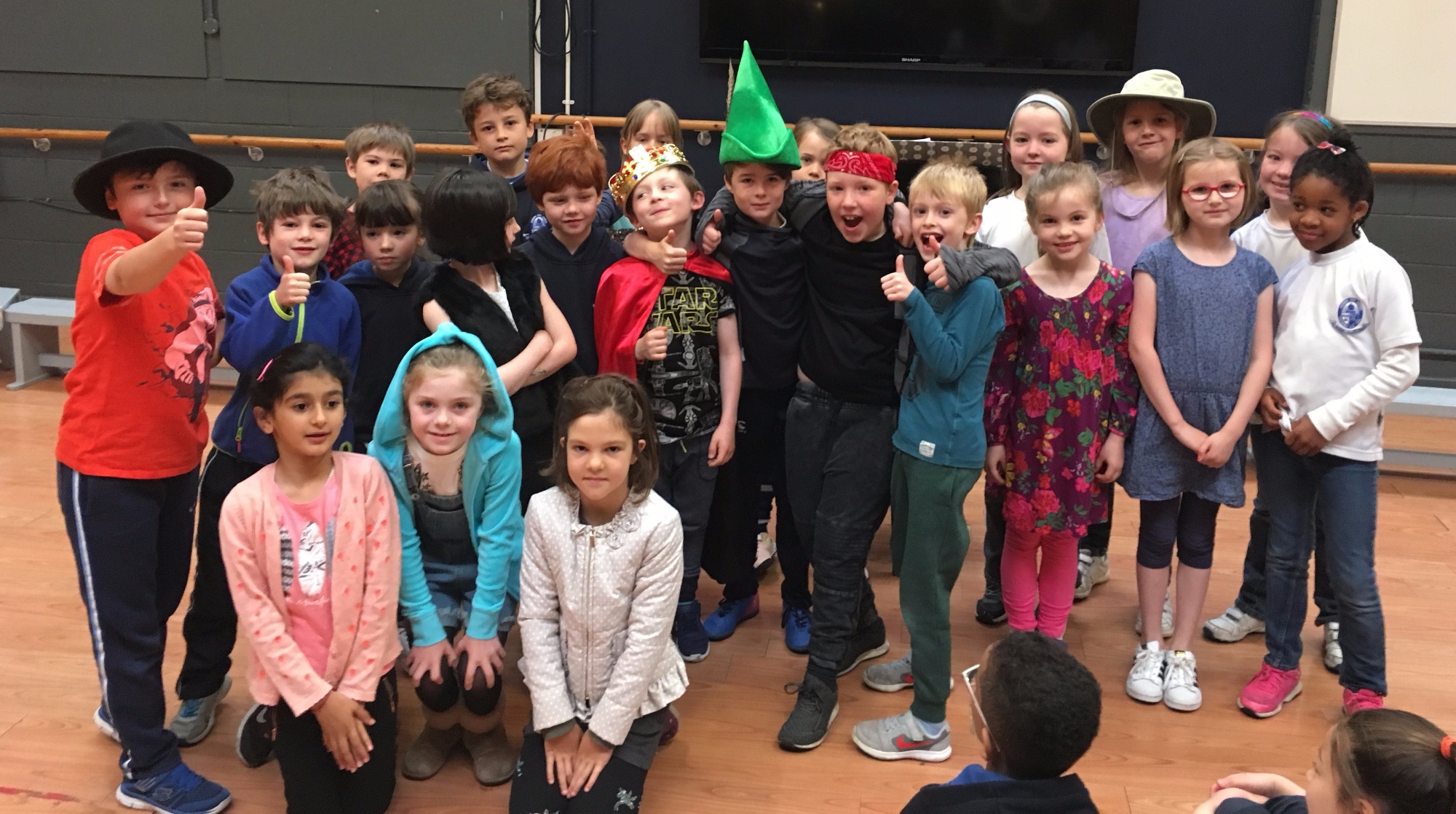 Congratulations to all the Junior School children who were recently awarded the GOAL Humanitarian Award for their charitable work at GOAL Jersey Day and also for their participation in the GOAL Educational Workshops.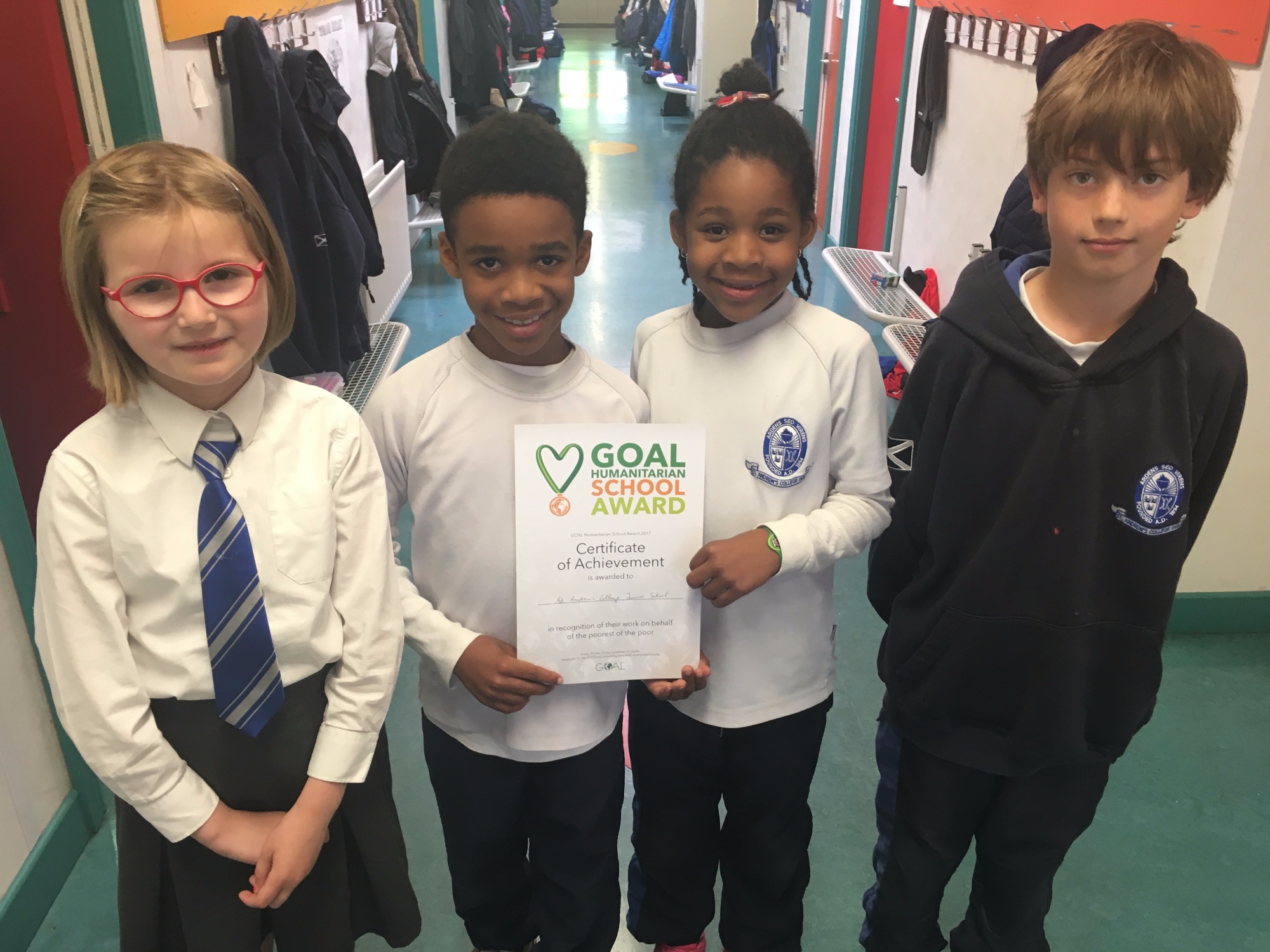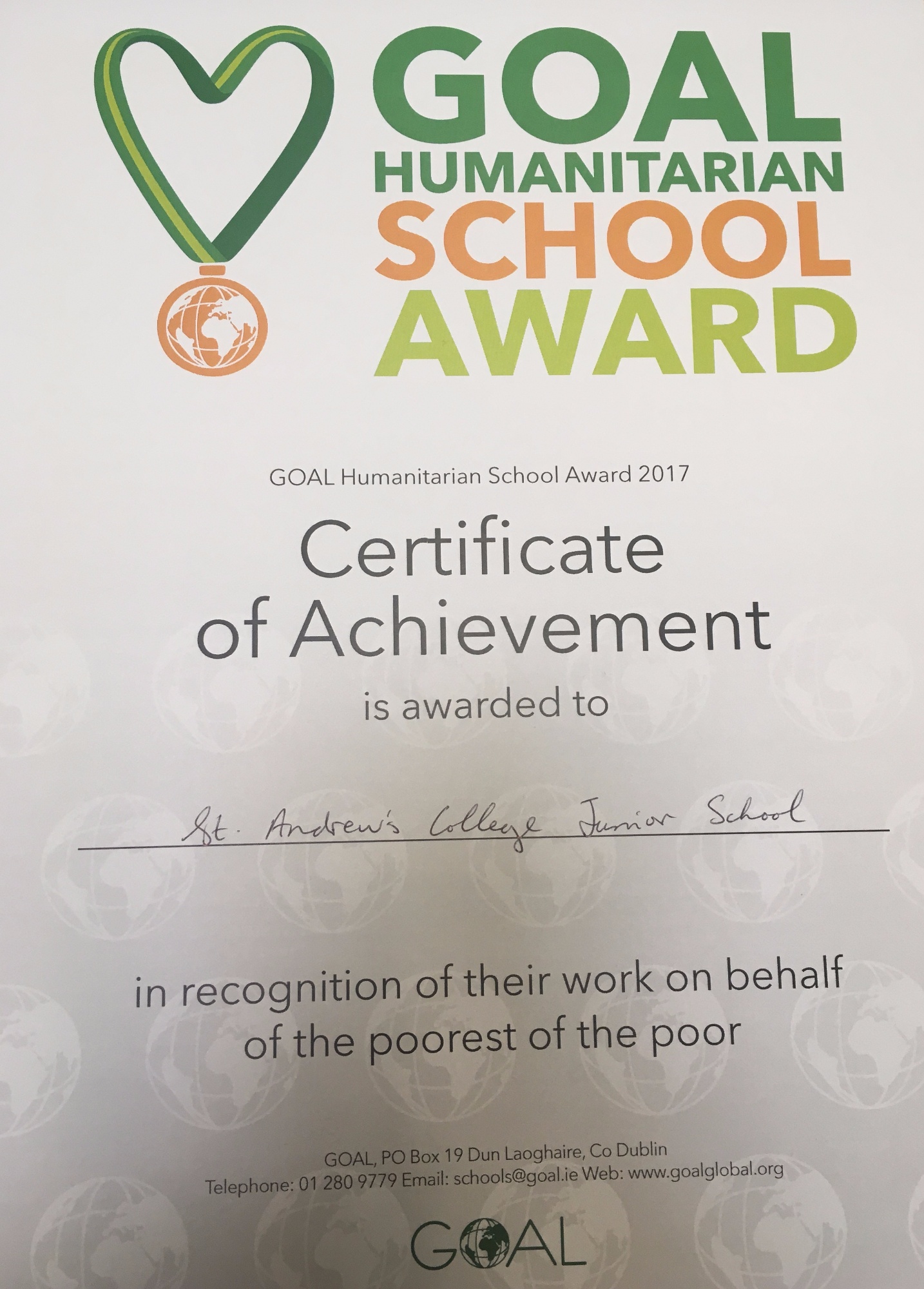 GOAL acknowledge schools for their hard work in helping those less fortunate than ourselves.

Congratulations and keep up the charitable work!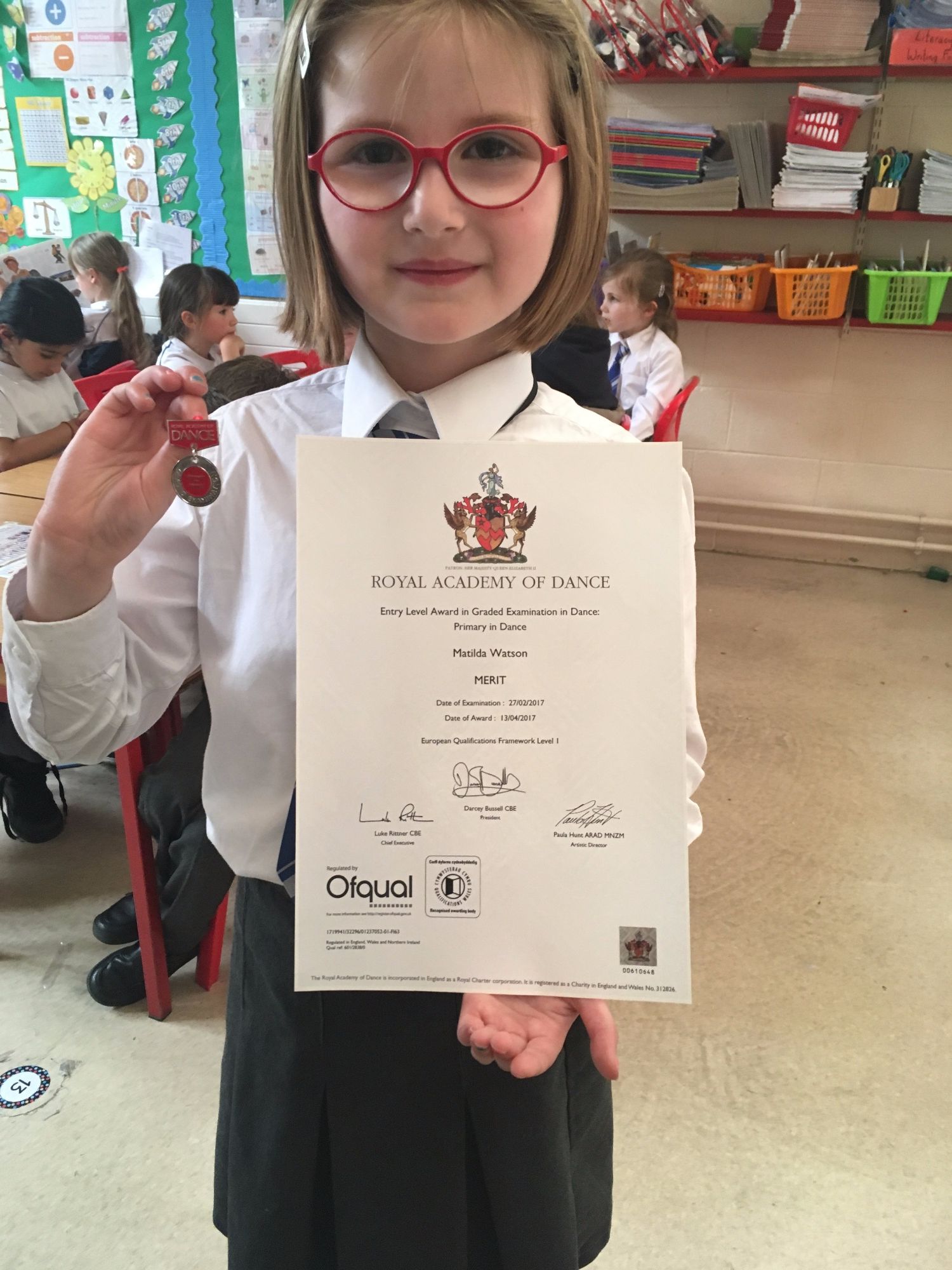 Congratulations to Matilda for achieving a merit grade in her dance examination with the Royal Academy of Dance.
Art Week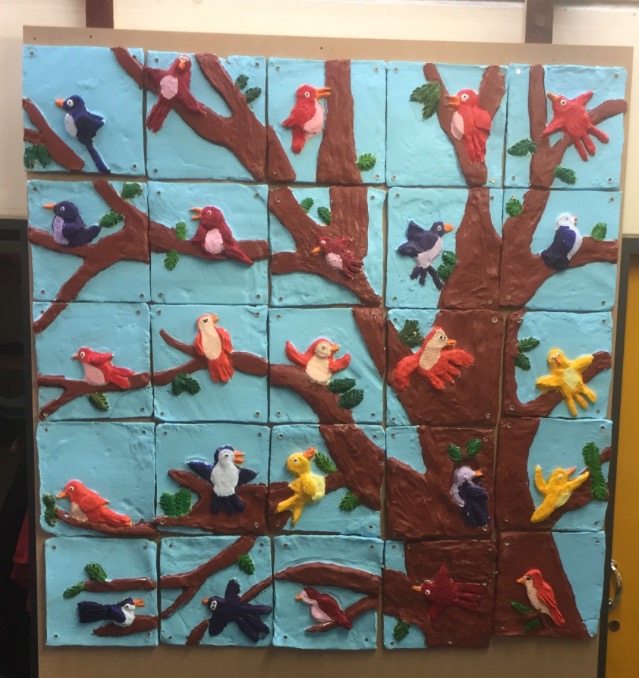 Once again you have not disappointed! We couldn't be prouder of what we've achieved together.


SECRET SPEAKER SECRET SPEAKER, PLEASE COME IN!!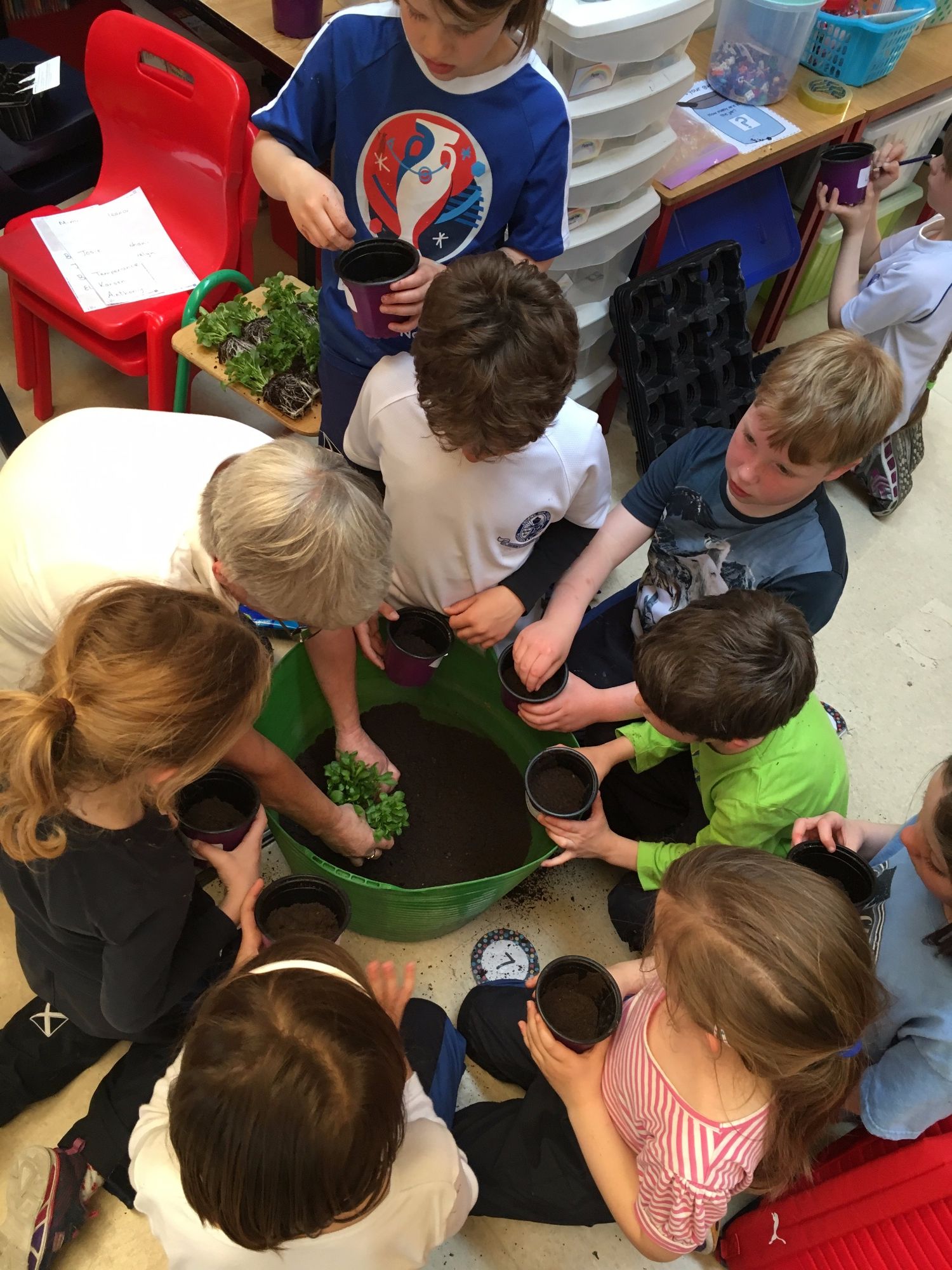 Not one but two secret speakers arrived in P1 this week! Julie, Brian's mum and her friend and colleague Mary joined us to do some planting. We were very interested to learn about Julie's work with disadvantaged teenagers in helping them acquire skills and qualifications to find work. Following her visit we think we might just set up our own St. Andrews planting nursery and sell the plants we grow! A clever way of making some money from our gardens. Thanks Julie and Mary for a hands-on lesson.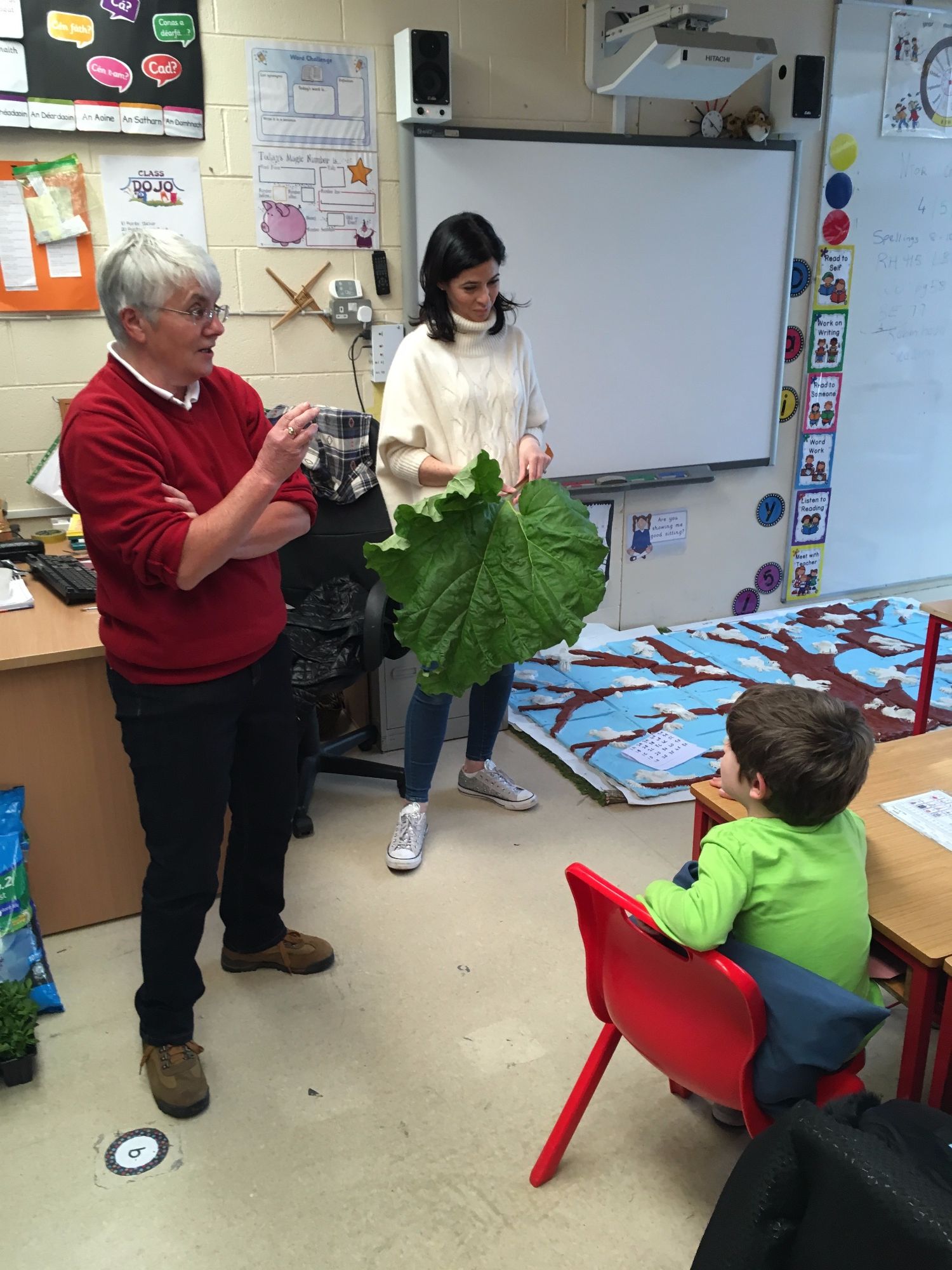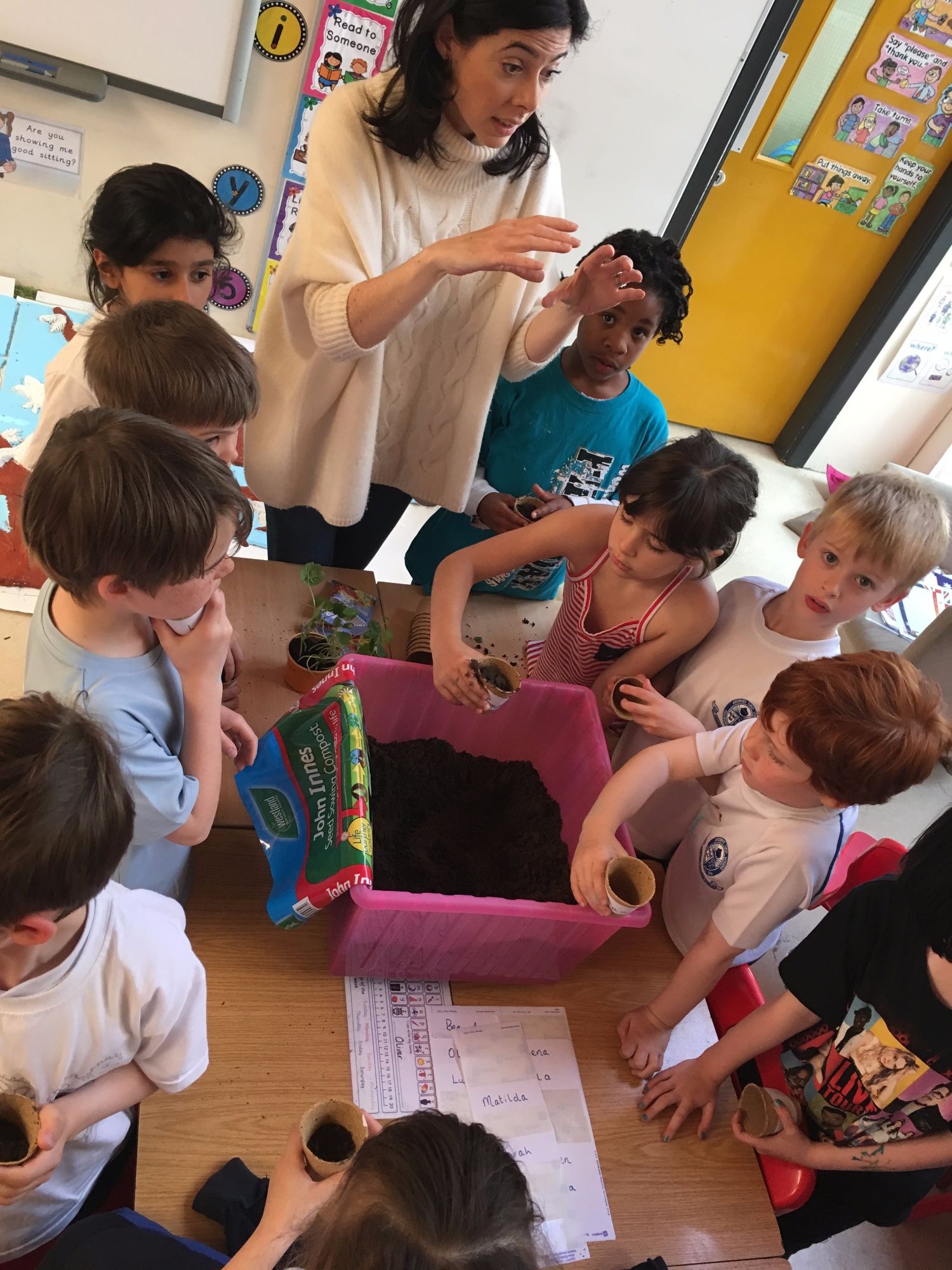 Art is the word on the street this week. The P1s have been creating a tree scene from clay. They have worked so carefully on the creation of the branches and on the shapes of their birds to make them as realistic as possible. Next to finish painting them and then they will be displayed.
Make sure to keep an eye on the board opposite the P1/P2 classroom to see the finished product!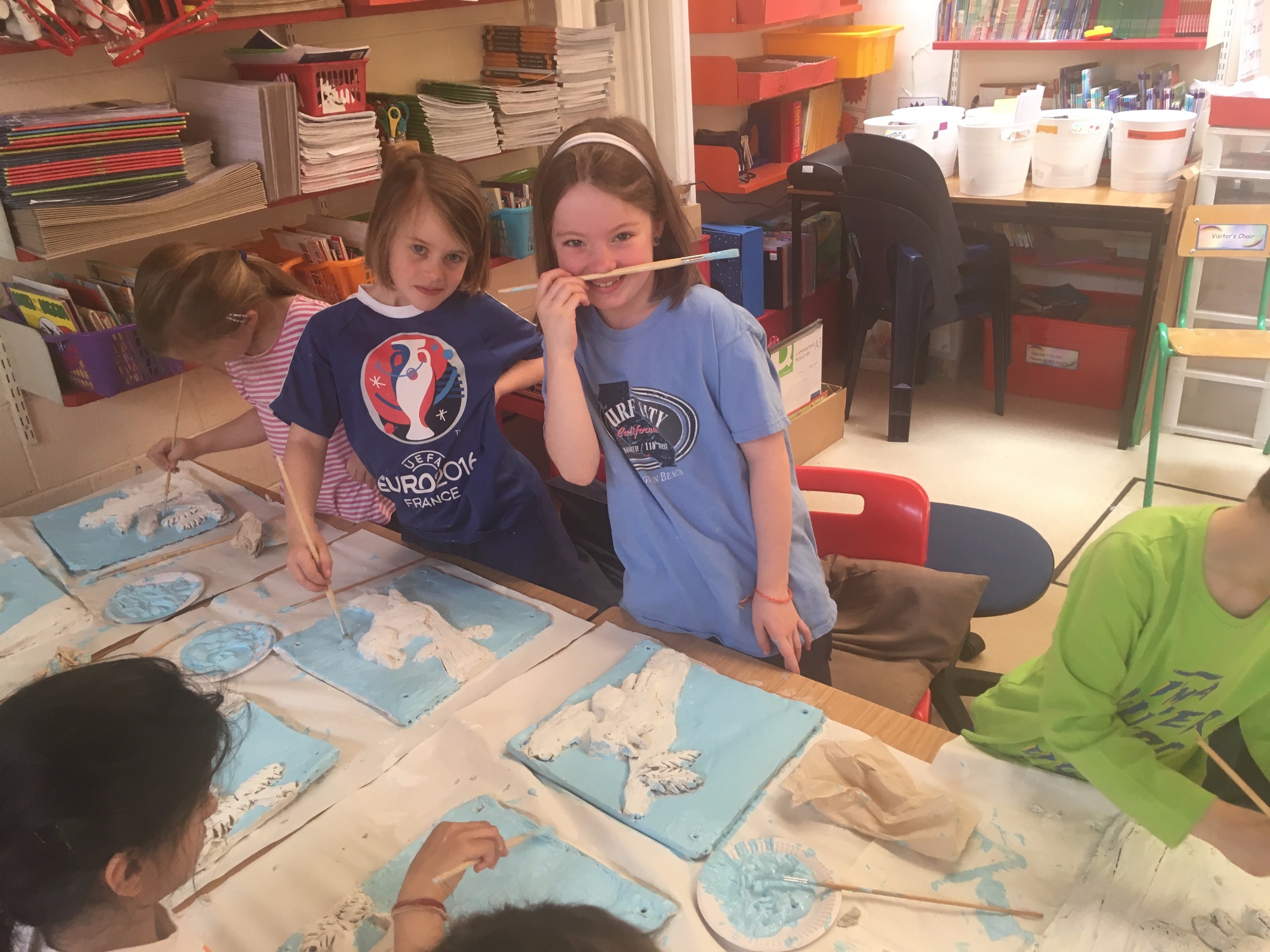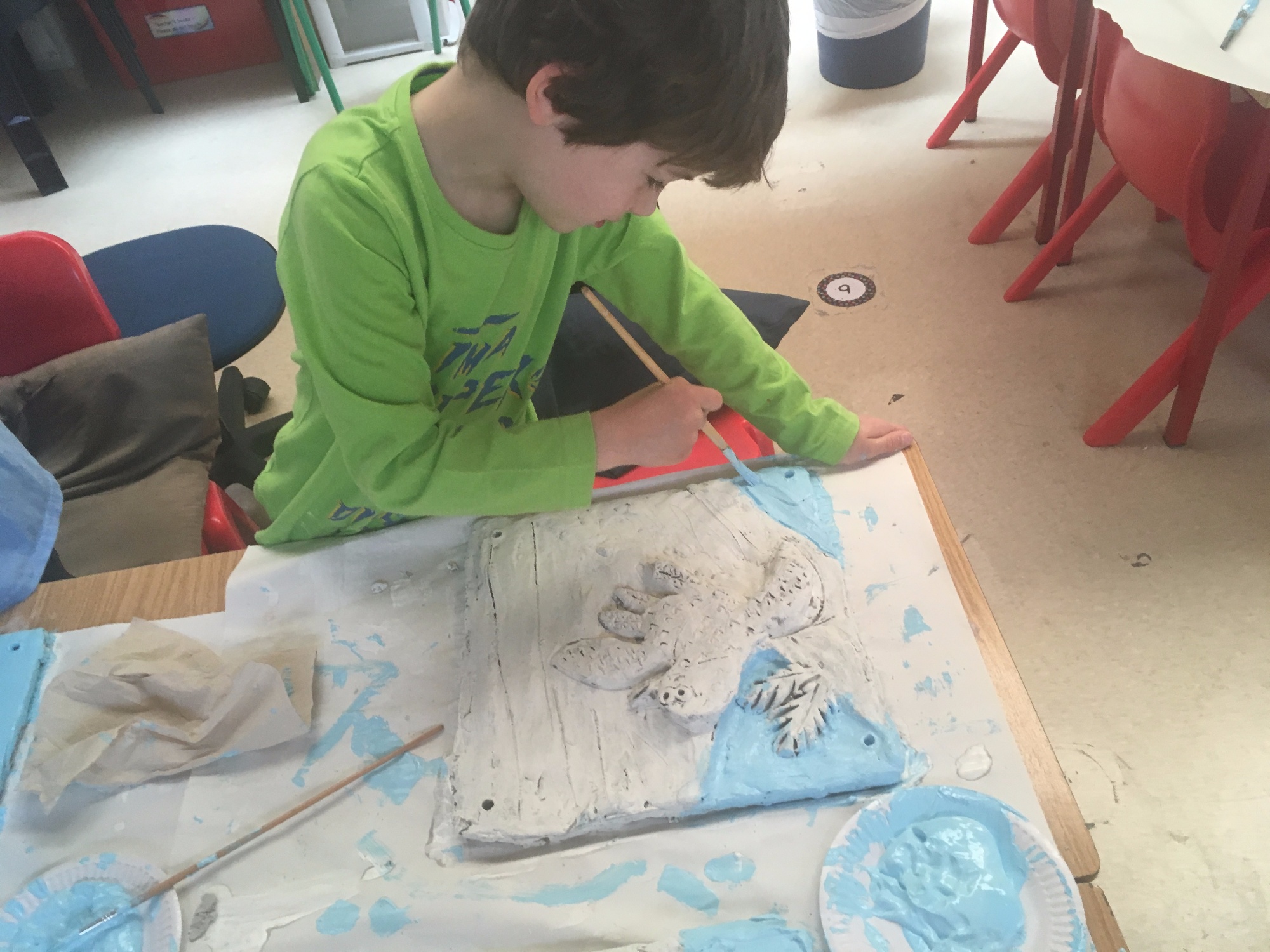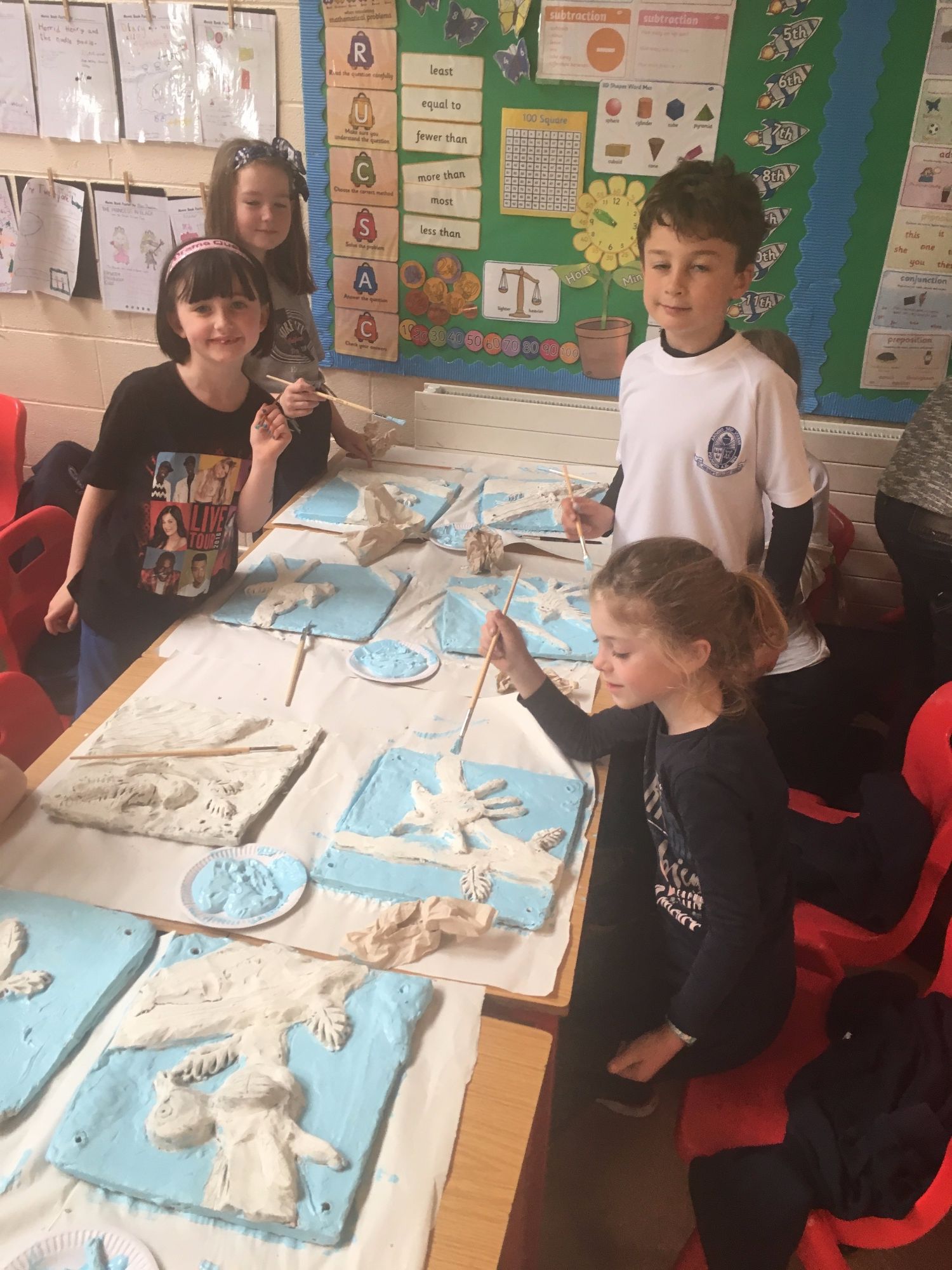 P1 enjoyed P6M's exhibition on the Indus Valley. It was so interactive, which made it so fun for us!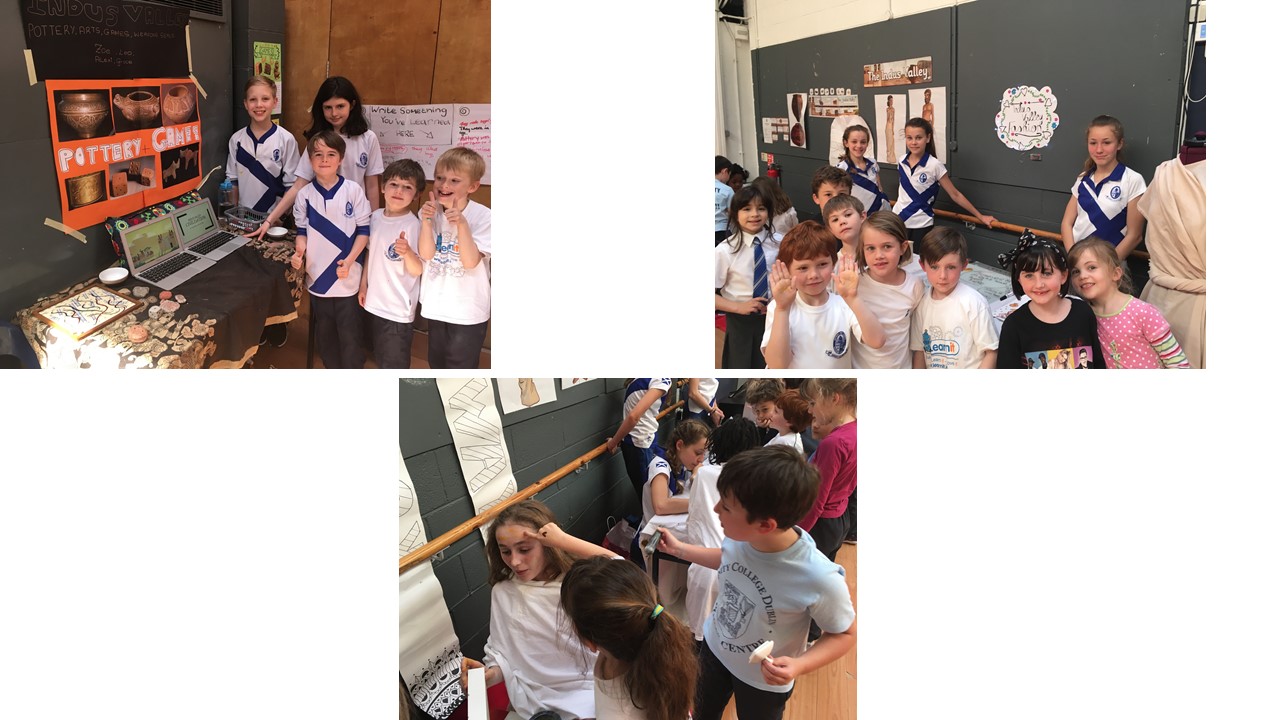 April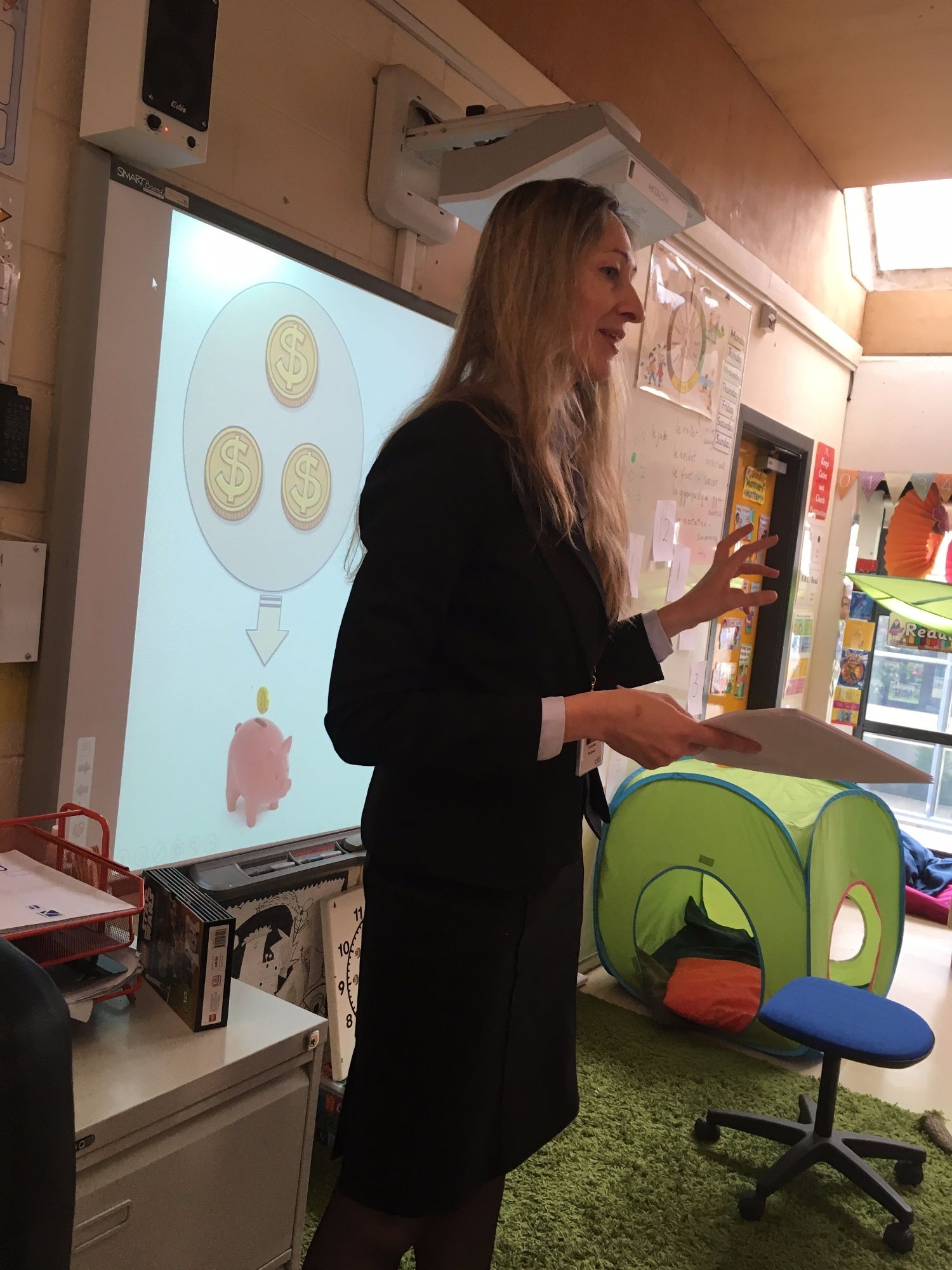 P1s secret speaker this week was Matvey's mum, Luidimila. She taught us about her job in Investment Banking. We found out who the risk takers among us were, looking to invest in shares for big returns and which of us were more conscientious with their hard earned cash, ensuring it was safe in their savings account!

Thanks Luidimila, for sharing a simple practical approach to a very complex area of banking.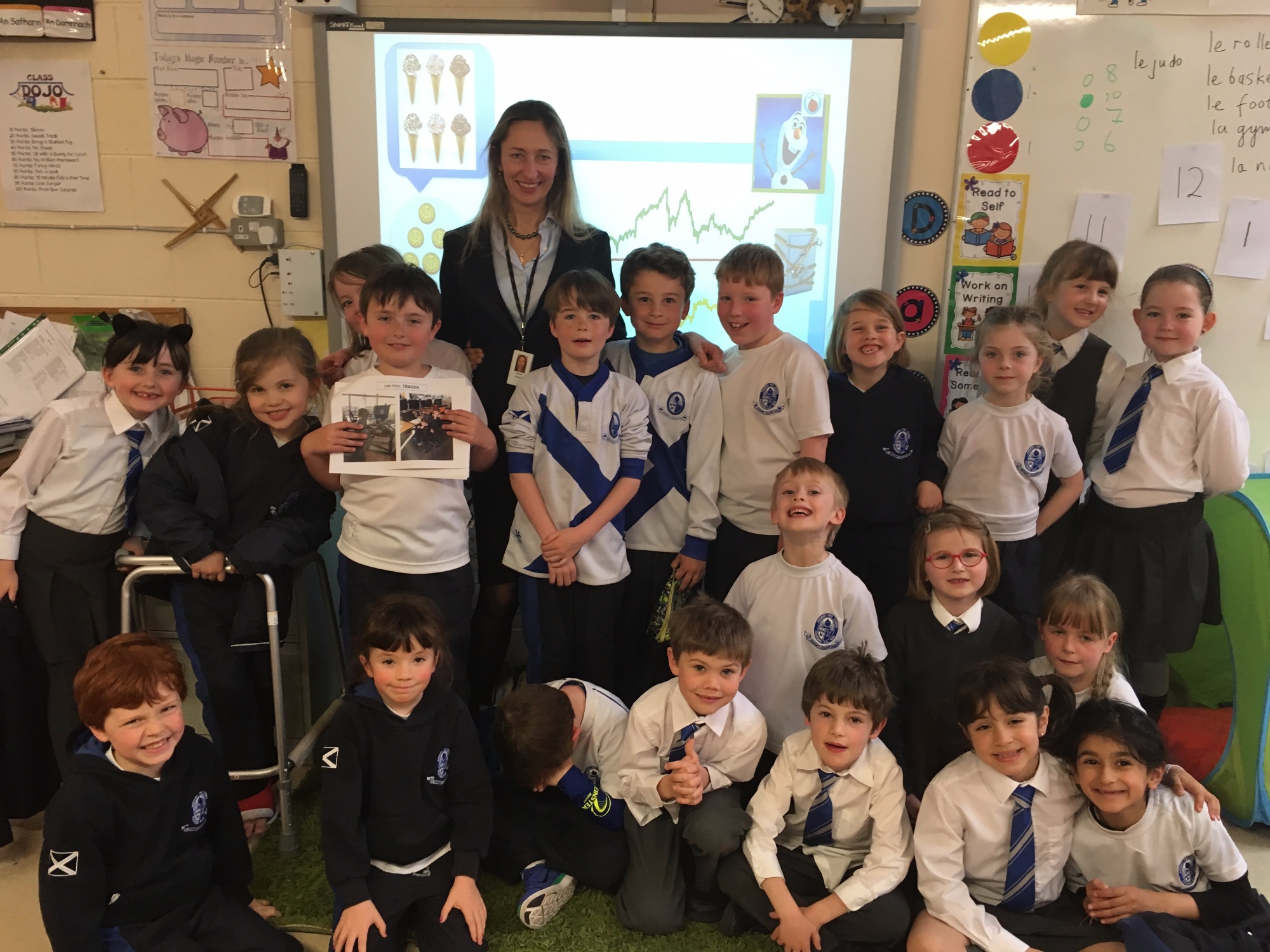 March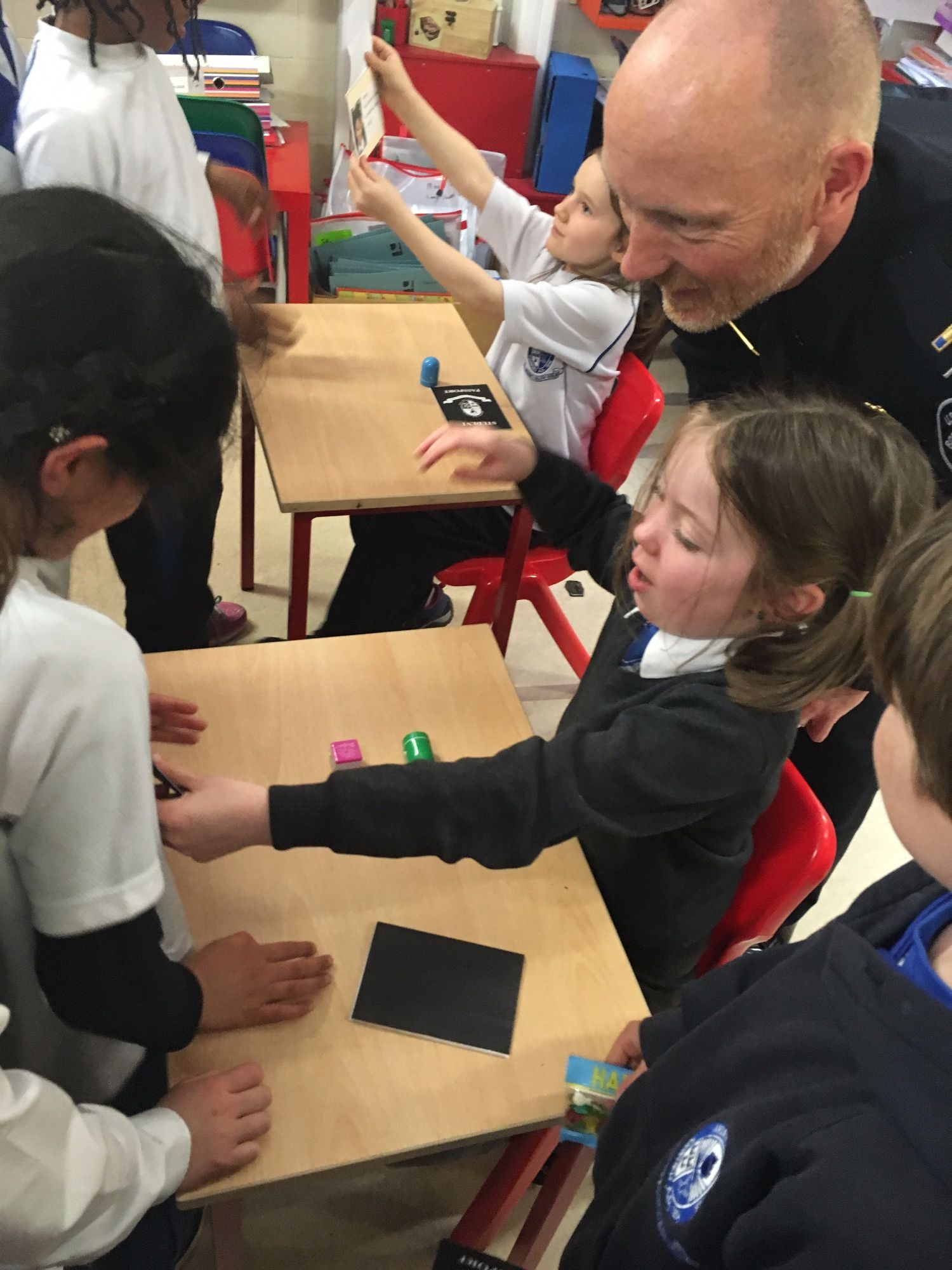 Secret speaker:
Our latest secret speaker was Chad, Sarah and Josie's dad. He taught us about airport security and we loved role-playing passport and security control.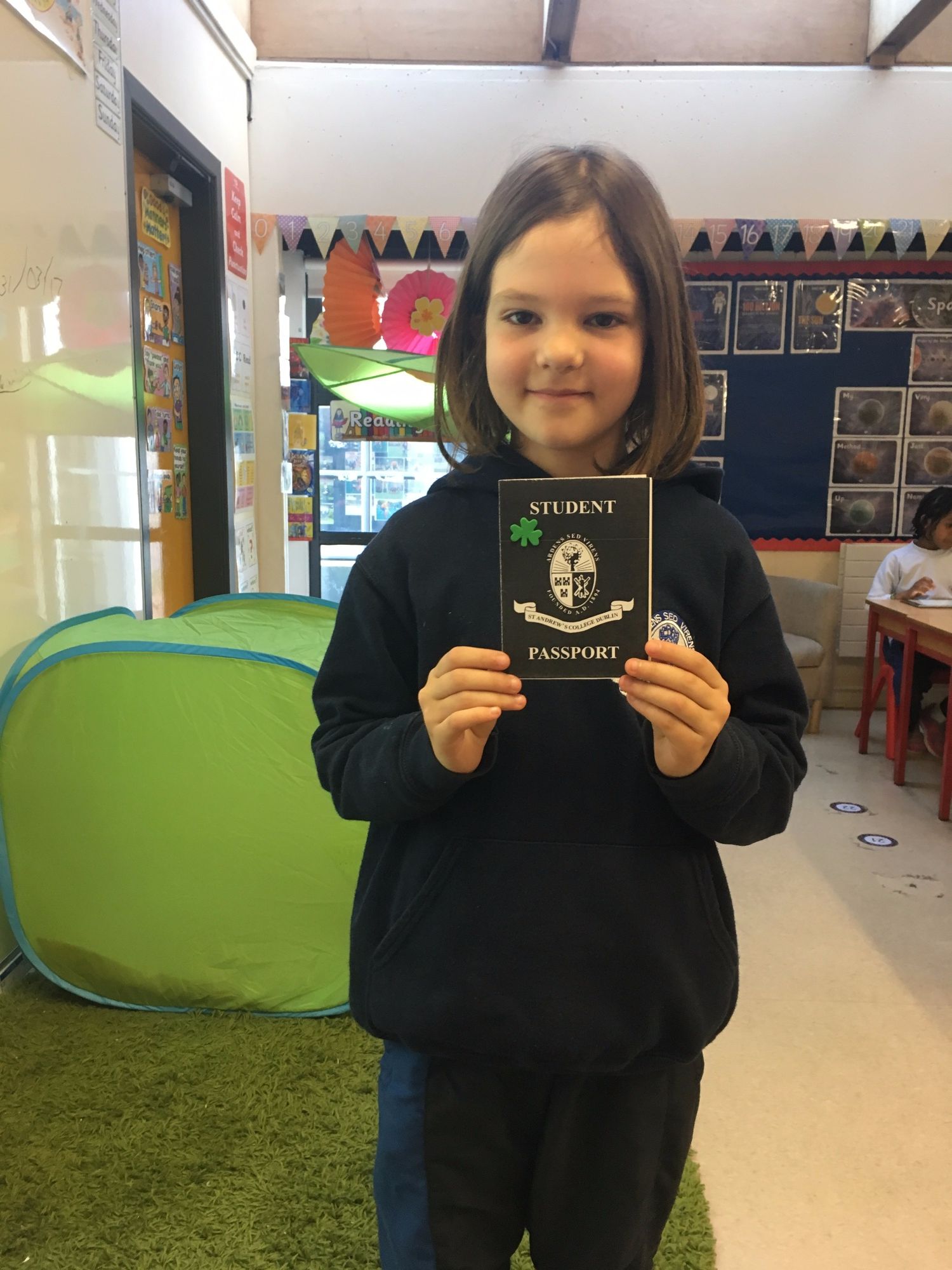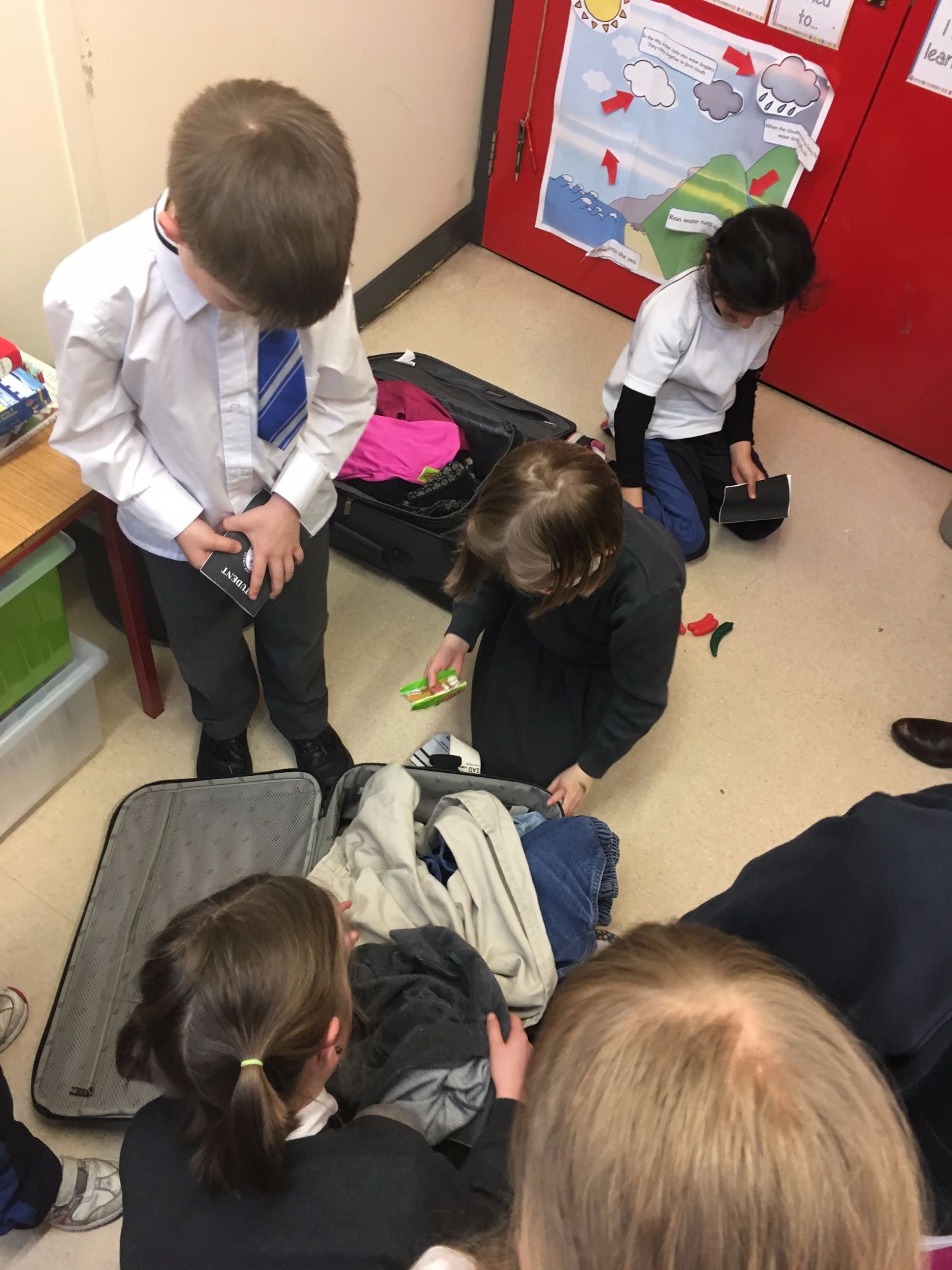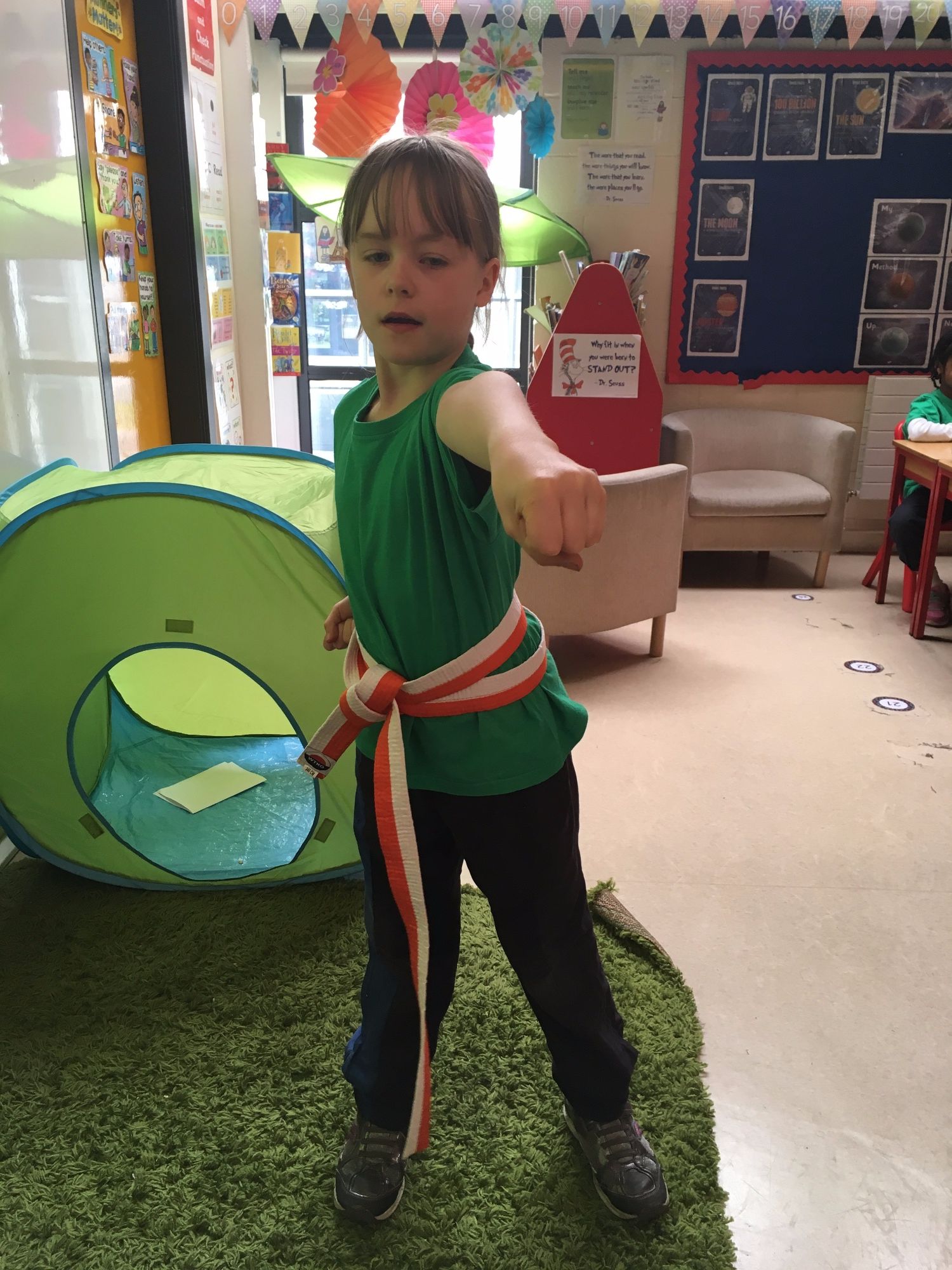 P1's Karate Kid!
Congratulations Linnet on getting your half orange belt!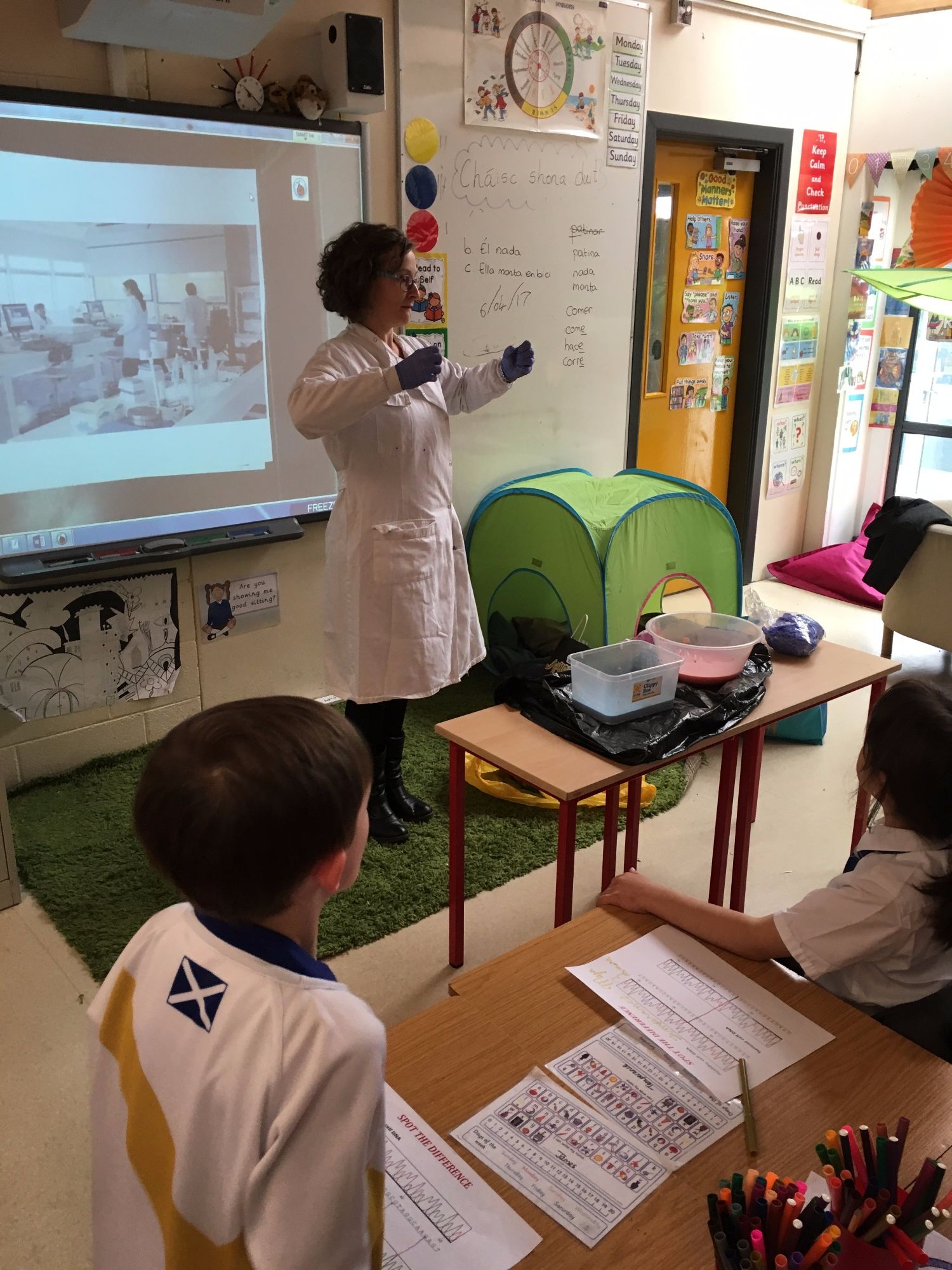 Secret Speaker
Elijah's mum is a scientist and she taught us about the work of a scientist. We did some cool experiments and get to wear science goggles and and gloves!
Such fun!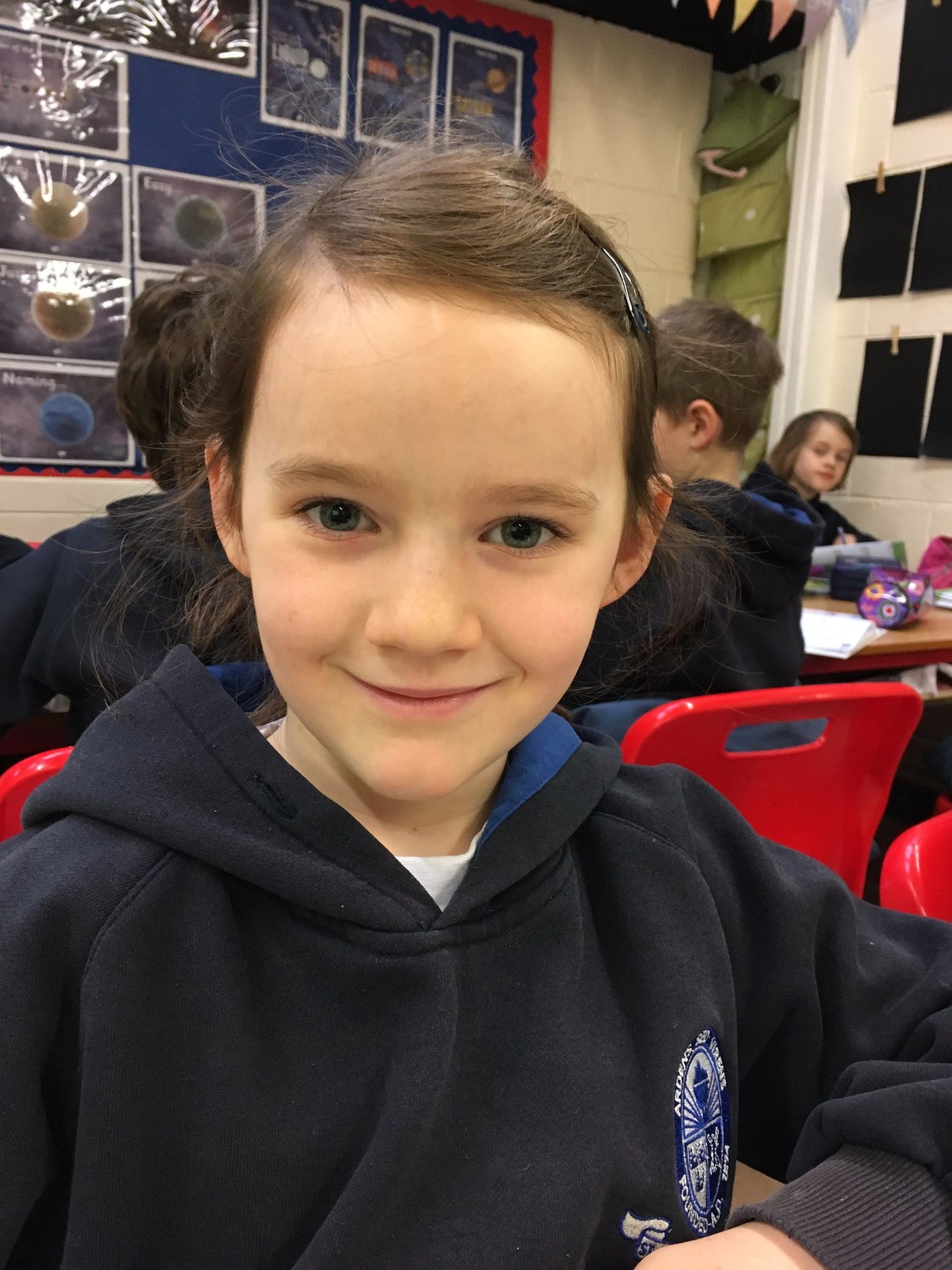 We were sad to say good bye to the lovely Cara.
We wish her all the best in her new school in London!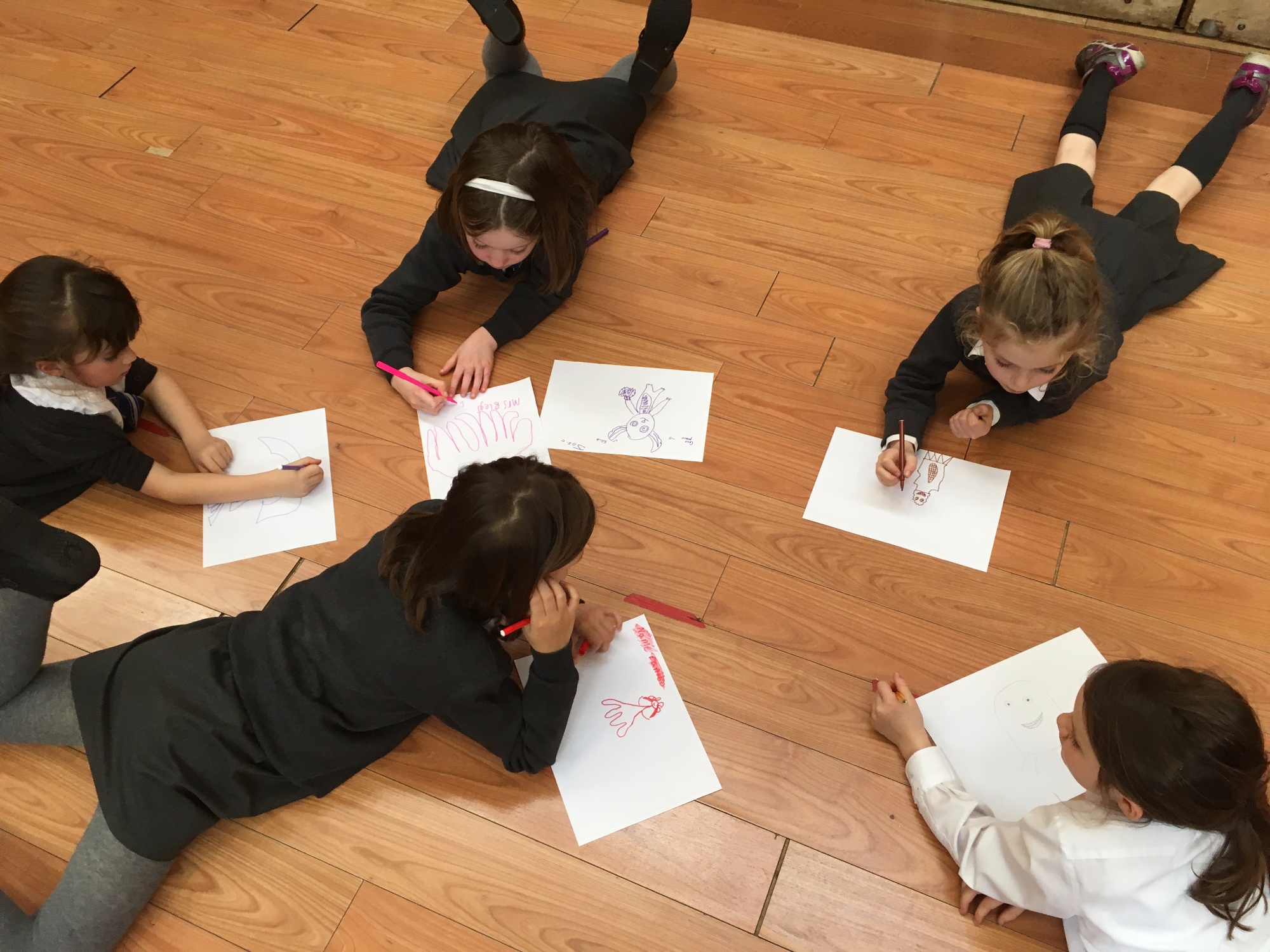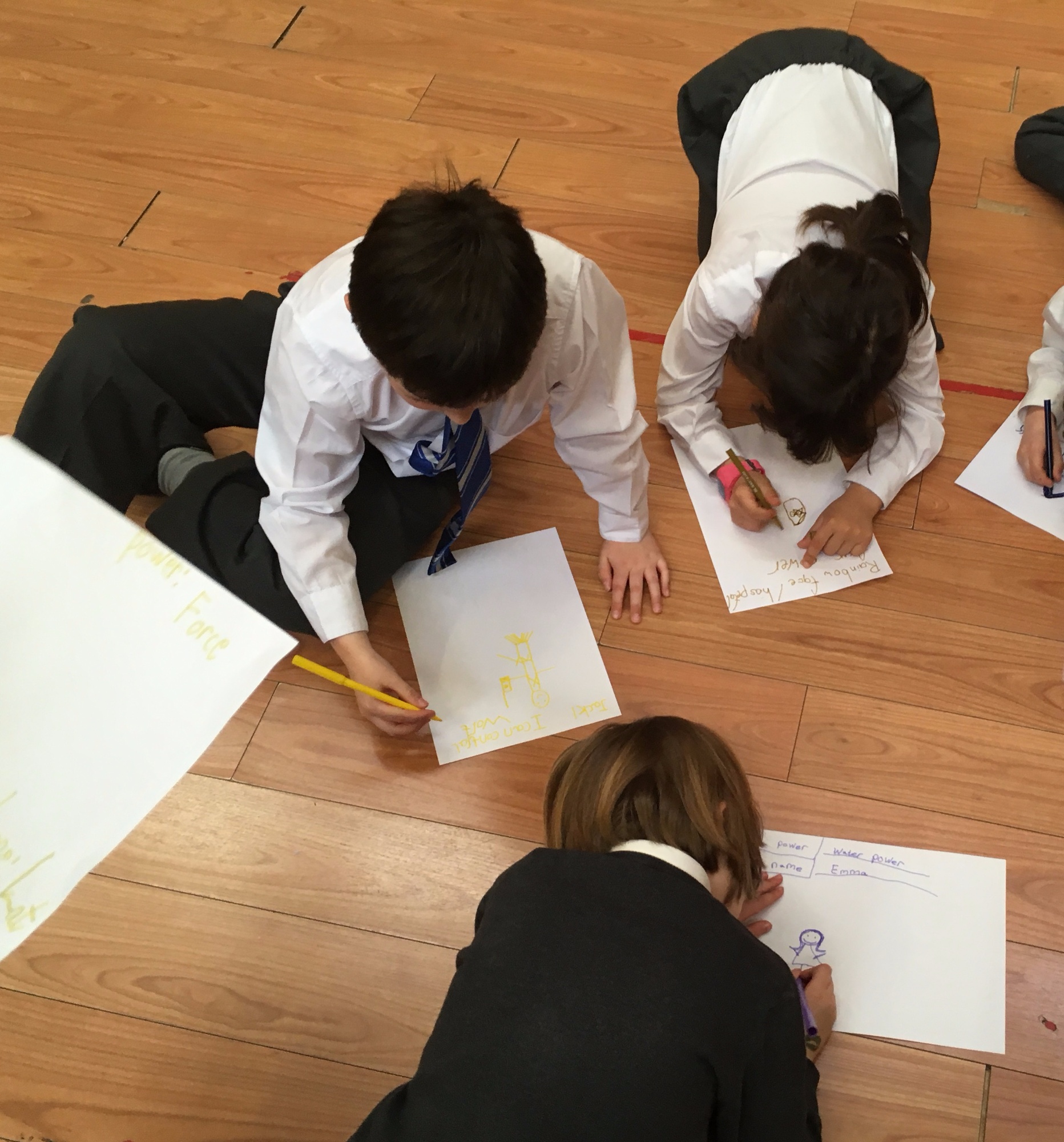 Busy working in Roll on our space drama!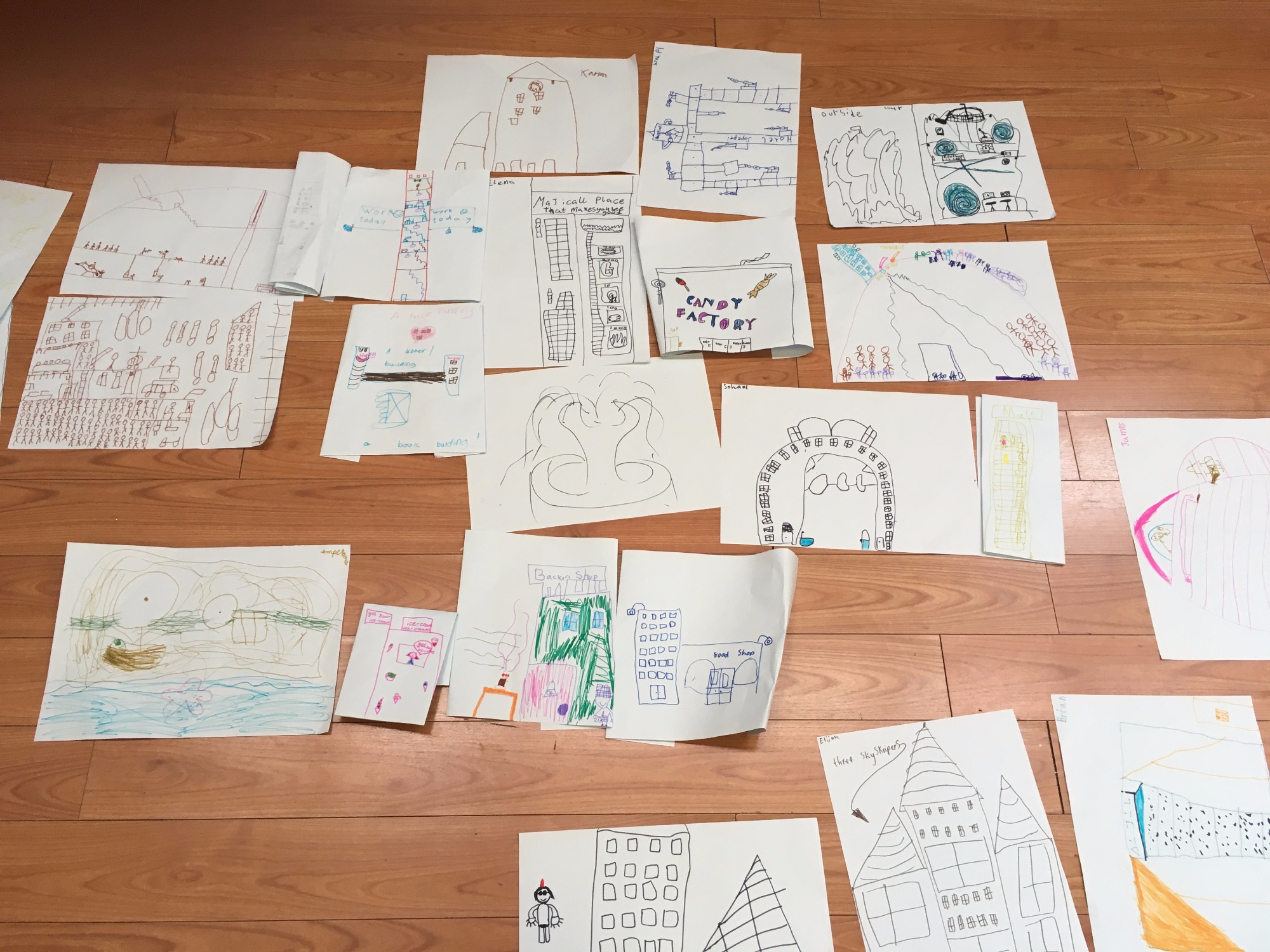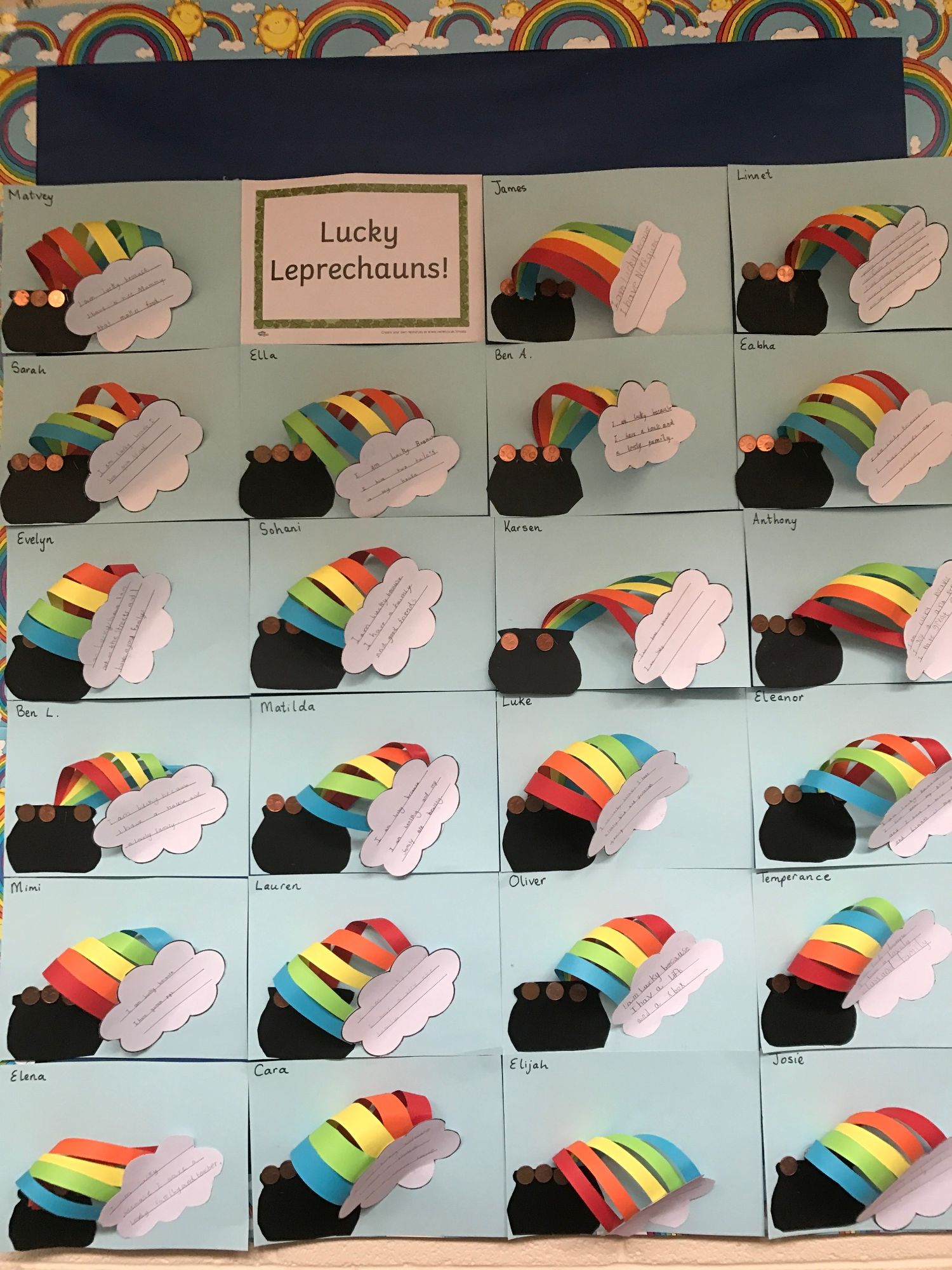 Happy St Patrick's Day!
Our lucky little leprechauns!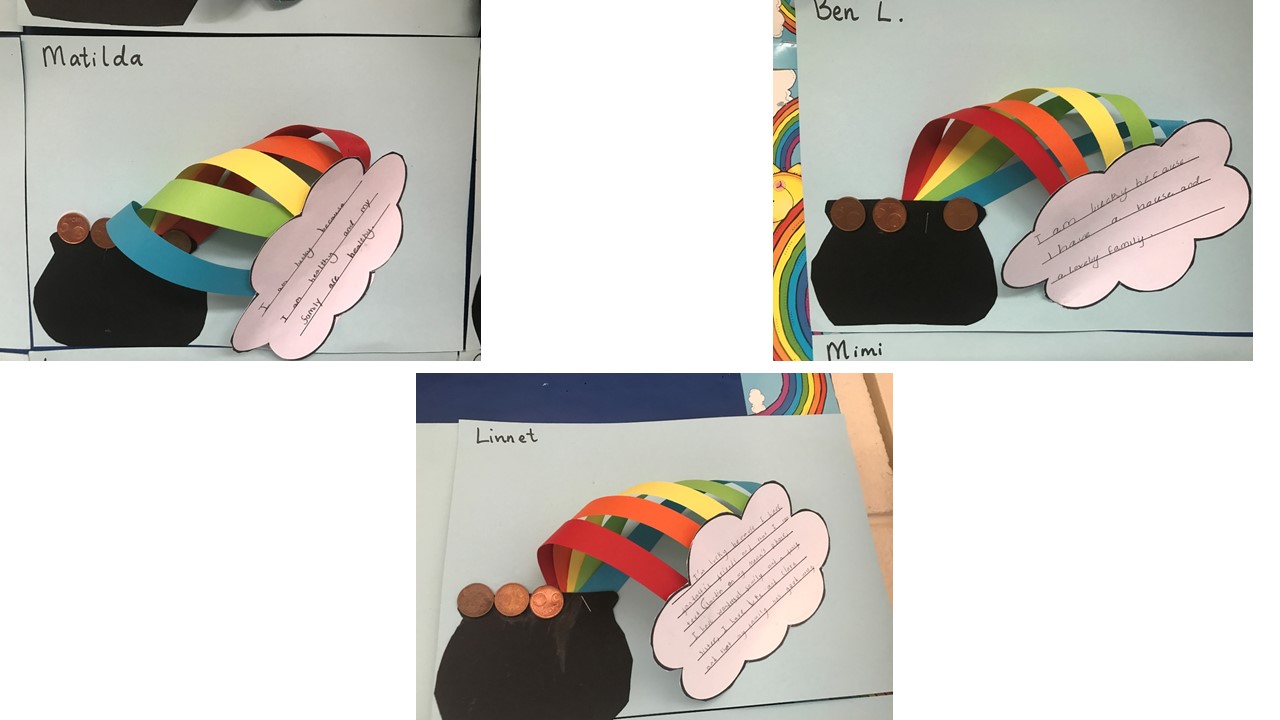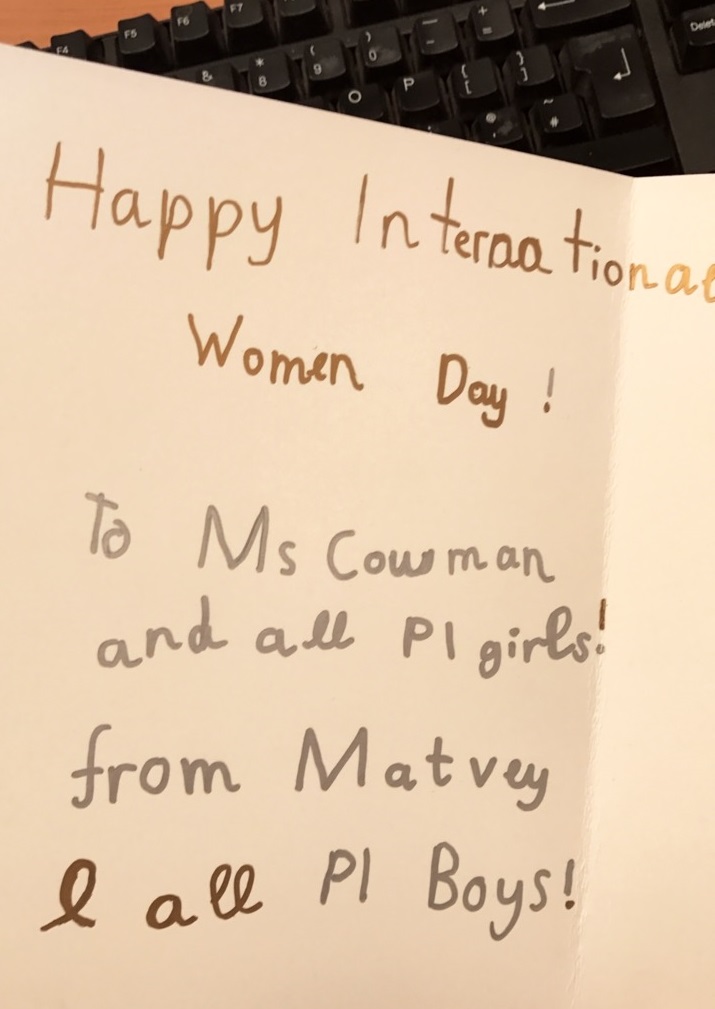 International Women's Day
What a sweetheart, thank you Matvey!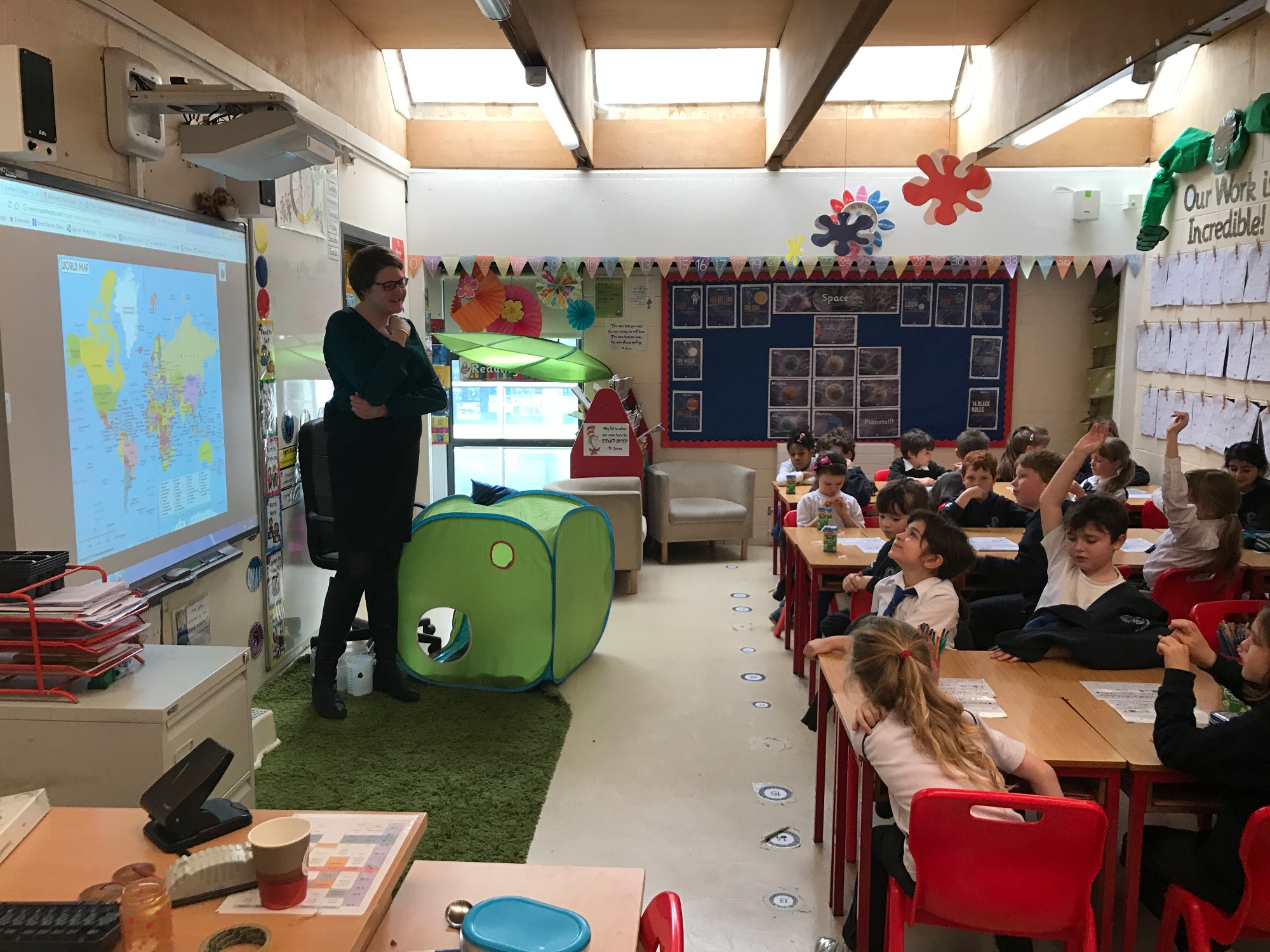 Secret Speaker Alert!
Our secret speaker this month was Eleanor's mum, Jennifer. She taught us about her role in the American Embassy.
Planting with Windyridge Garden Centre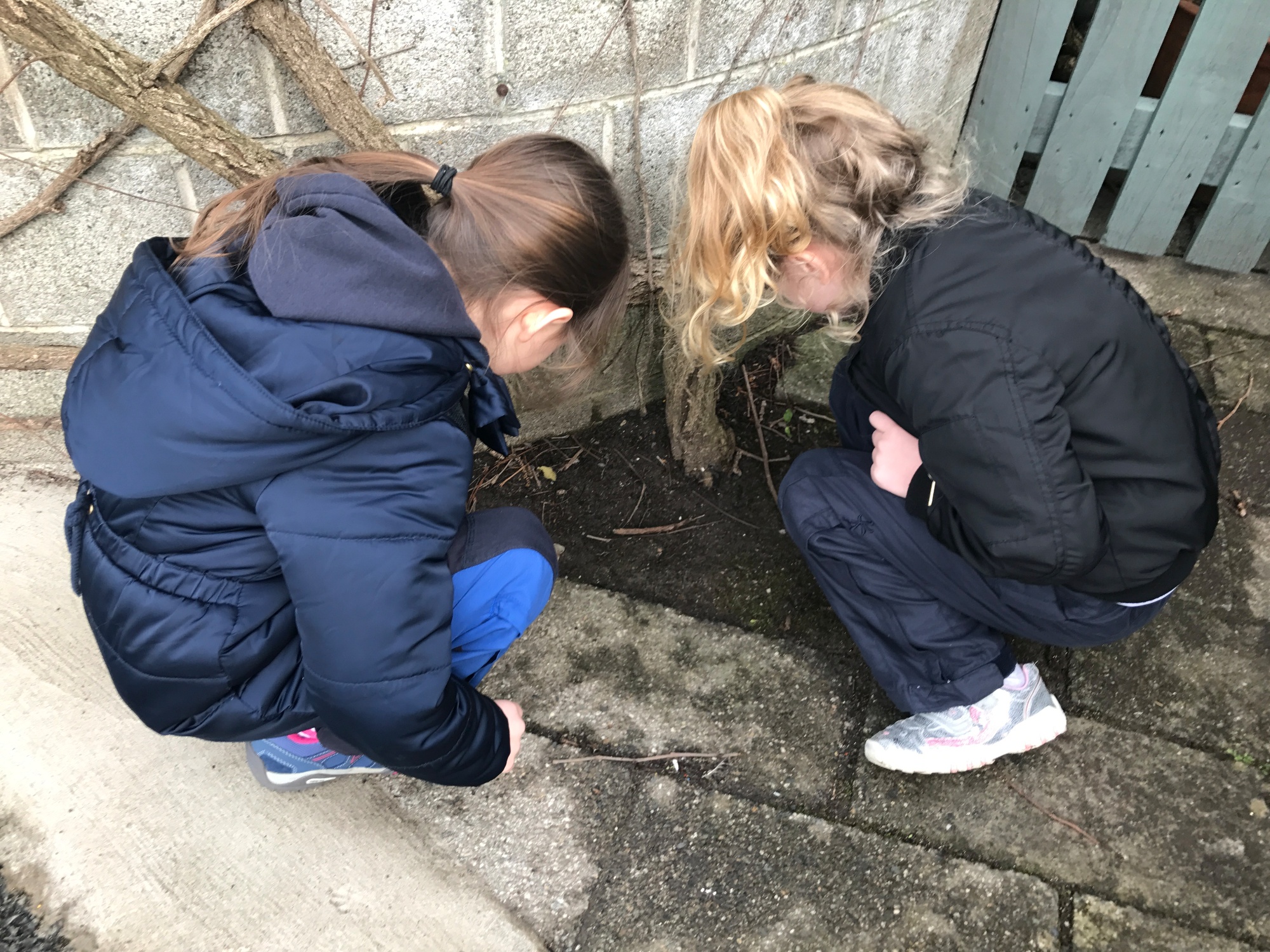 We've loved learning about the importance of planting for all our minibeasts and the environment. On this visit we planted tomato seeds. We look forward to tasting their juicy red tomatoes!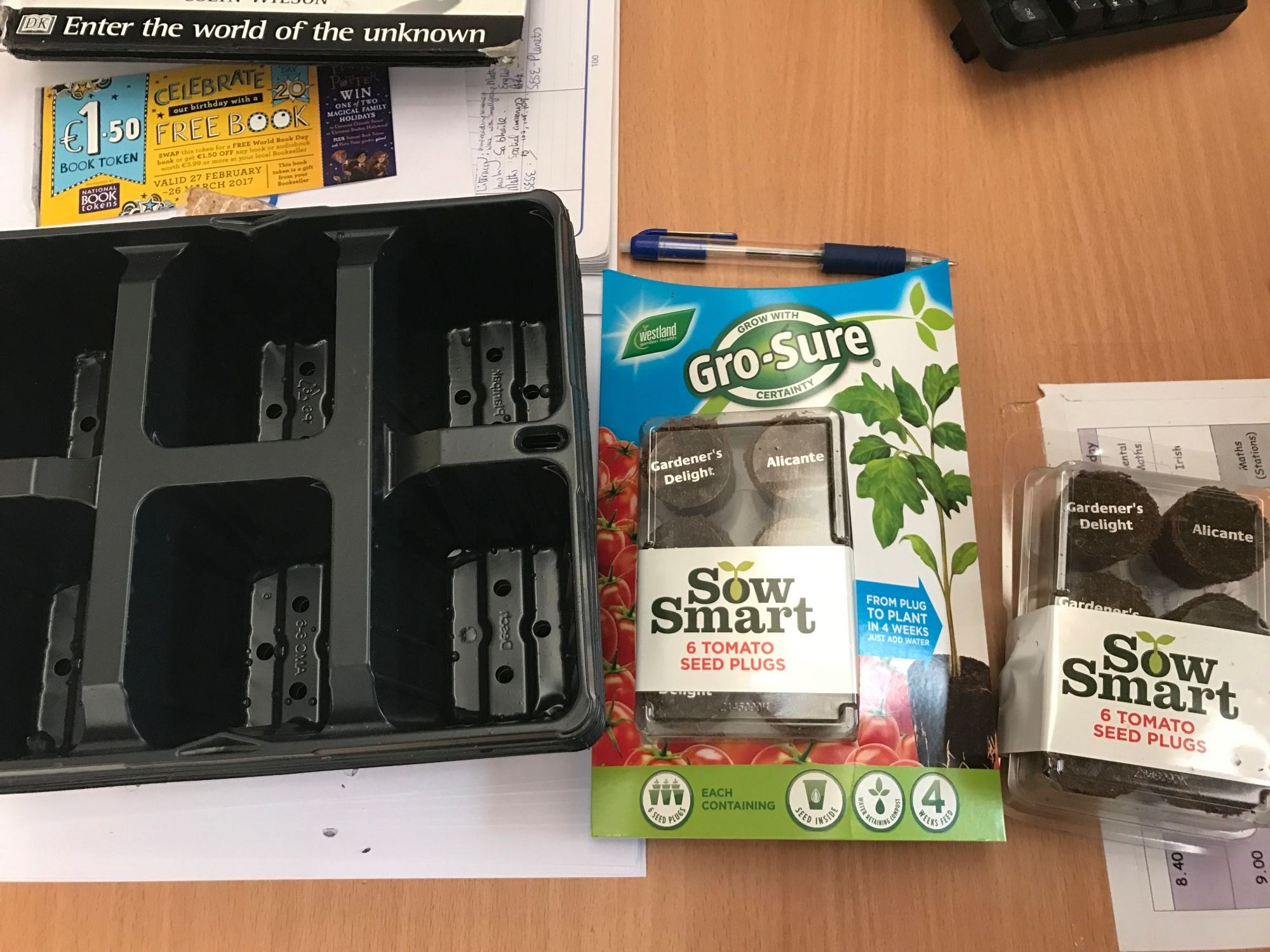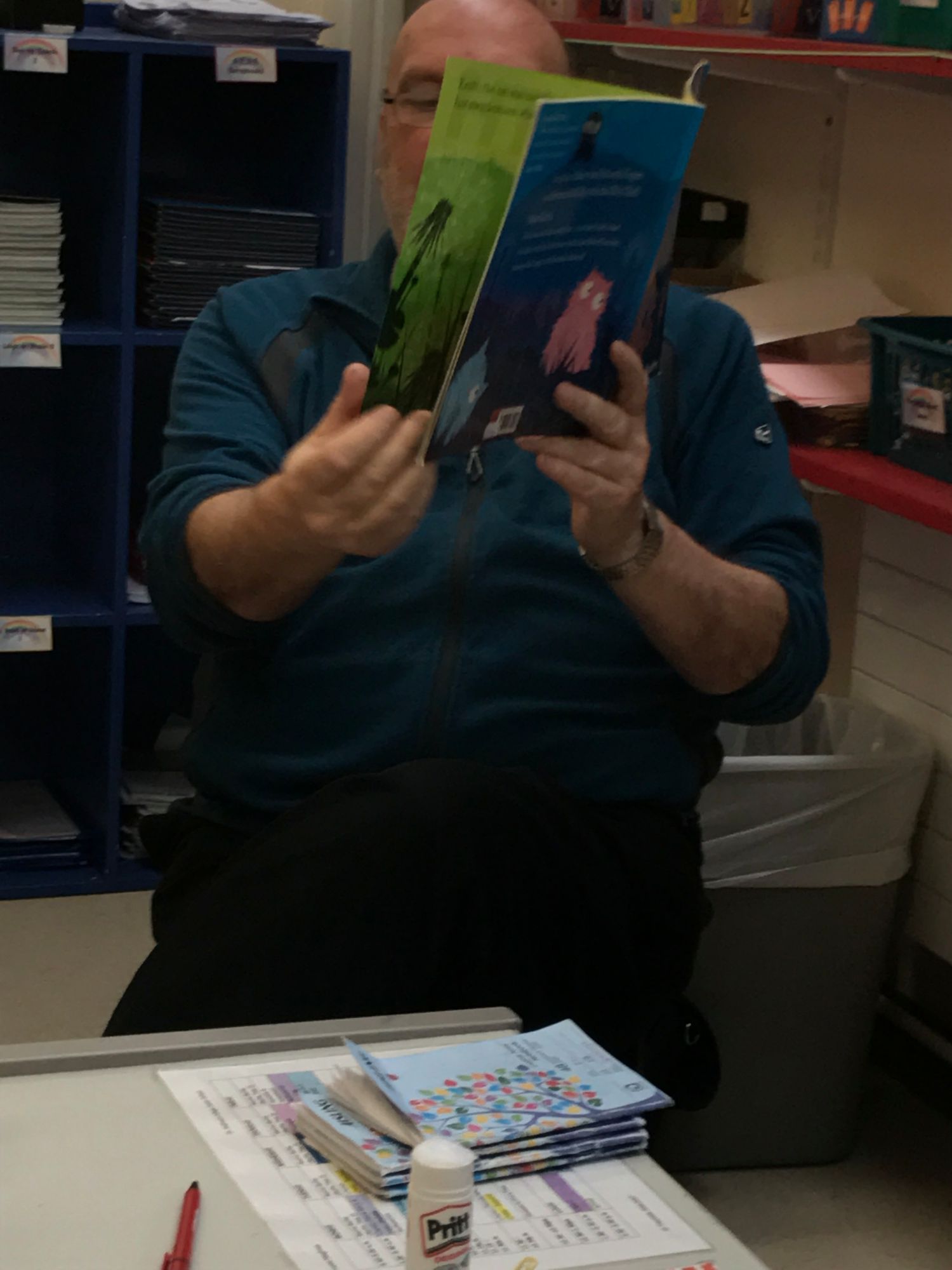 It was great to have Mr. Mansfield reading with us for world book day. He really brings the pages to life!
One small step for man, one giant leap for mankind!
Kicking off March with our theme of space!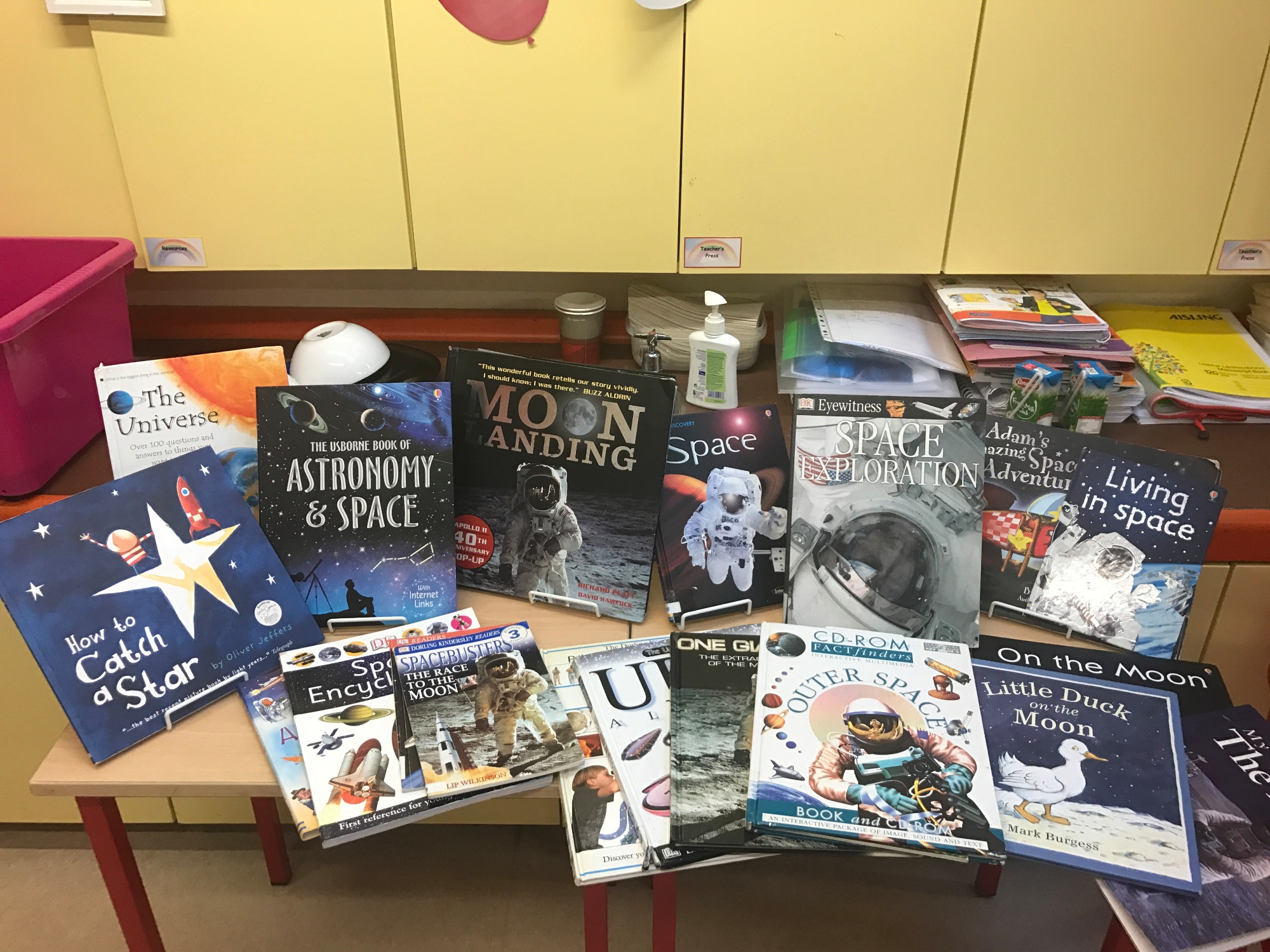 February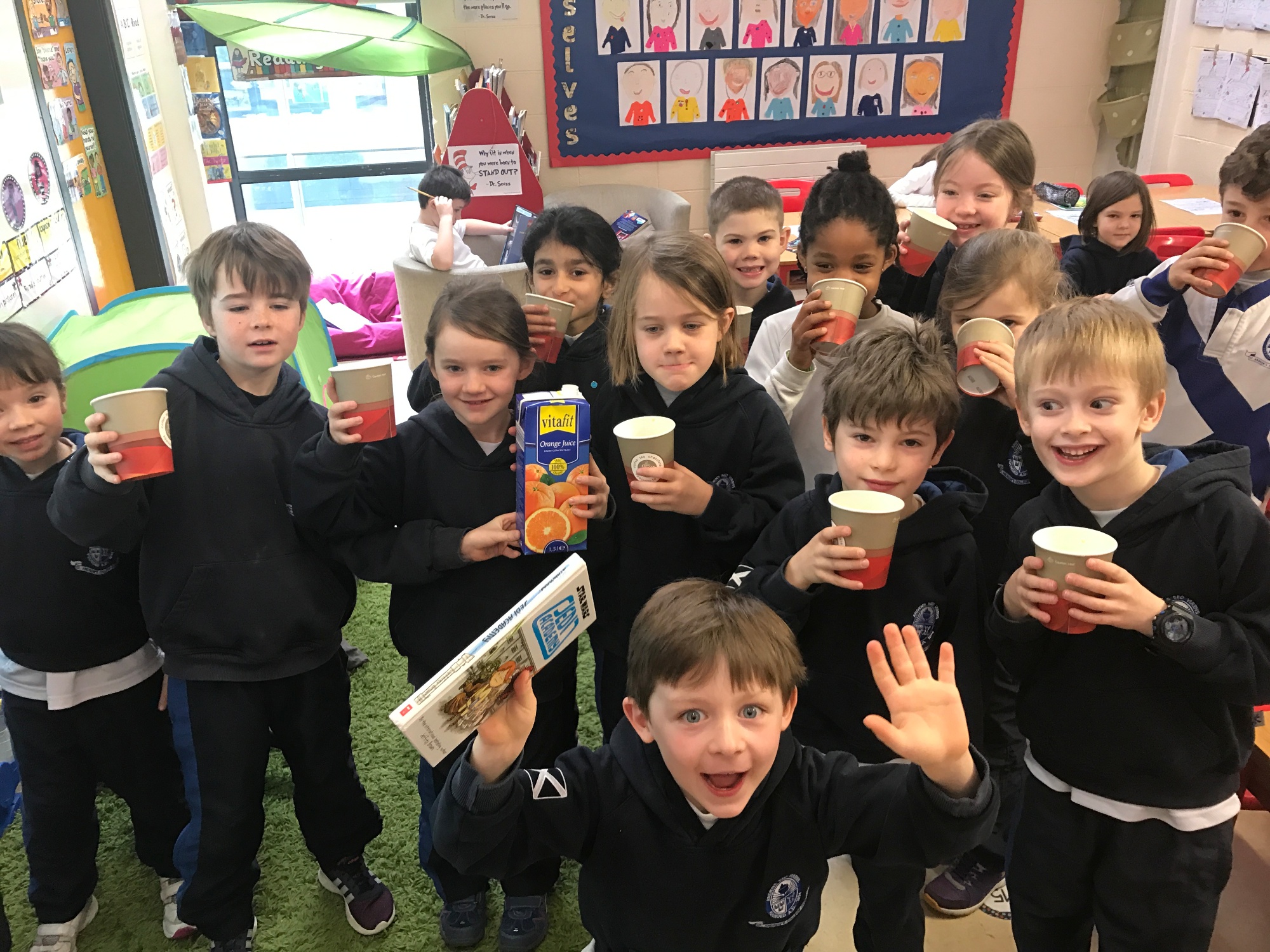 Performing Arts!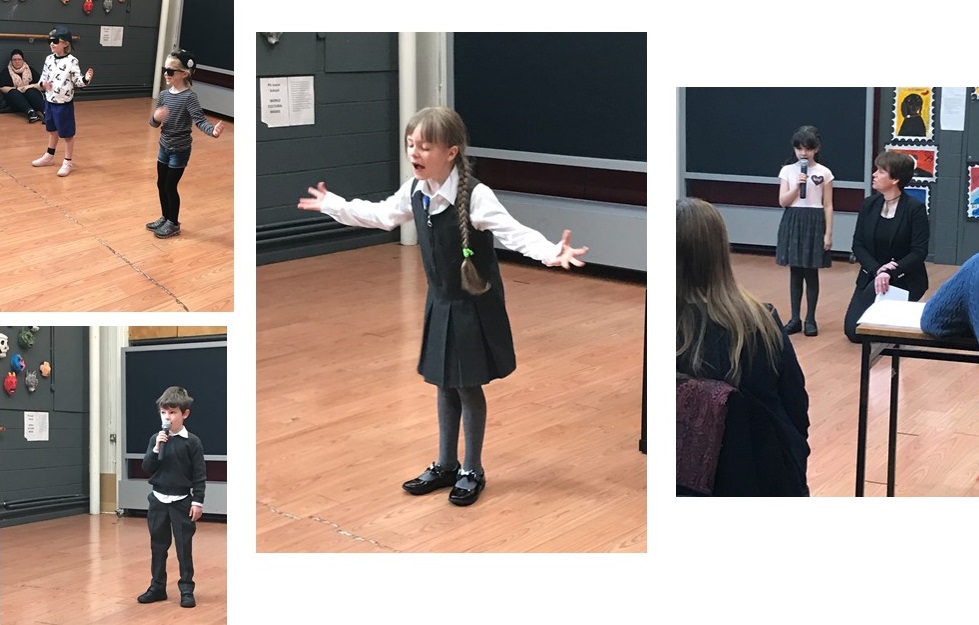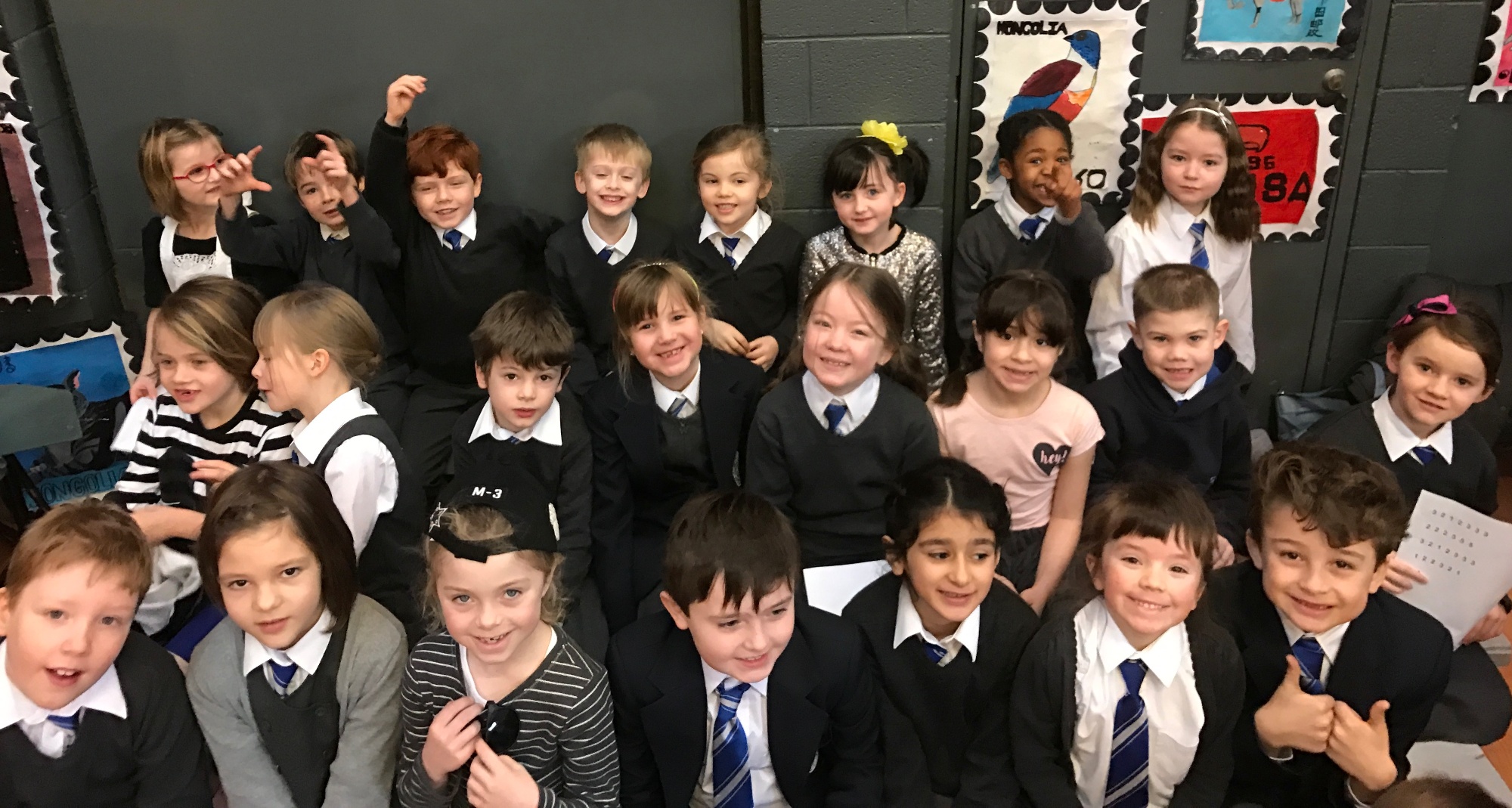 Congratulations to all the P1s who performed at the Performing Arts Festival held in the school. Your expression, confidence and enthusiasm was wonderful. Well done!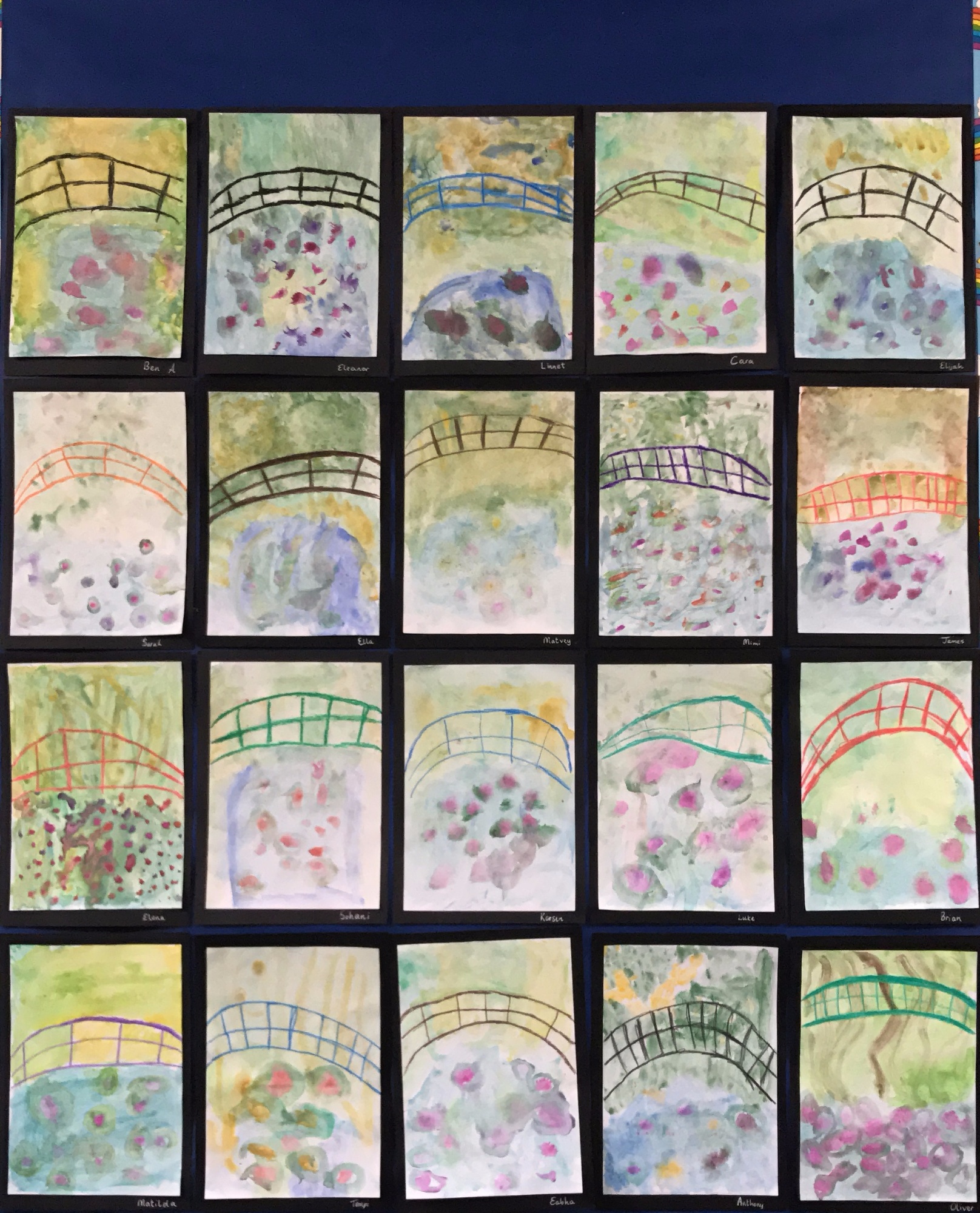 Claude Monet's 'Water Lilies'.
In art we've been studying about Impressionism and how artists created wonderful works in this style. Using water colours we replicated the work of Claude Monet.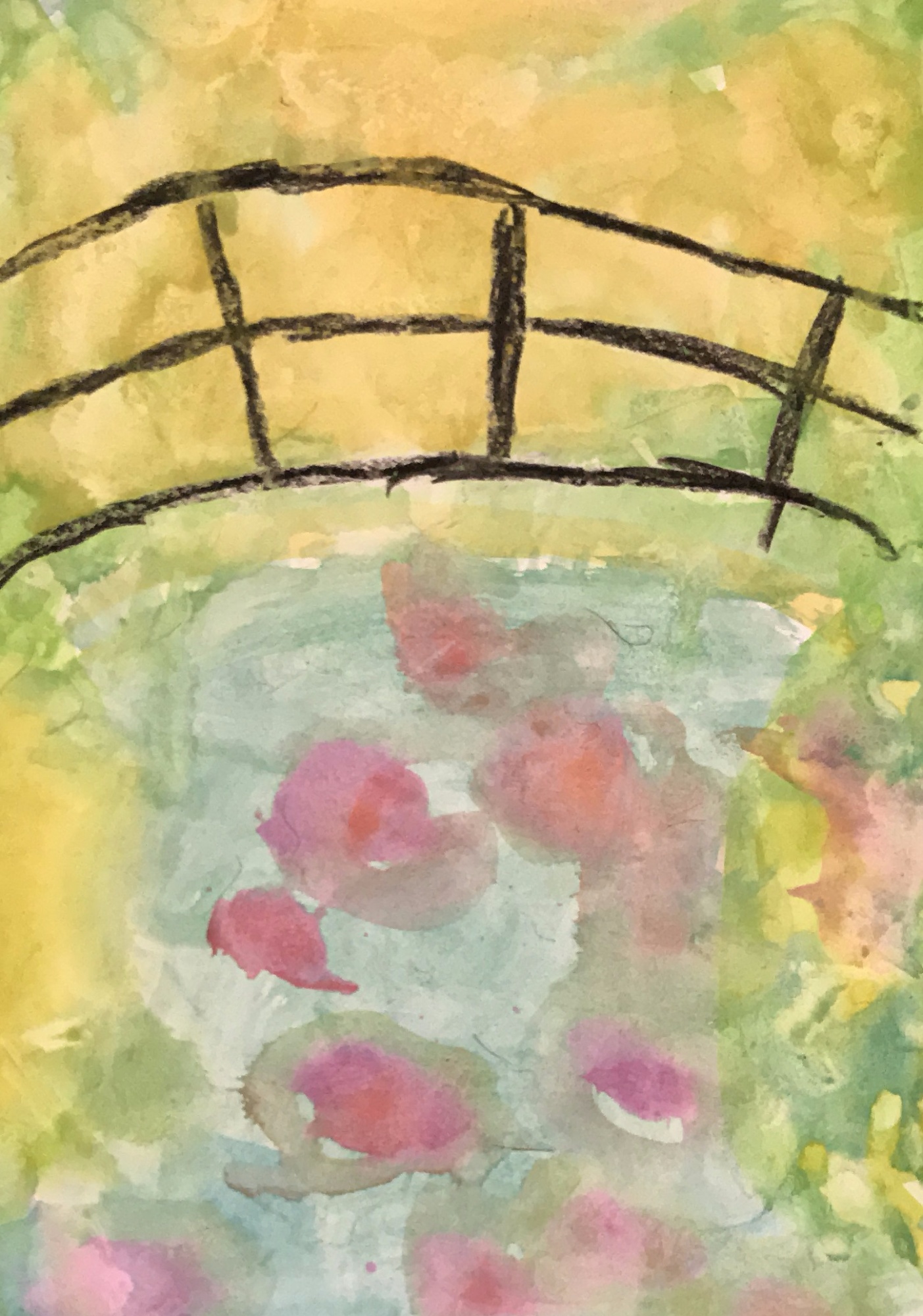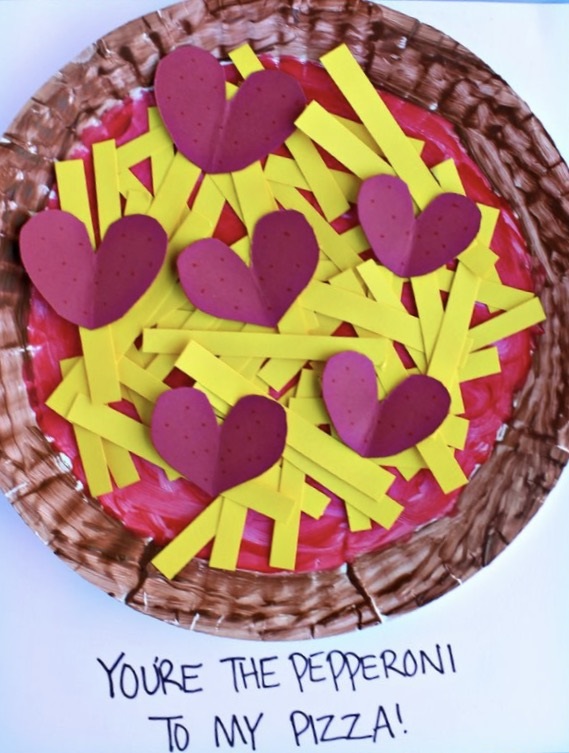 Happy St Valentine's Day!!
Mooooooo!
In art we have created collage pictures of cows by cutting and layering paper.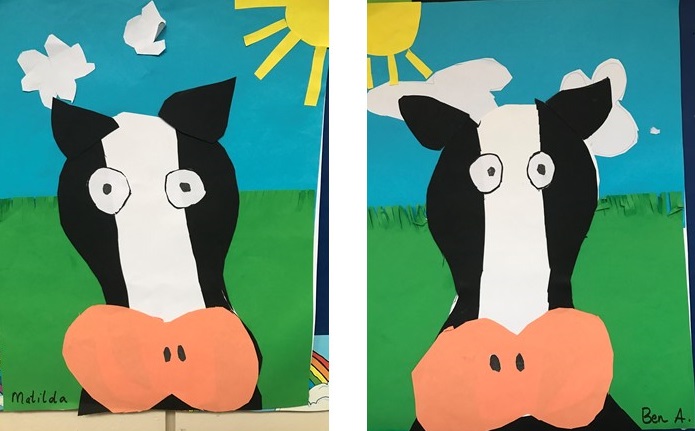 January 2017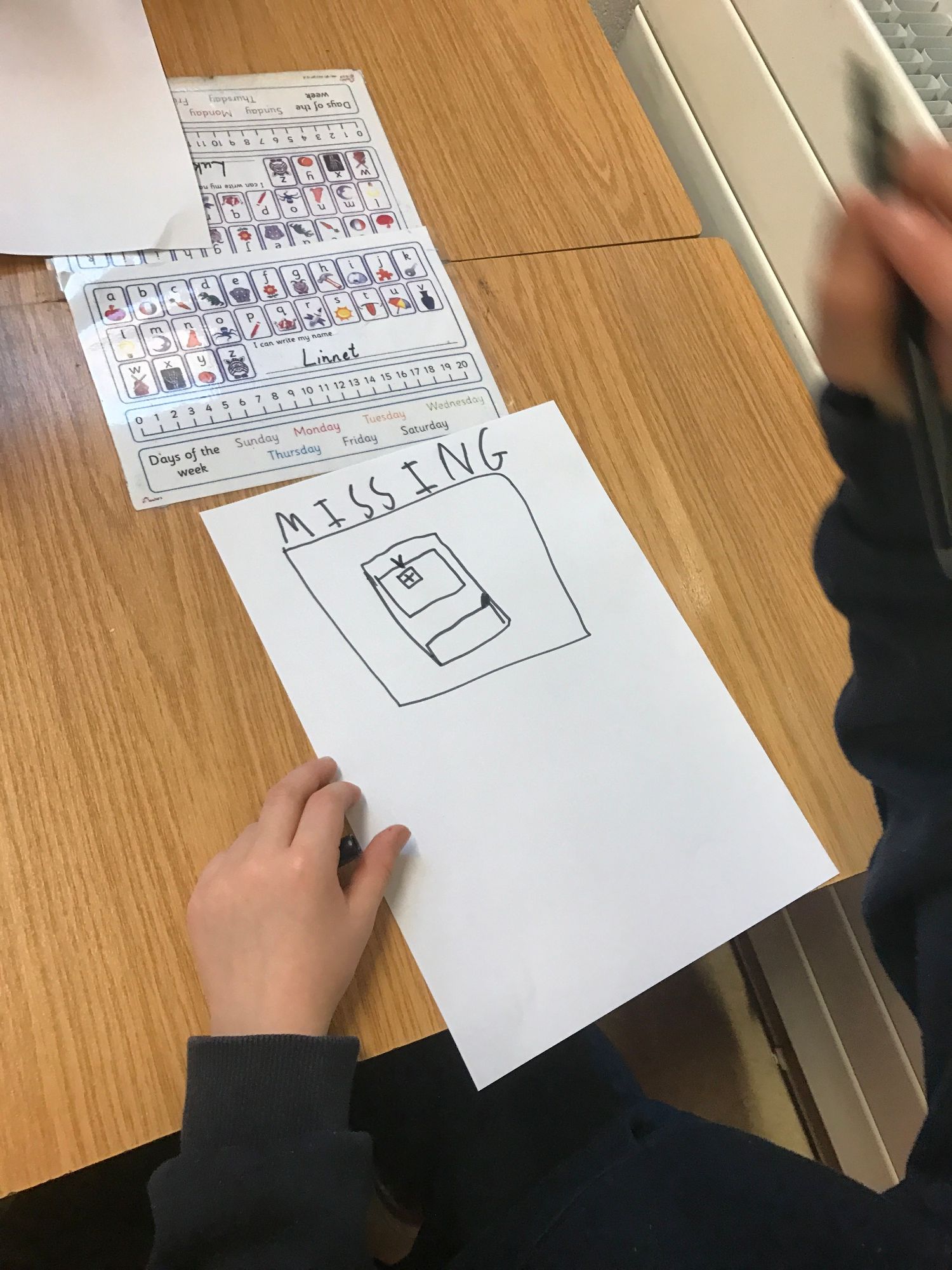 Lost and Found in Drama!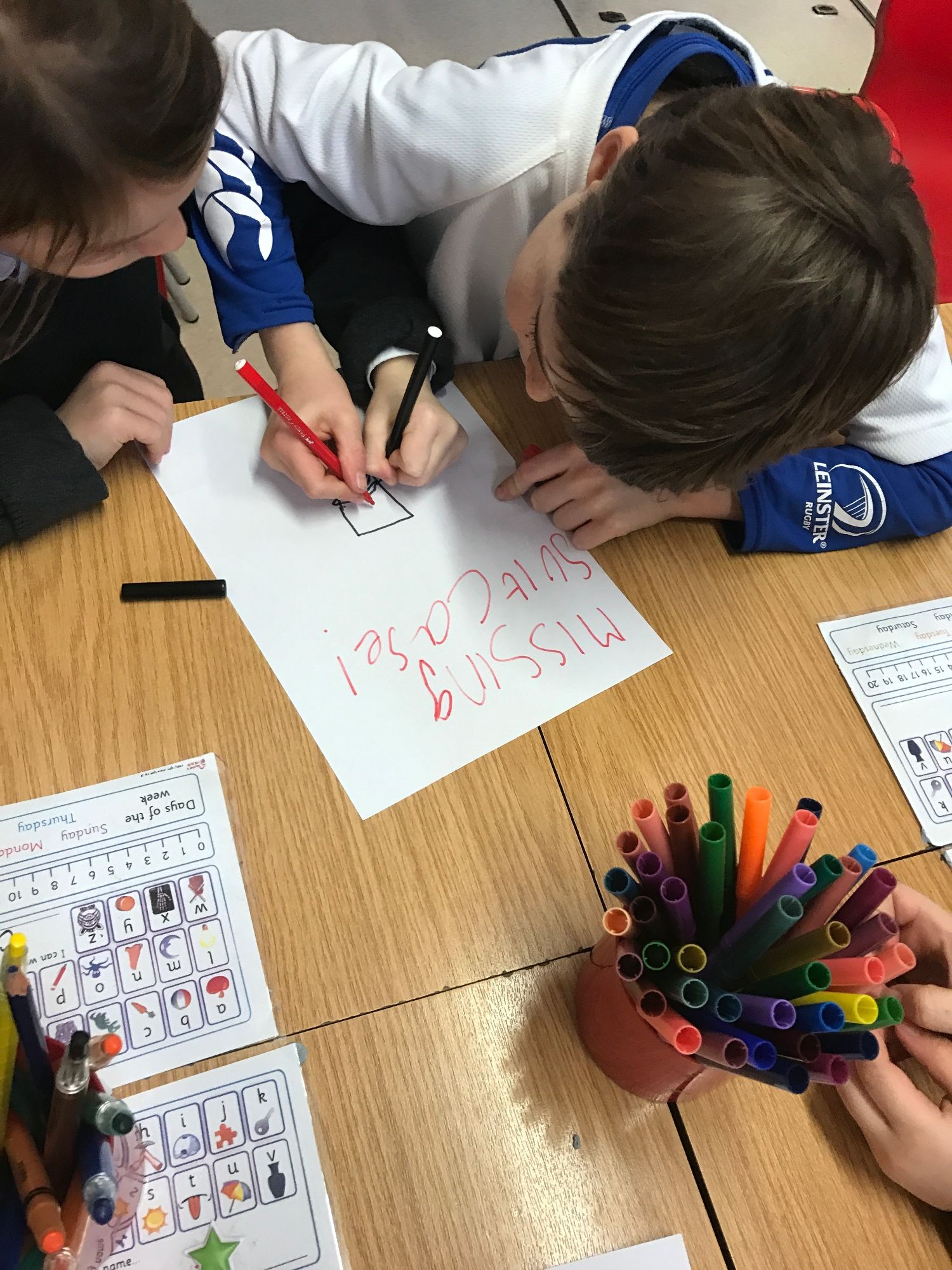 We've been really enjoying our drama lately. Learning about Oliver Jeffers' book Lost and Found through drama!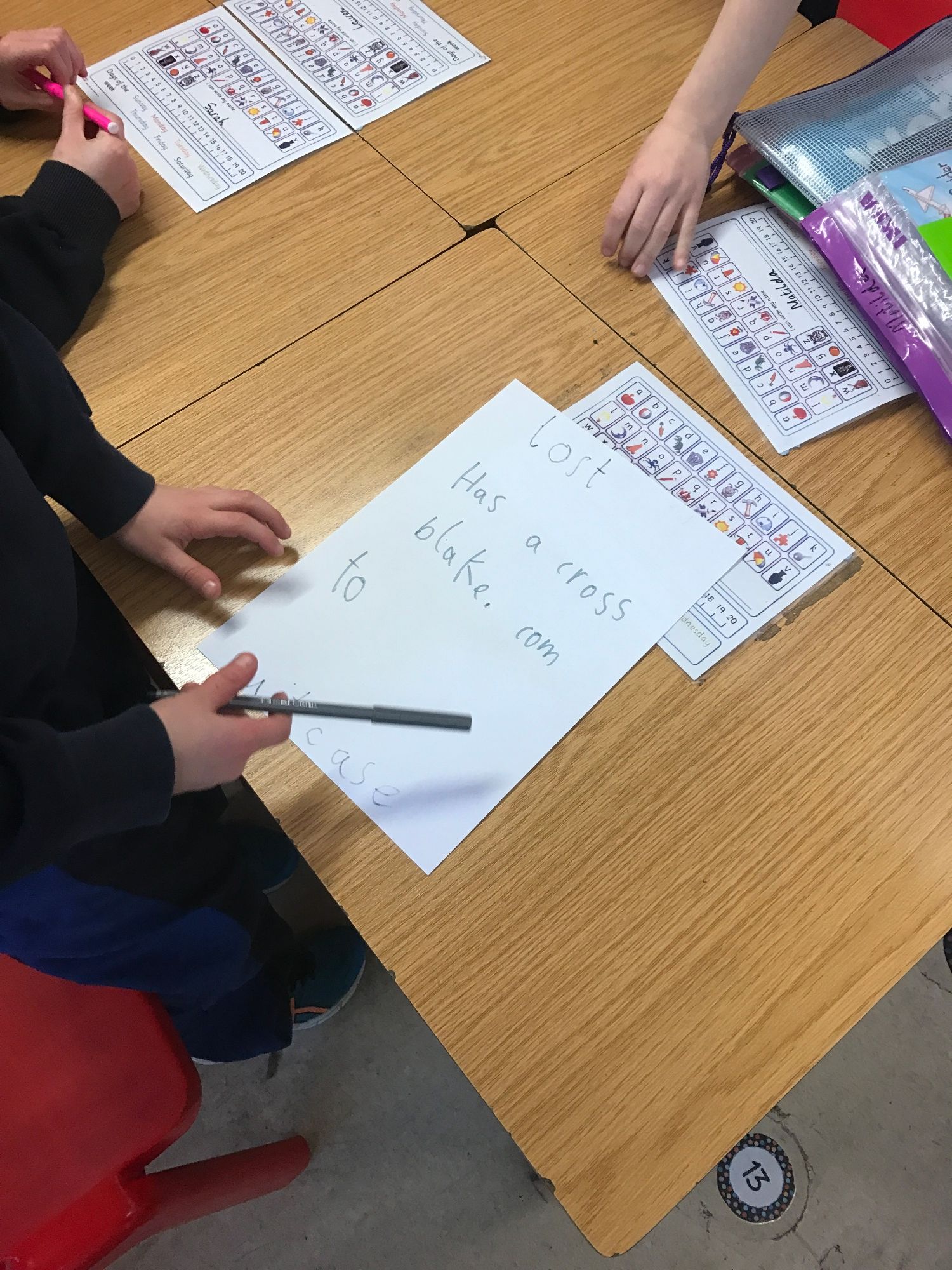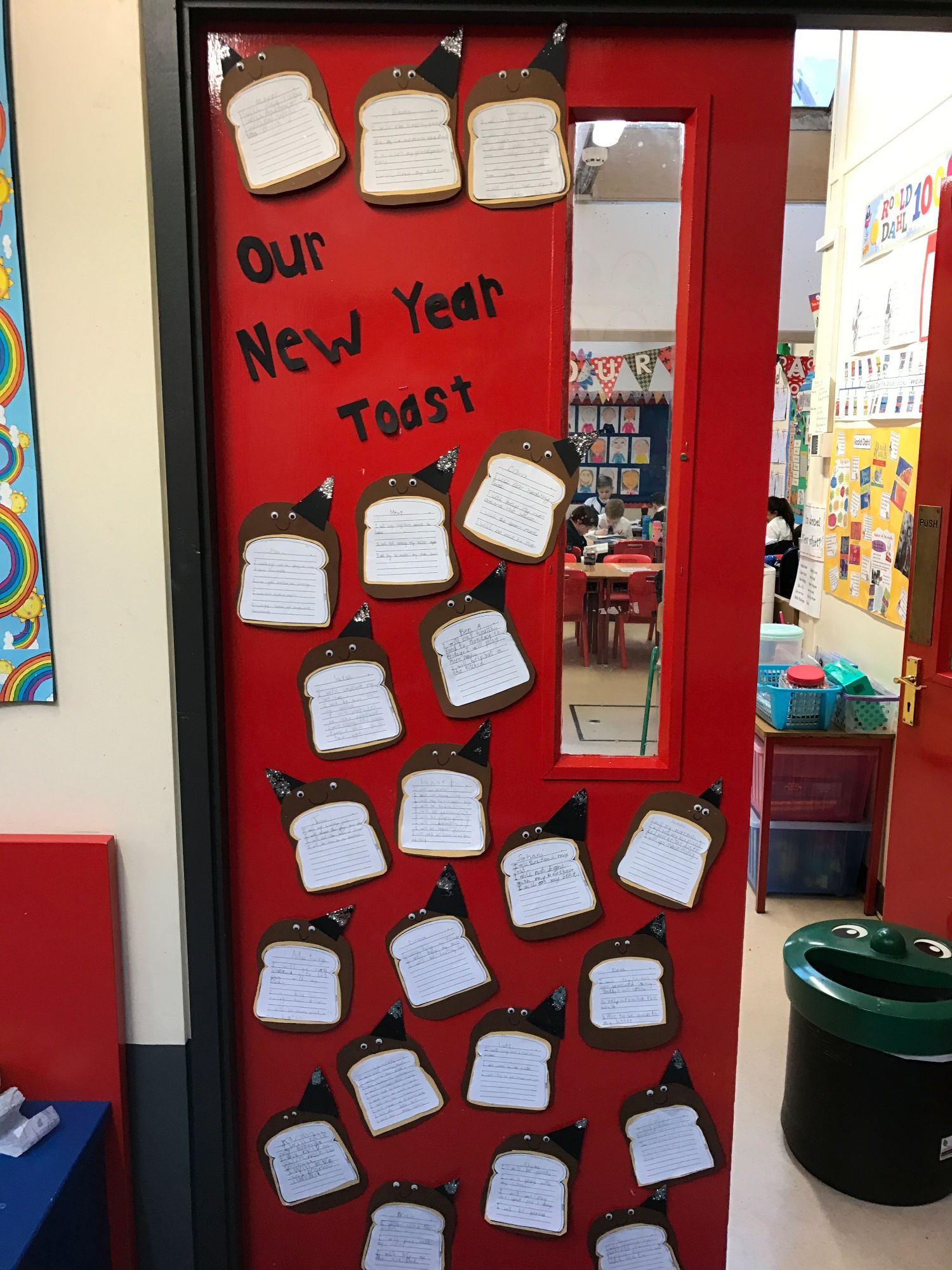 Toasting the New Year!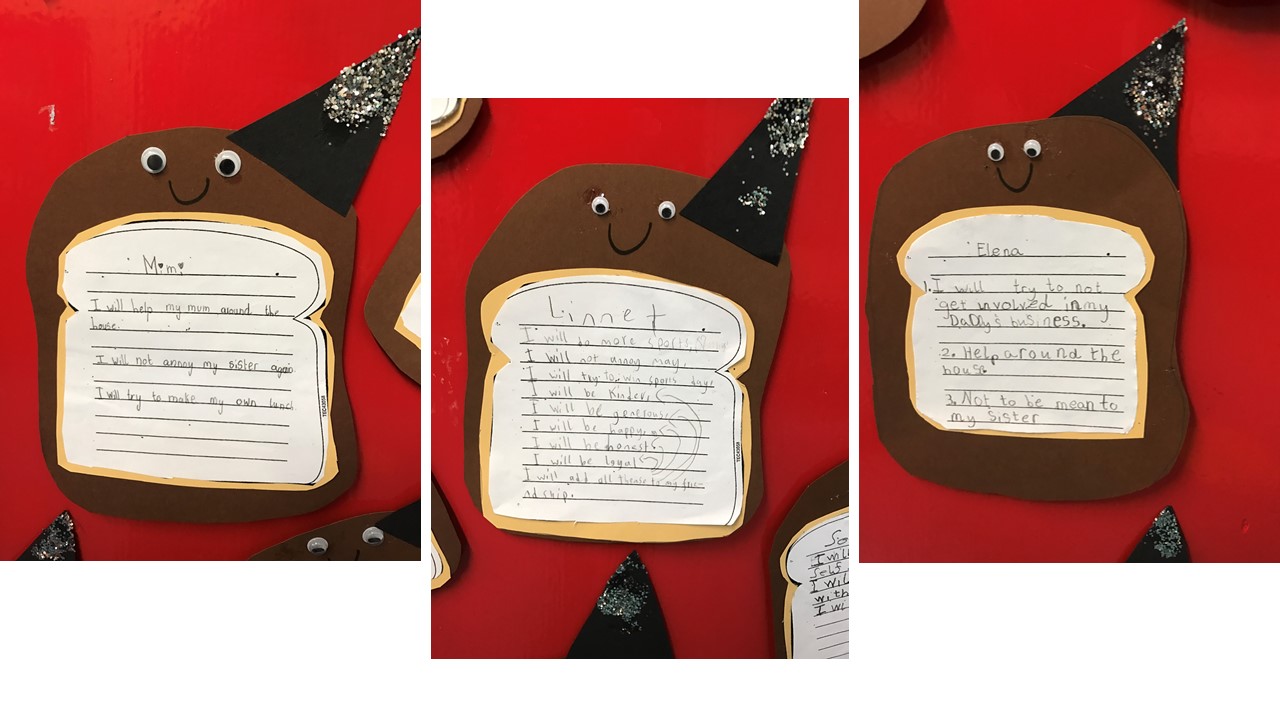 December
SANTA CLAUSE IS COMING TO TOWN!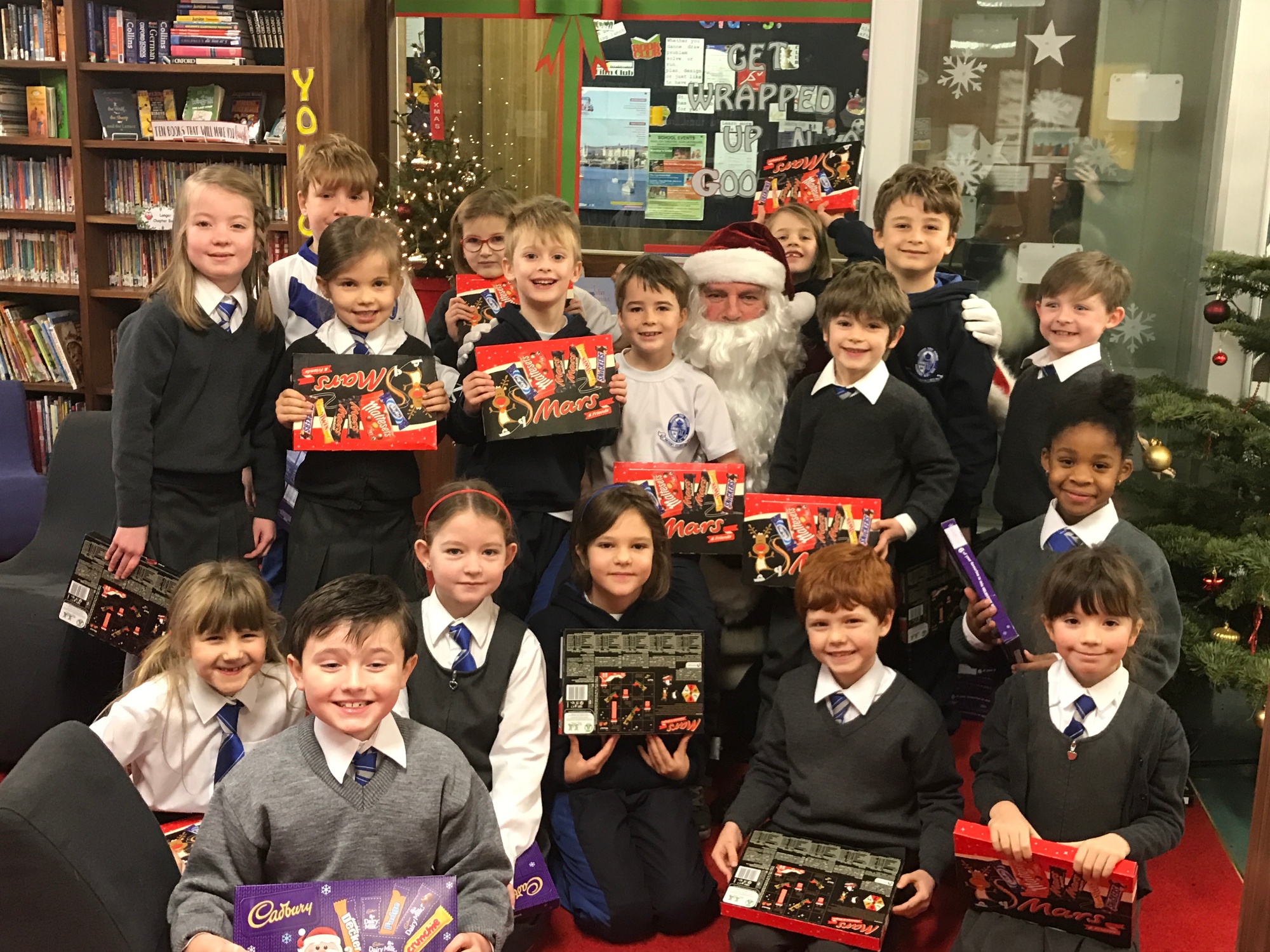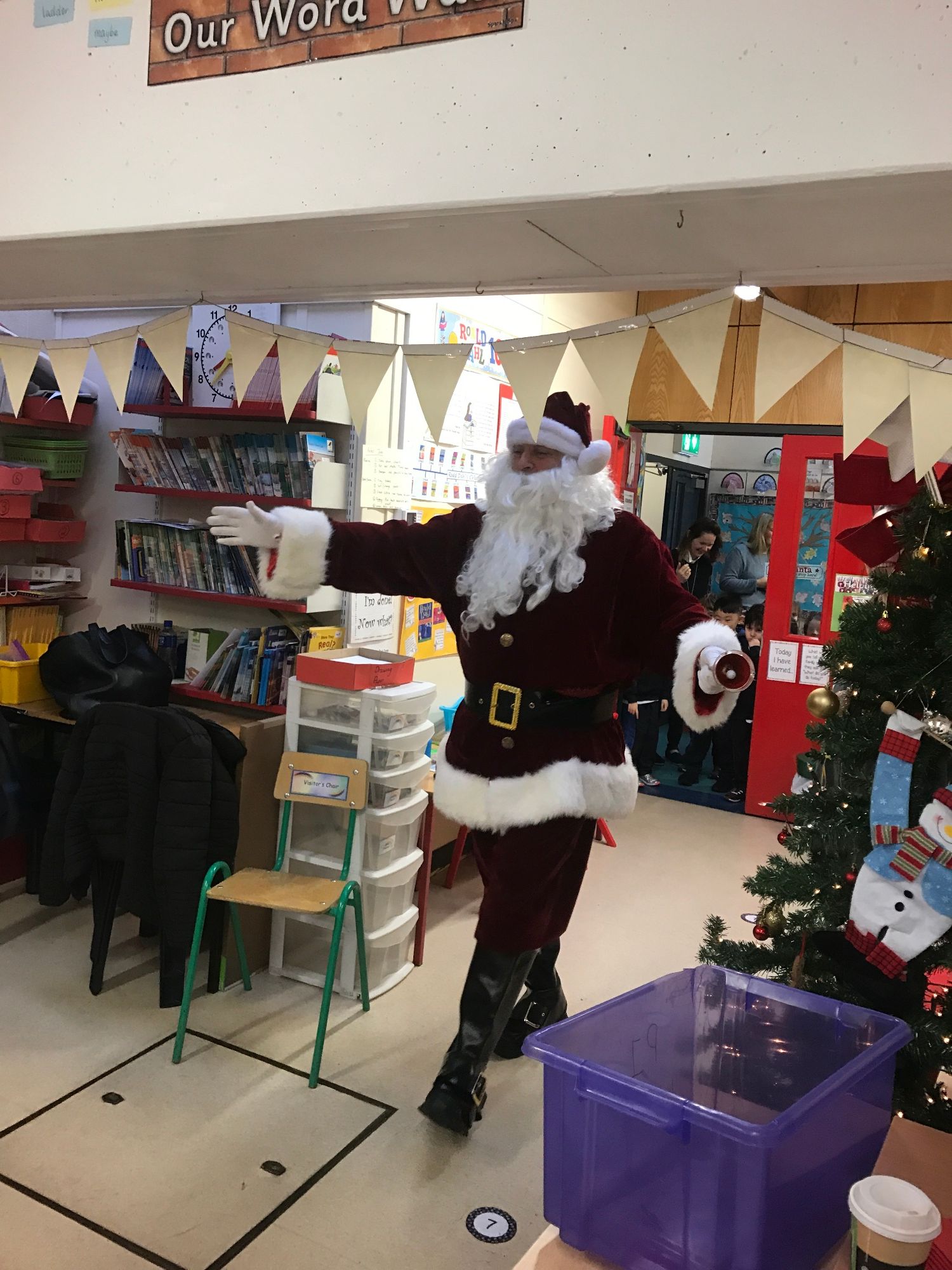 Santa paid a surprise visit all the way from the North Pole to see all the boys and girls in St Andrew's and to see what they would like for Christmas for being so good!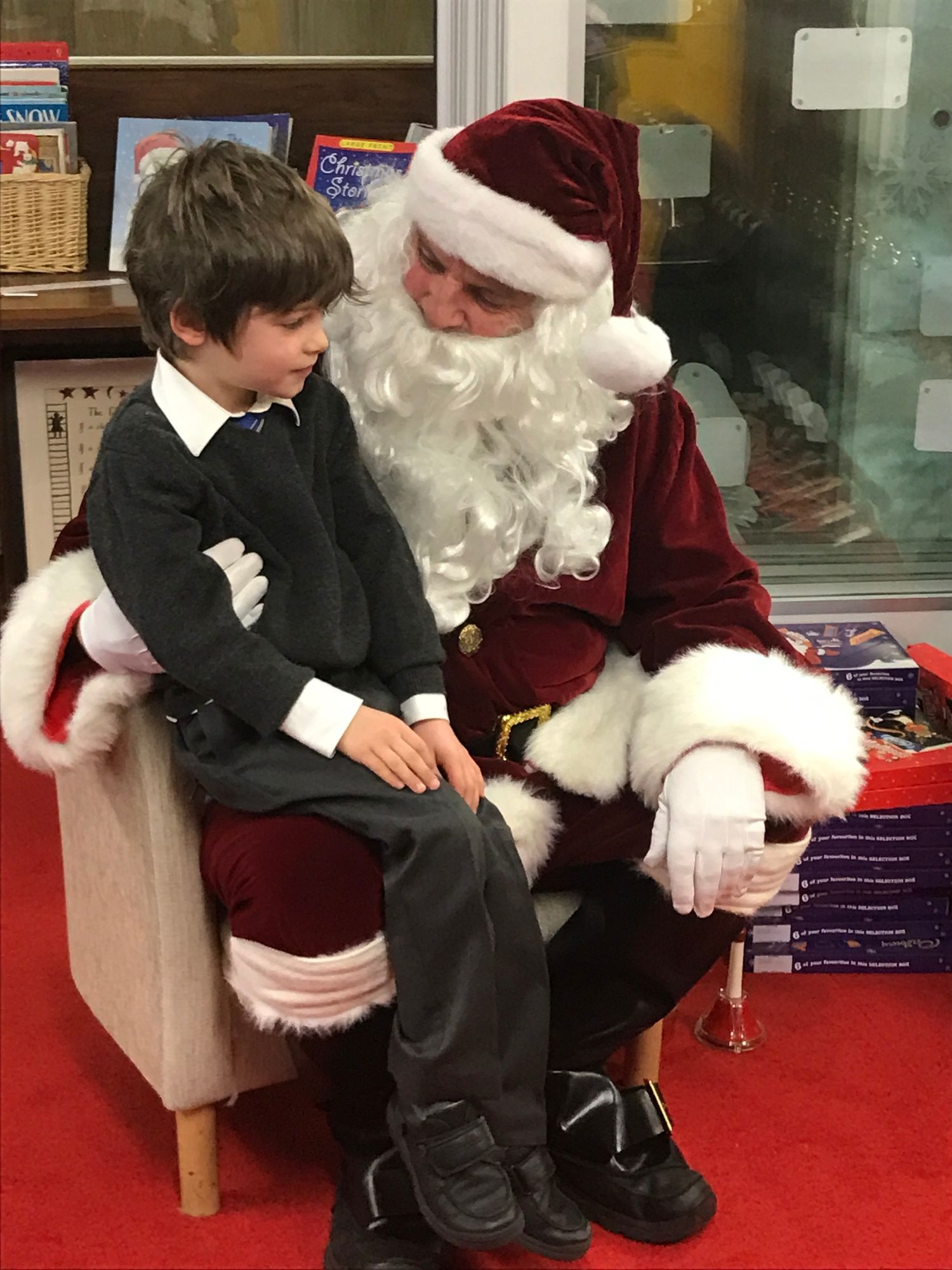 Congratulations to Éabha Smeeth who did excellently in her recent Irish Dancing Feis. We look forward to seeing Éabha as part of the Riverdance troop in the future!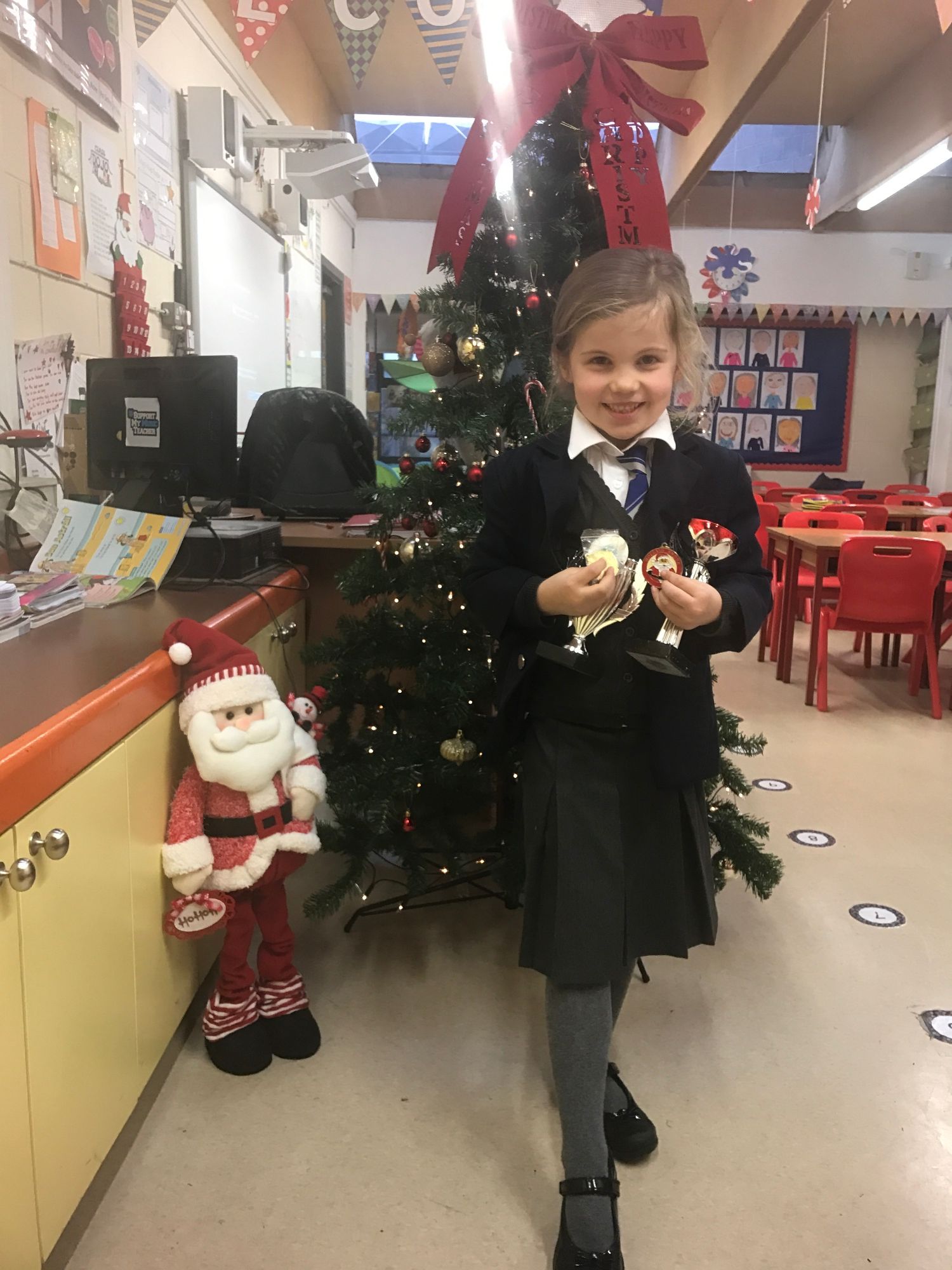 November
Secret Speaker - Learning from the Expert!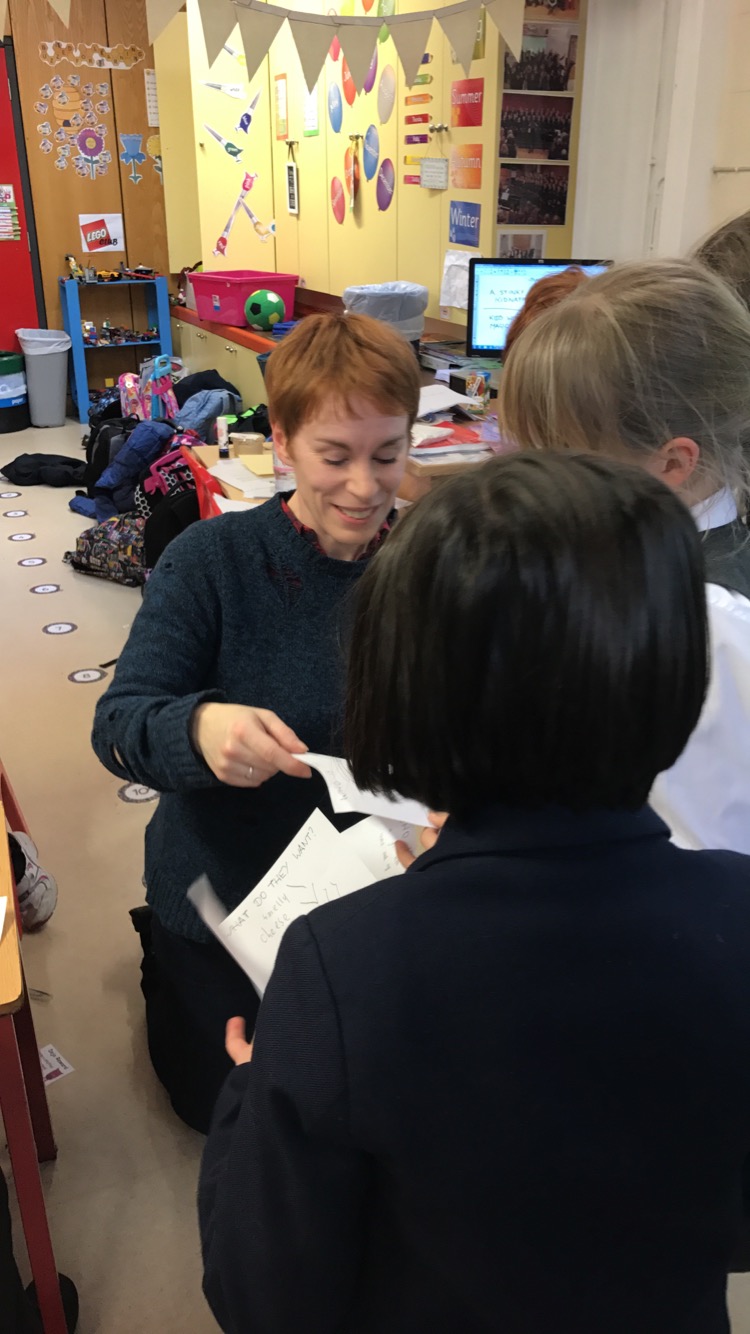 Our November secret speaker was Tana, Linnet's mum, who is a famous Irish author. She tapped into our creative sides and had us creating our very own books in 4 simple steps! For sure we will use this template when delving into our next creative writing session.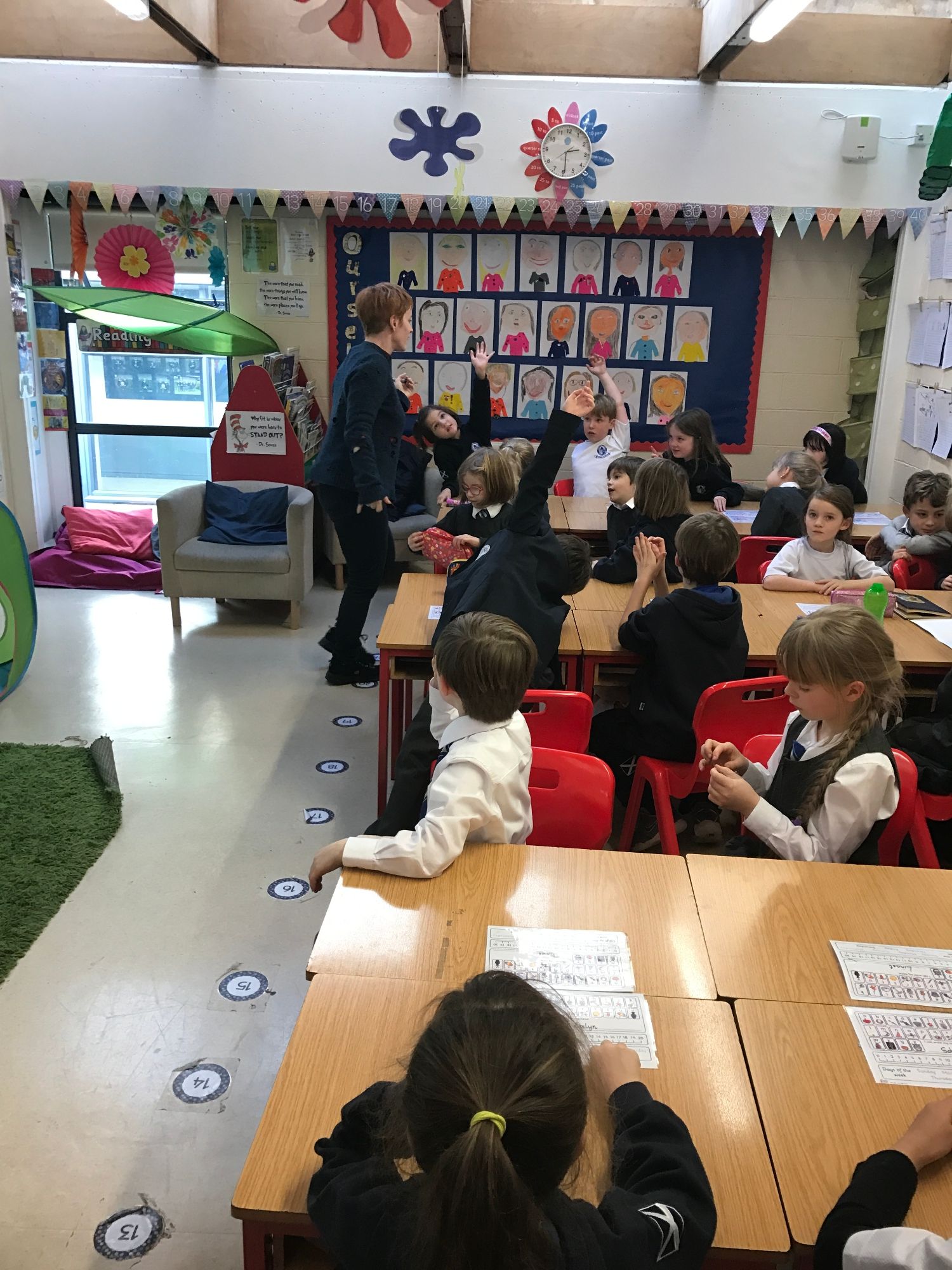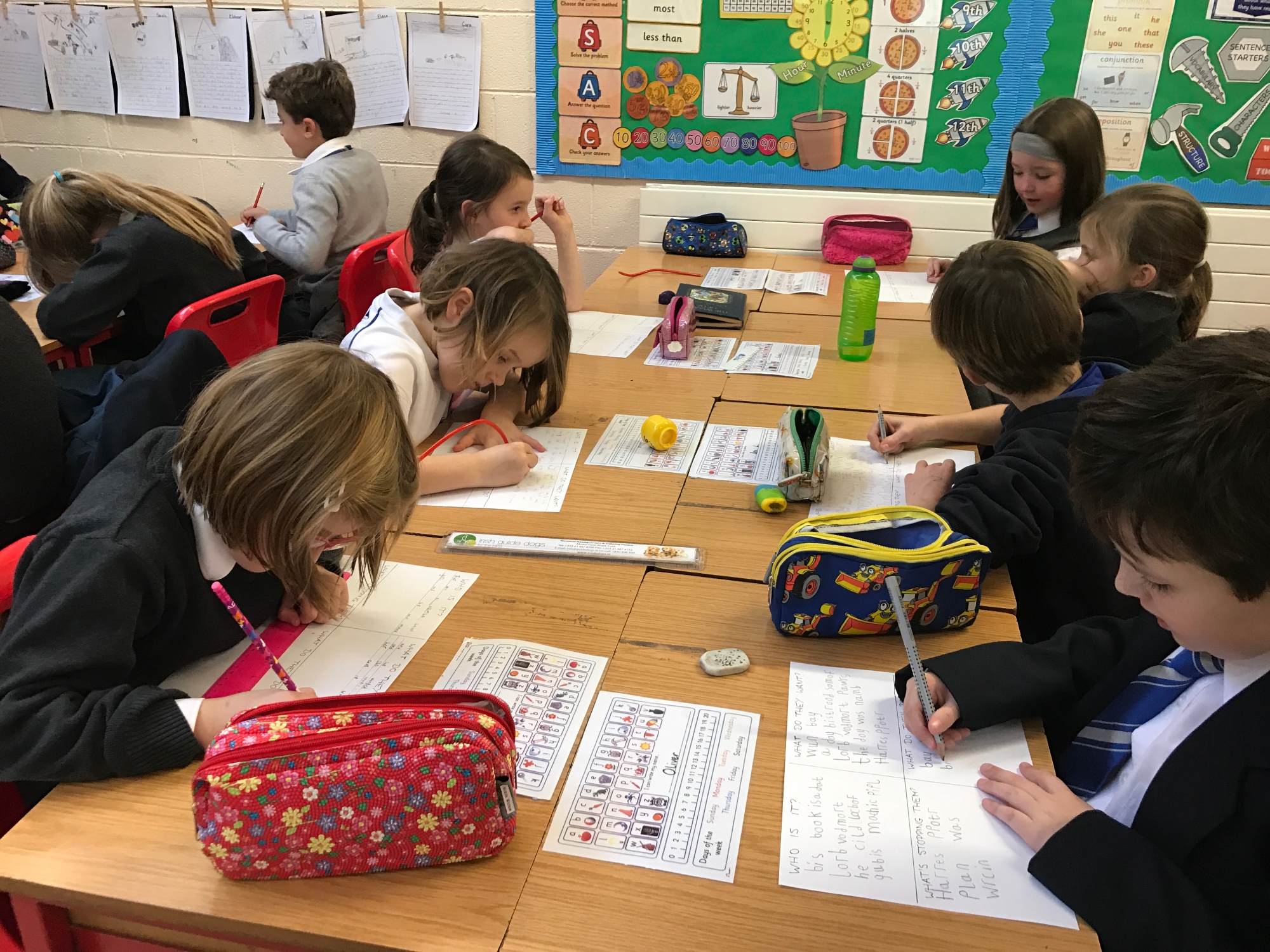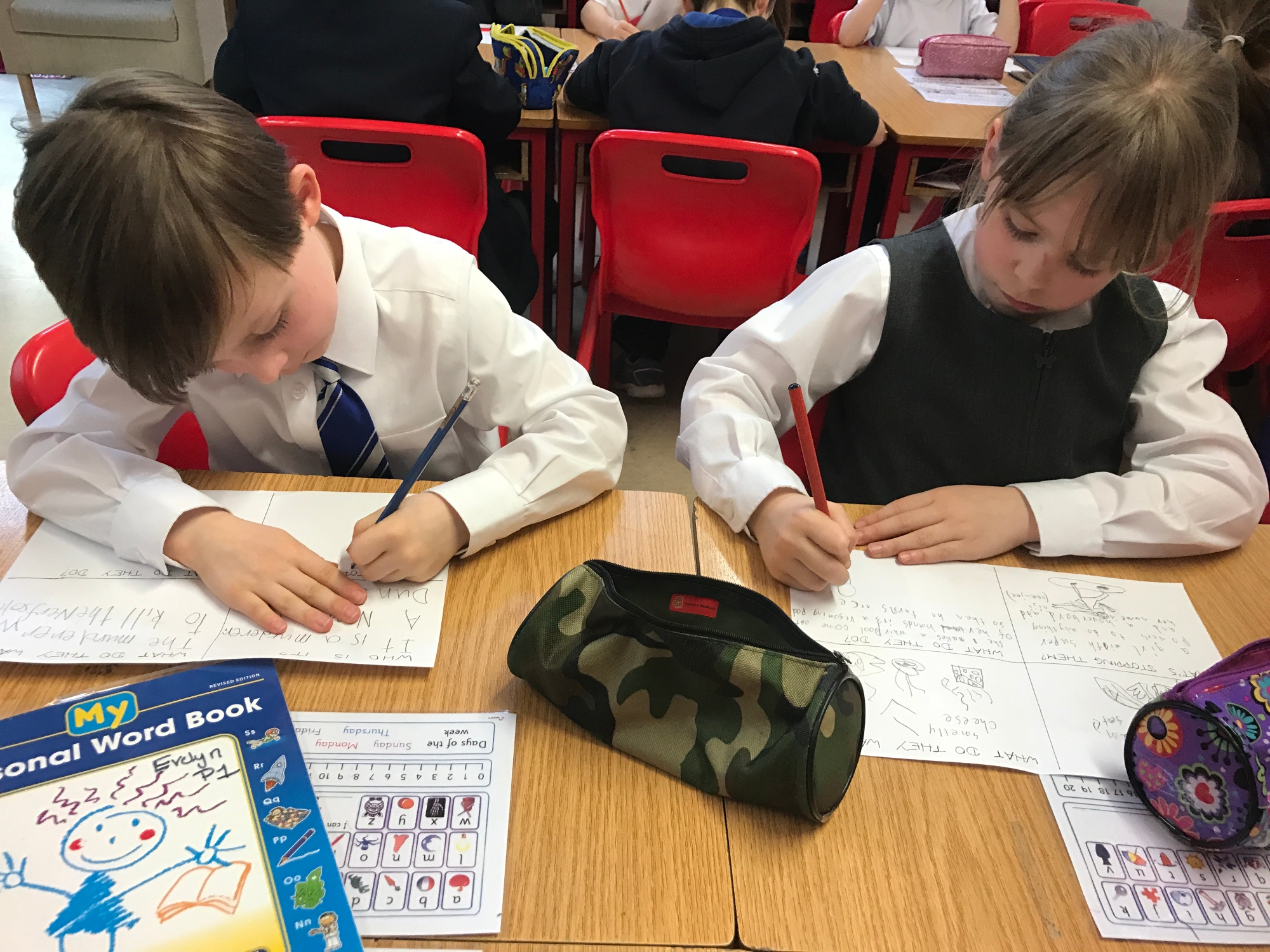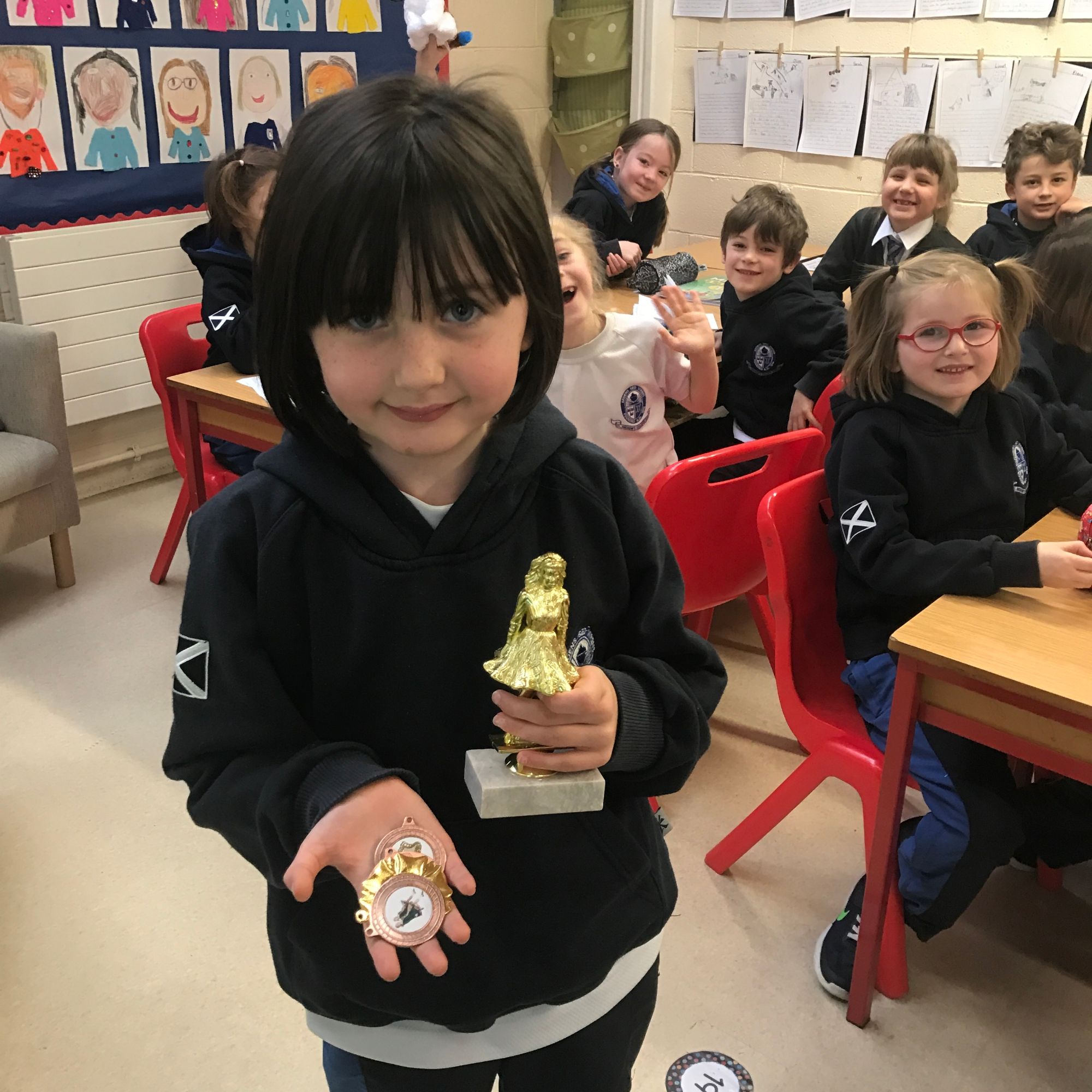 Congratulations to Mimi Stapleton (P1) who took home the silverware at her Irish Dancing Competition which took place last Sunday.
October
Secret Speaker - Sssshhhhh!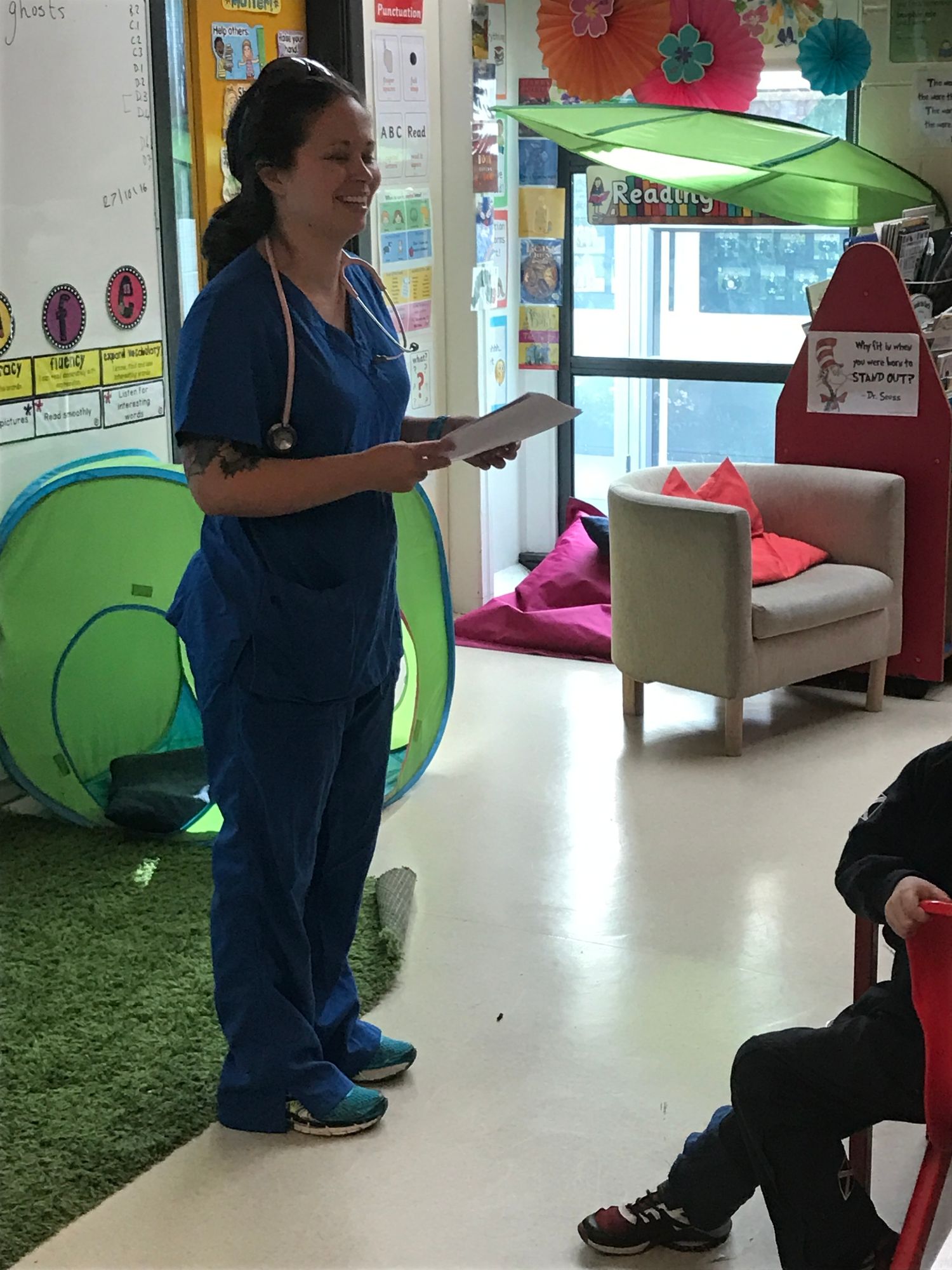 Our secret speaker for October was Temperance's mum, who taught us about the work of a nurse. We discovered how easily germs are spread if we don't wash our hands, how to check our heart rate, and even role-played being nurses ourselves with our very own patients!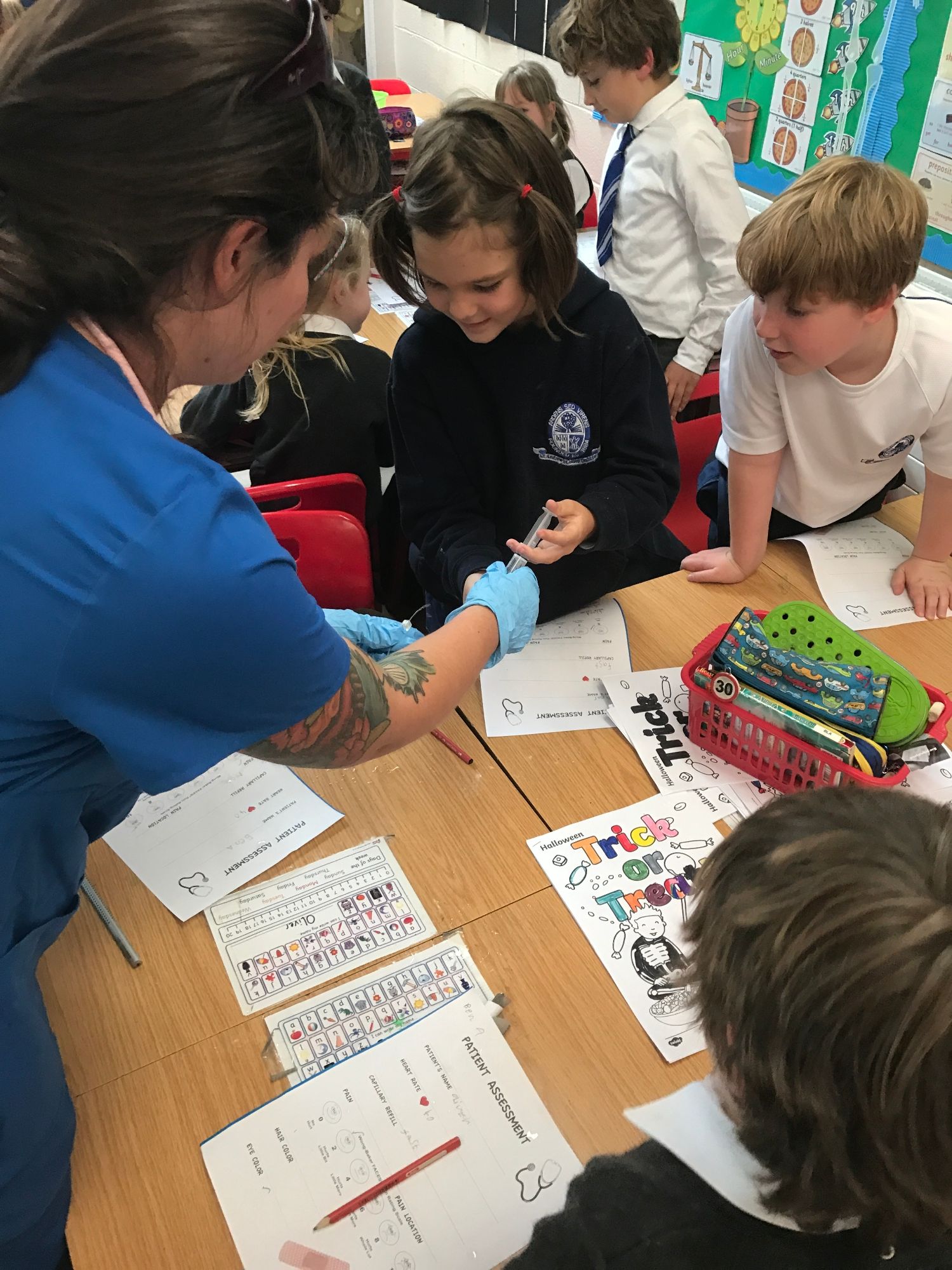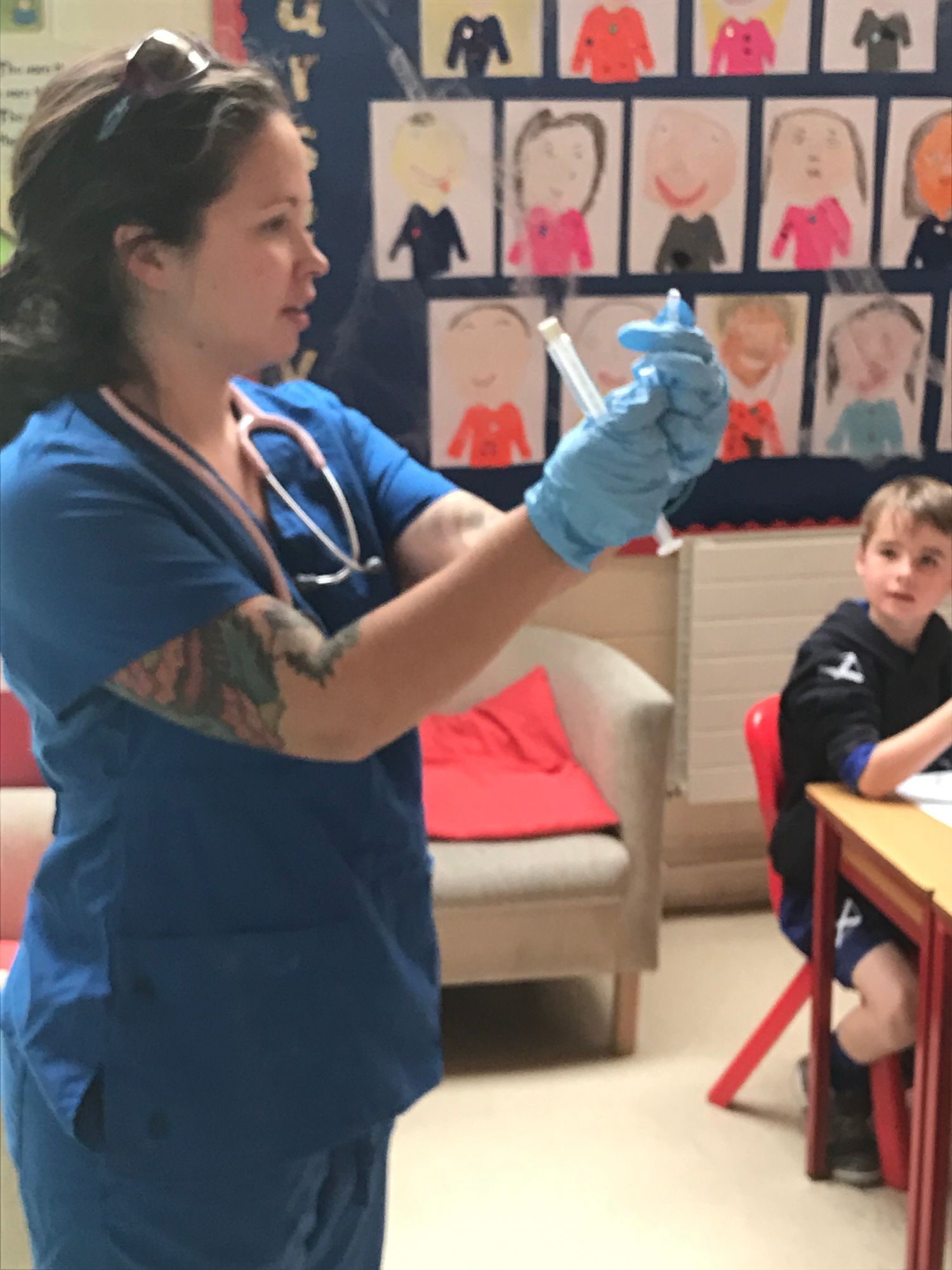 Thank you Jackie for sharing all this information with us!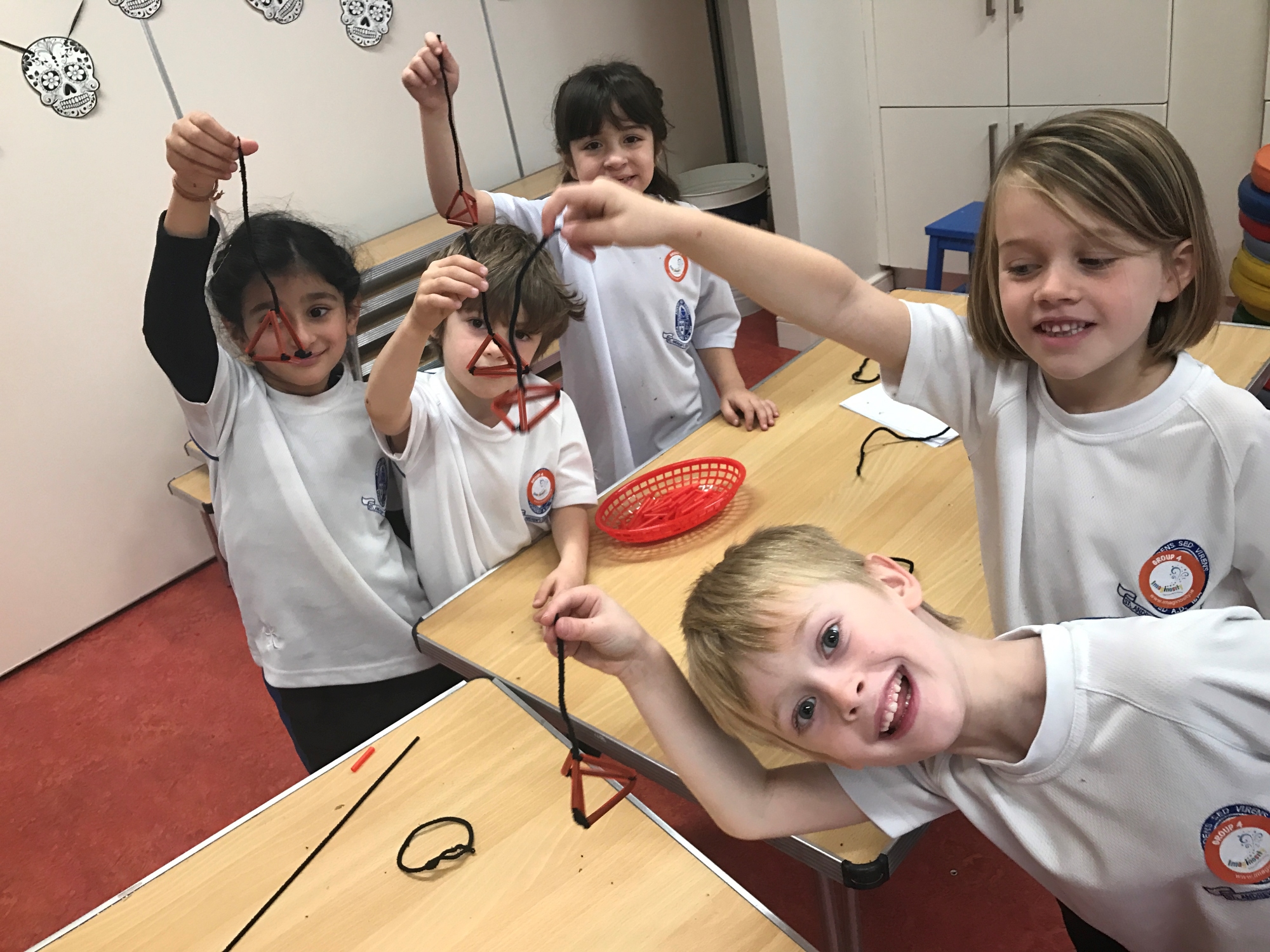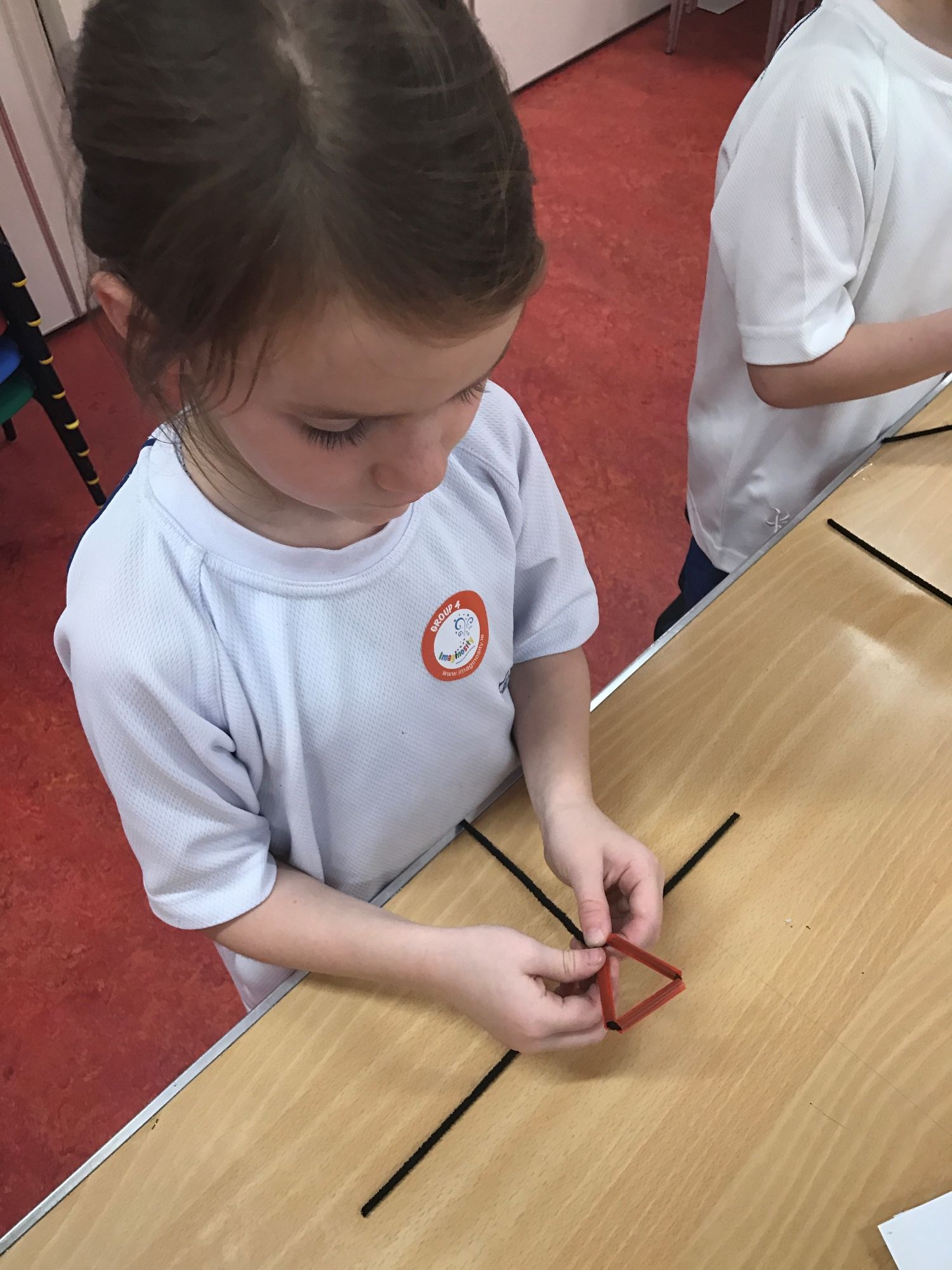 P1 and P2 enjoyed their trip to Imaginosity on Friday 21 October. We participated in a maths workshop for Maths Week. We learned how to make triangular prisms and then saw how bubbles, when blown through this shape, still come out round! Fascinating! We then enjoyed being waitresses, shopkeepers, doctors, racing drivers, policemen, actors, singers, weather readers and news reporters! A great day was had by all!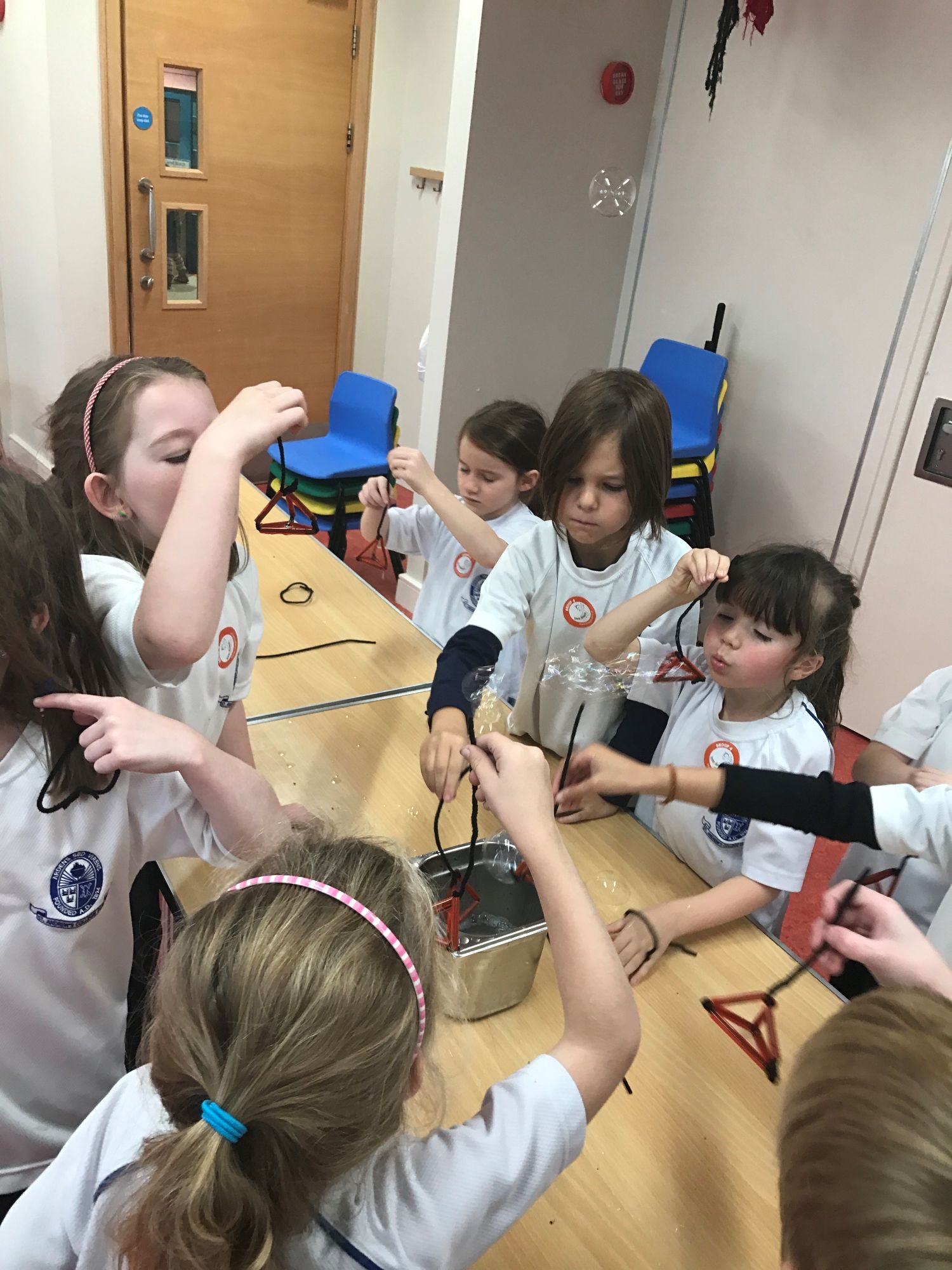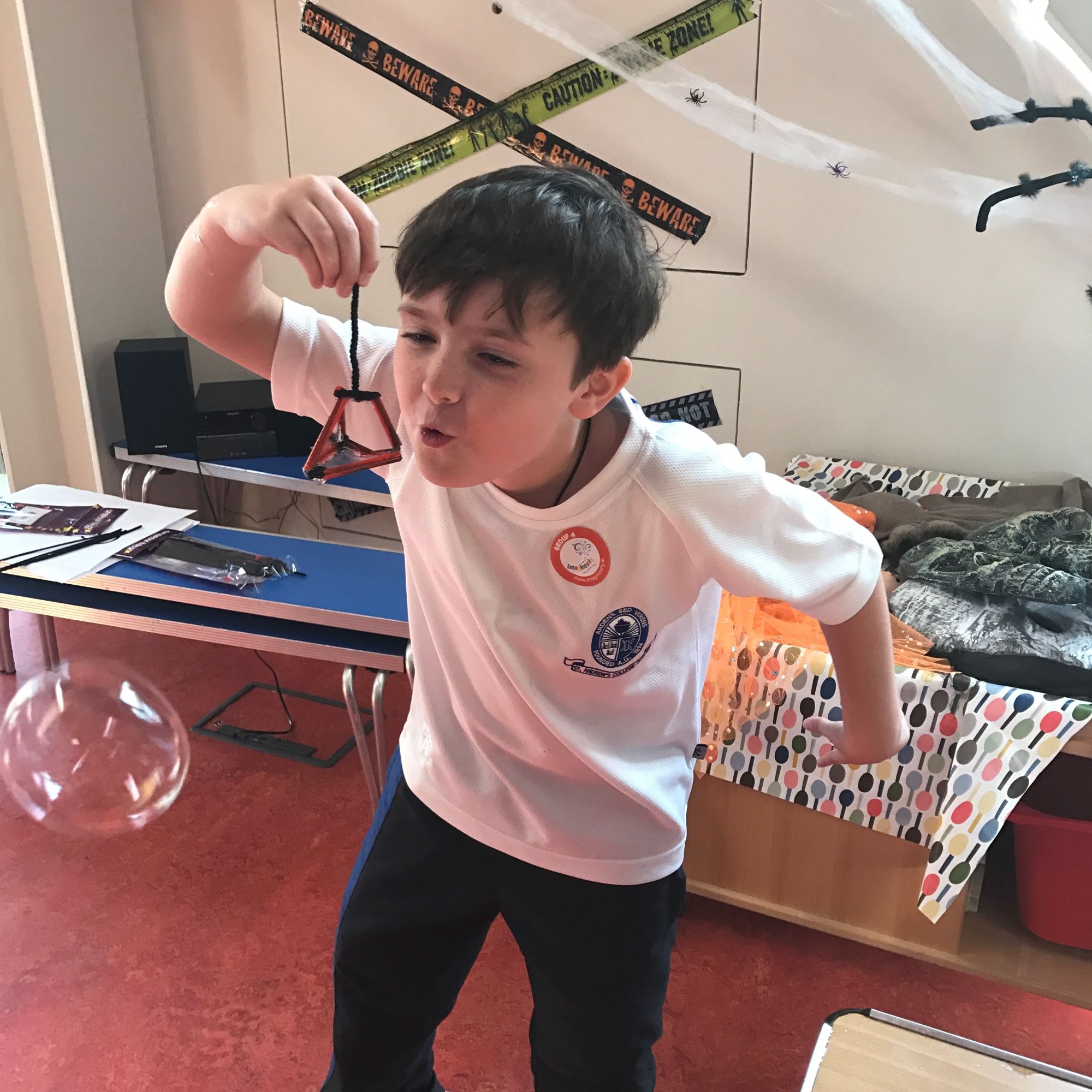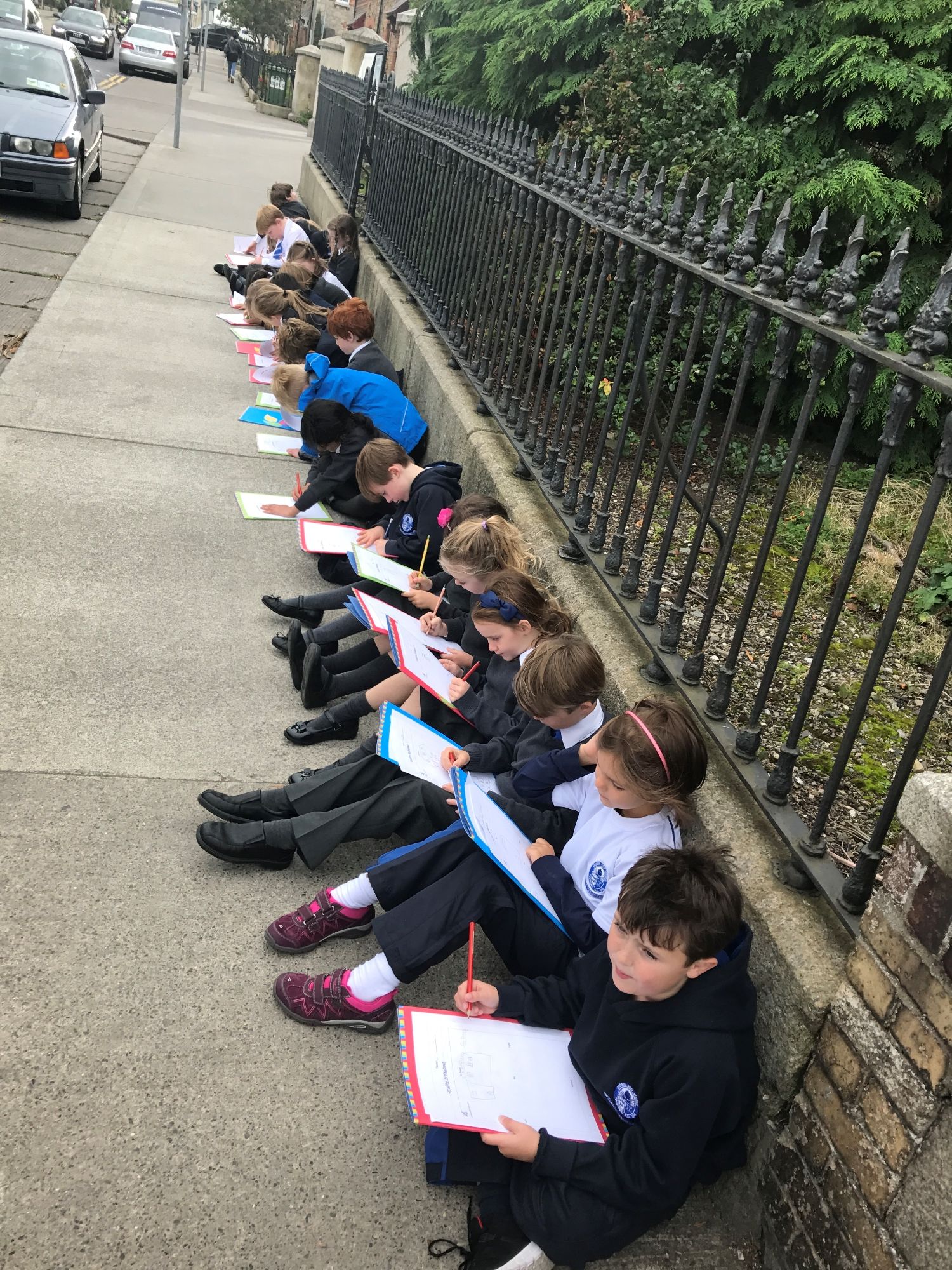 We went for a walk around our local community. We took a rest outside Gleesons and sketched on our maps what we could see in front of us, behind us, to our right and to our left. It was nice to take a step outside the classroom and bring our learning into the local community!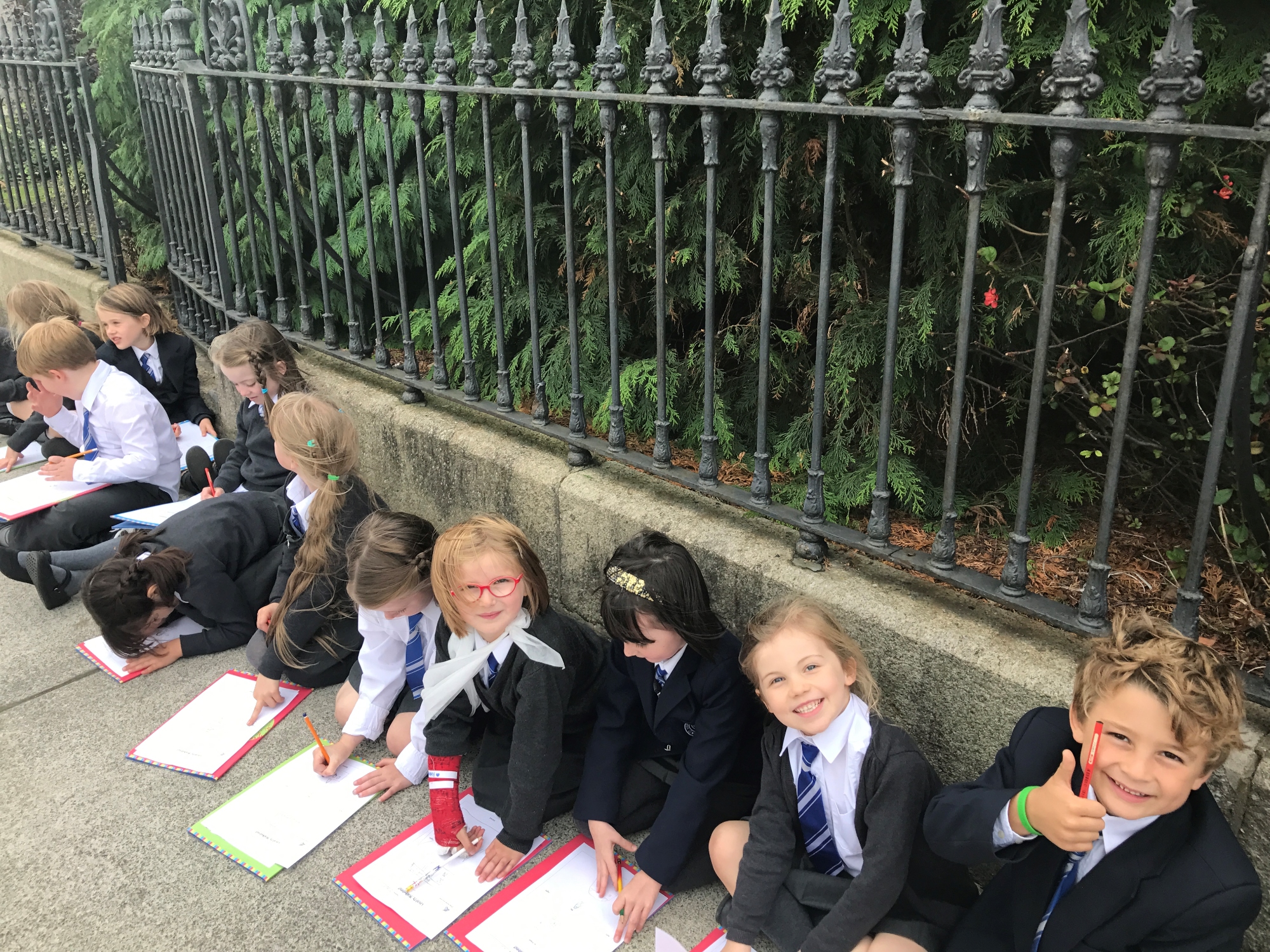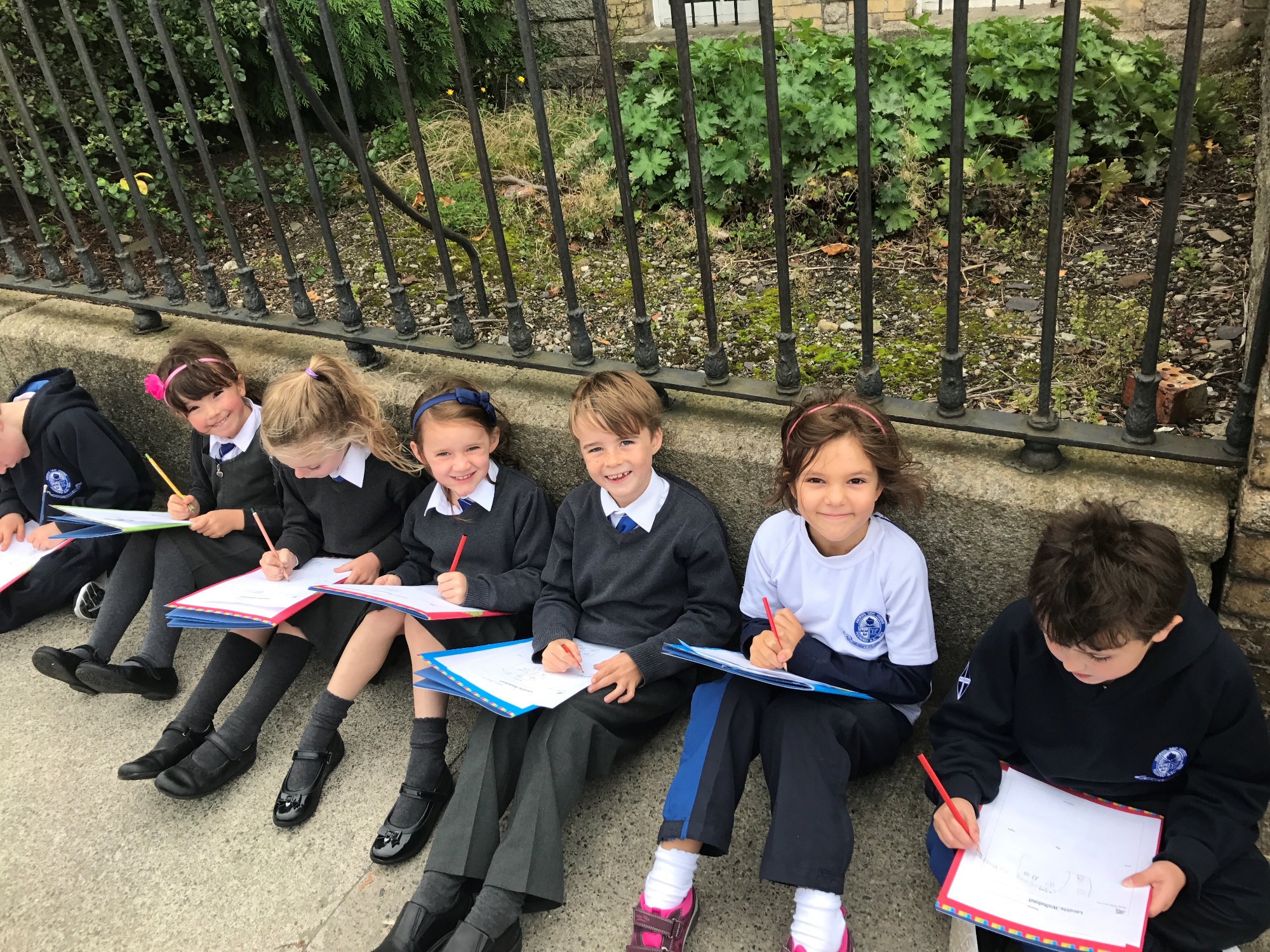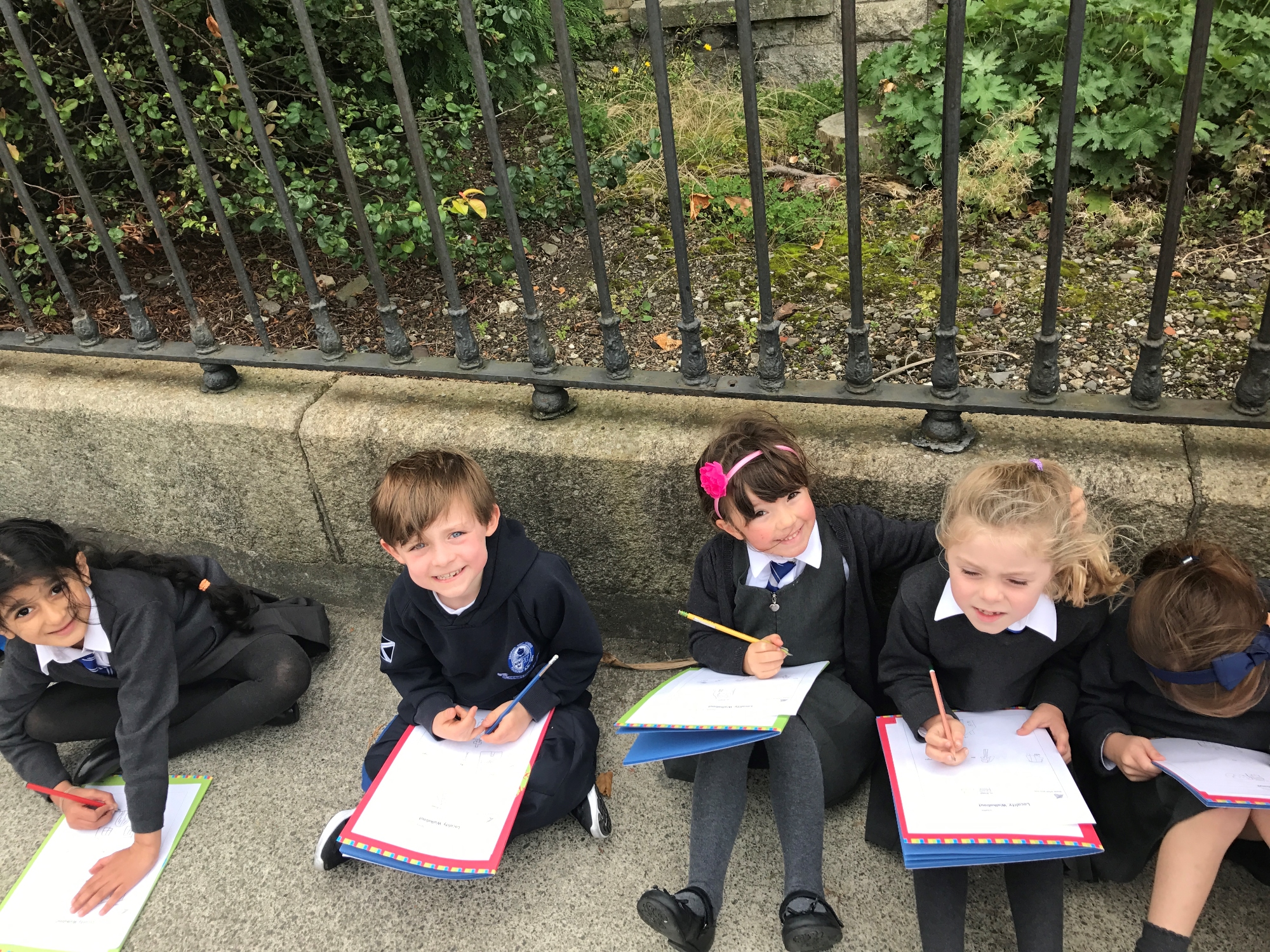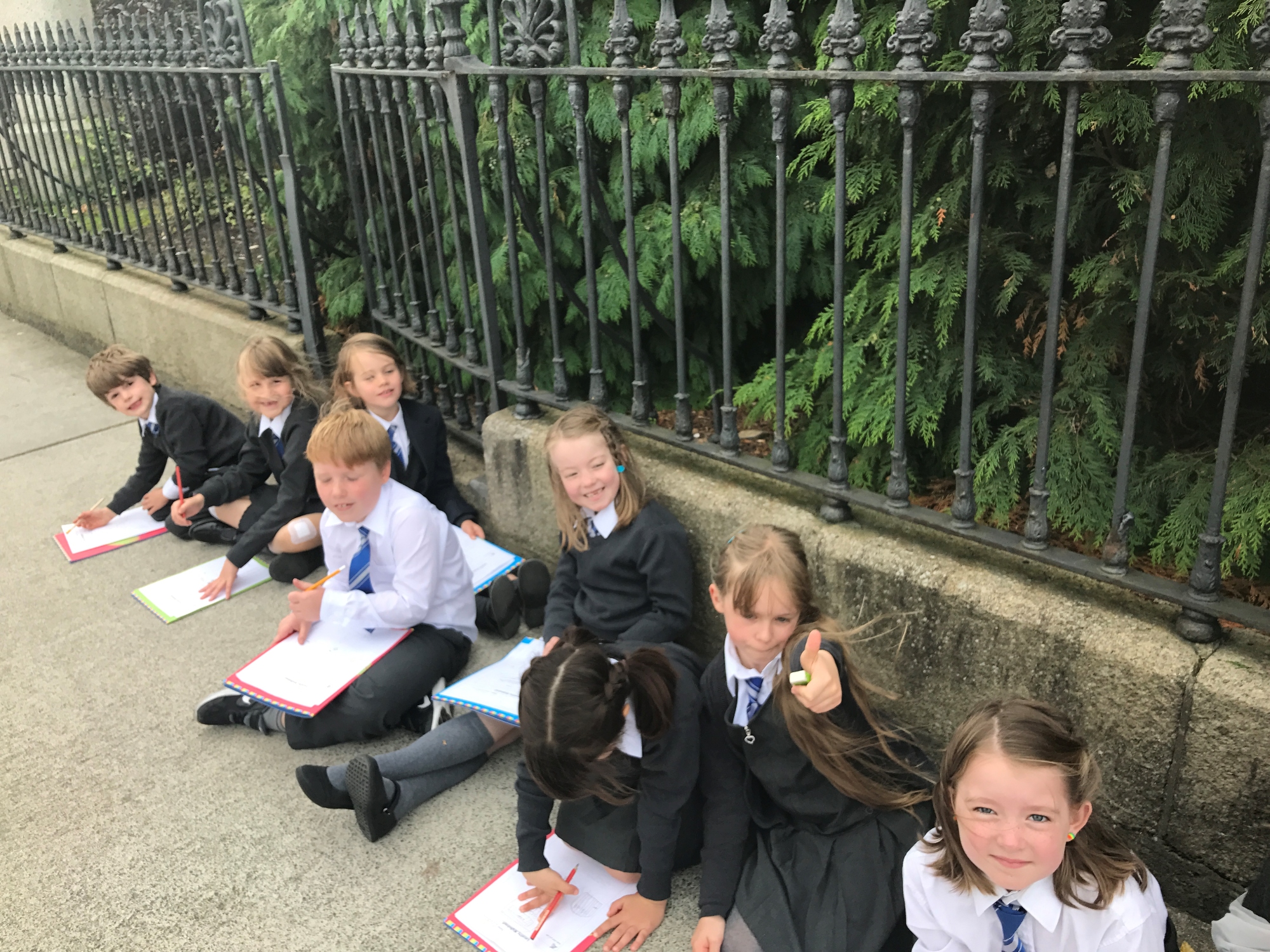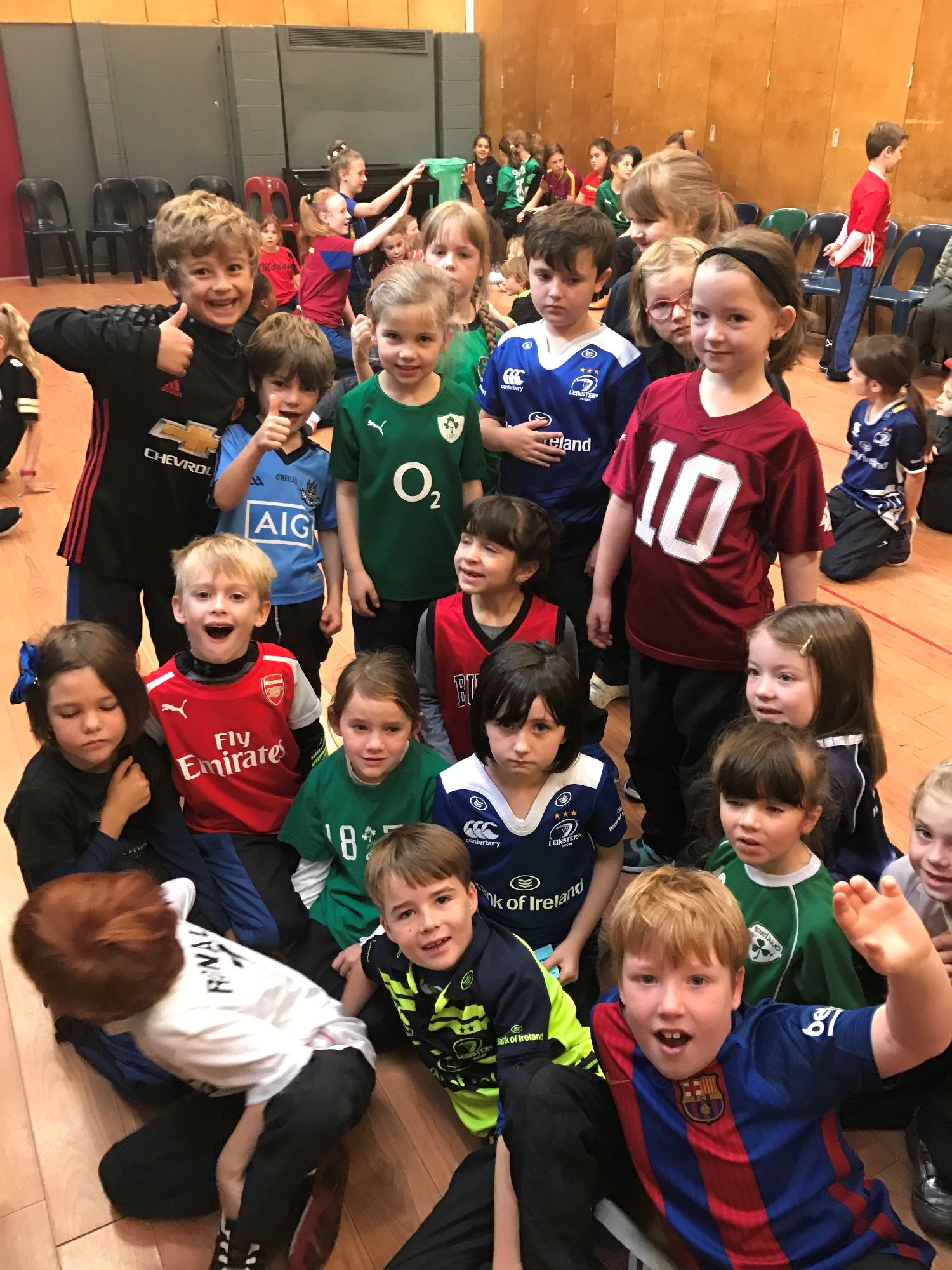 Thumbs up for GOAL! Raising funds and awareness for such a worthy cause. Well done to everyone for the great effort put in to the day!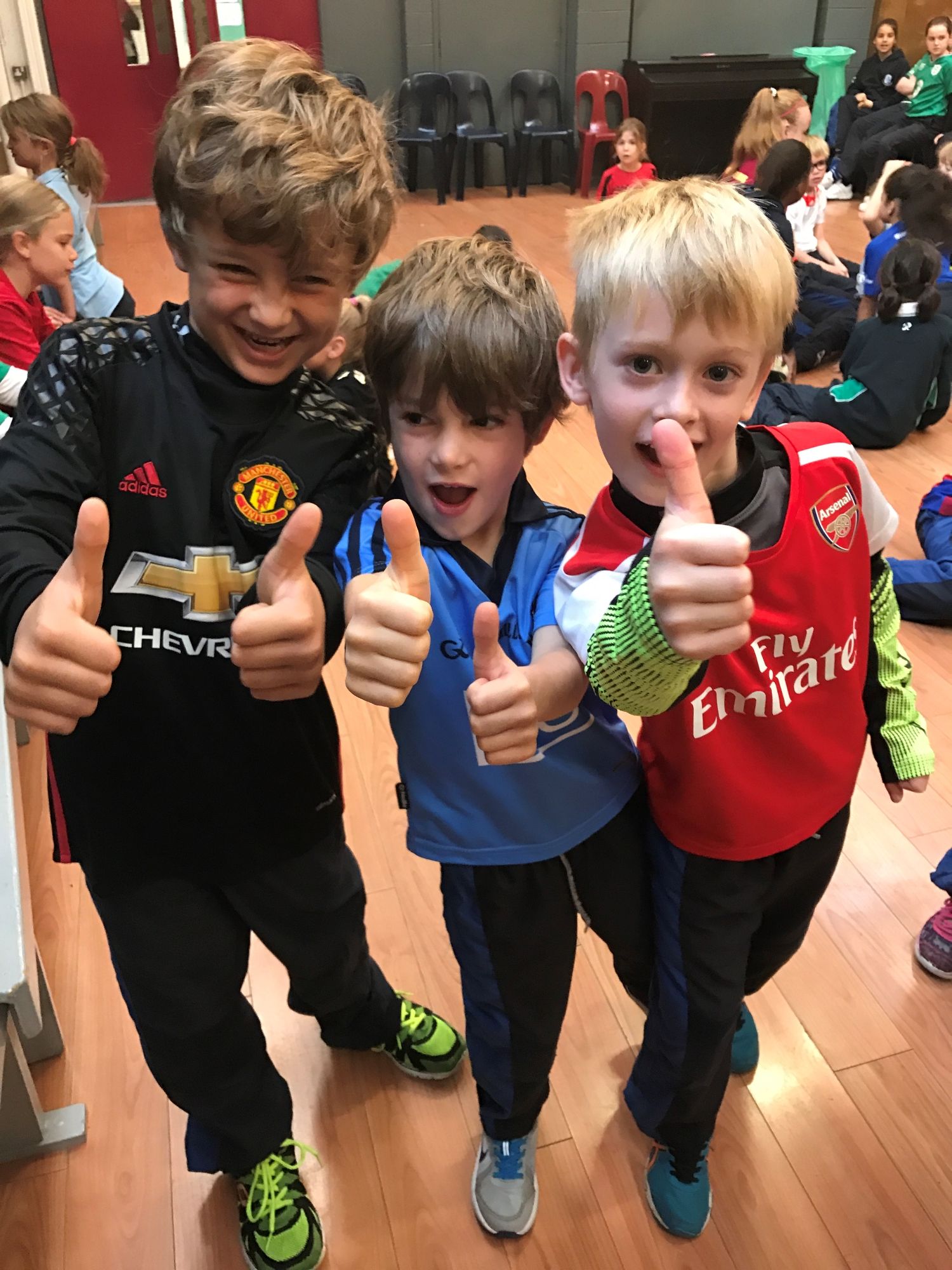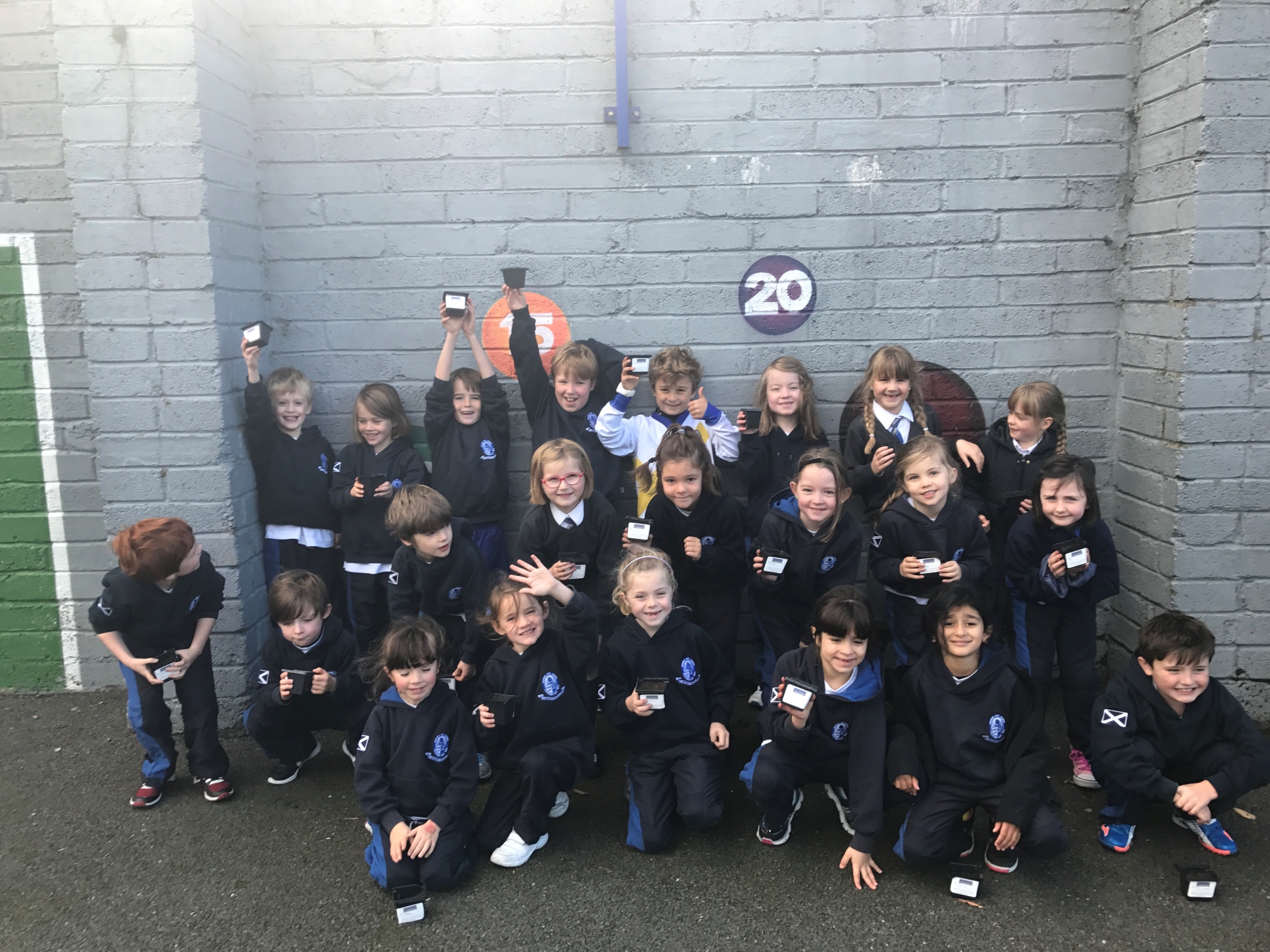 A great day planting with Windyridge Garden Centre! We are doing our bit to help with environment and all our small friends!!!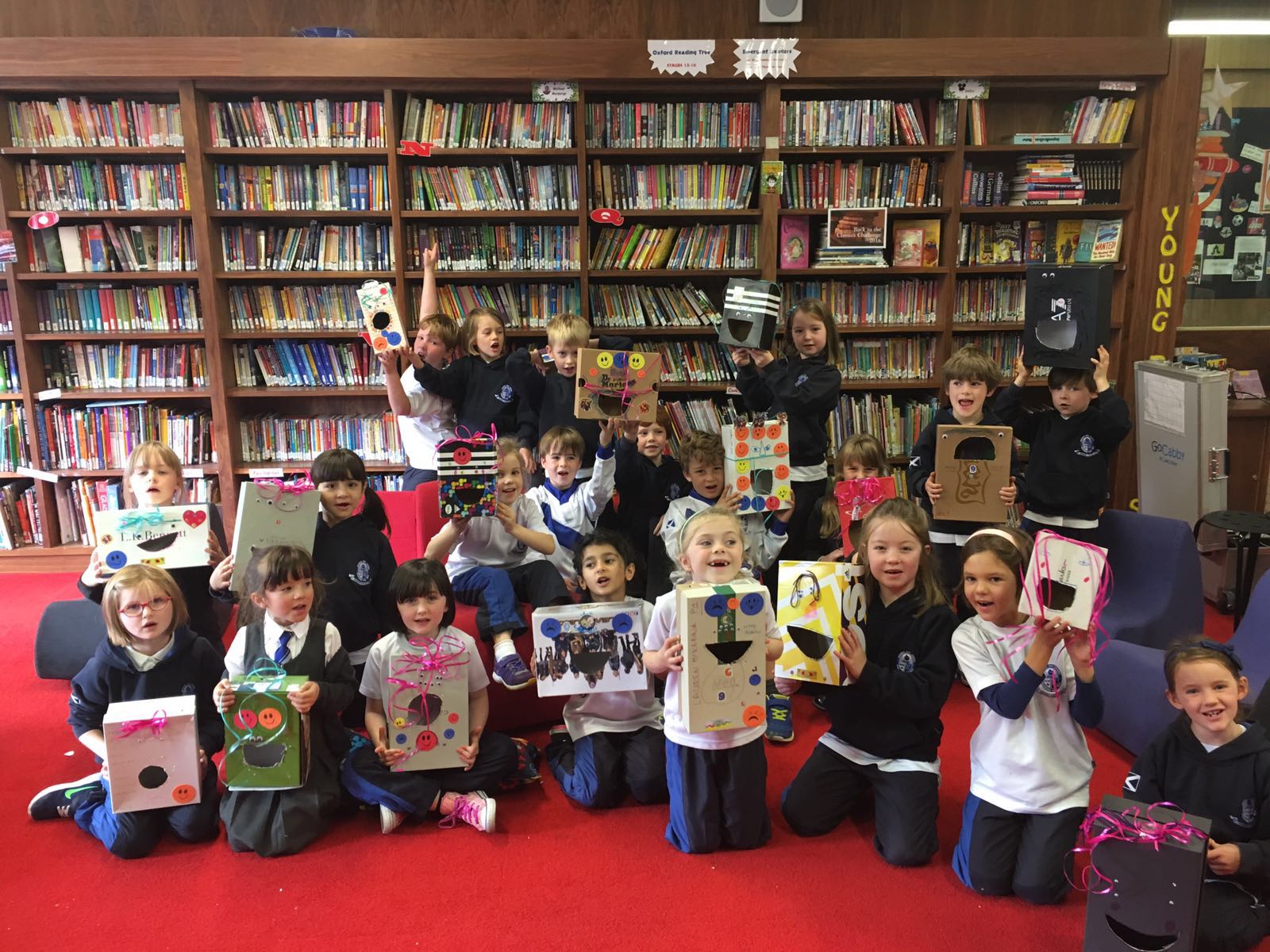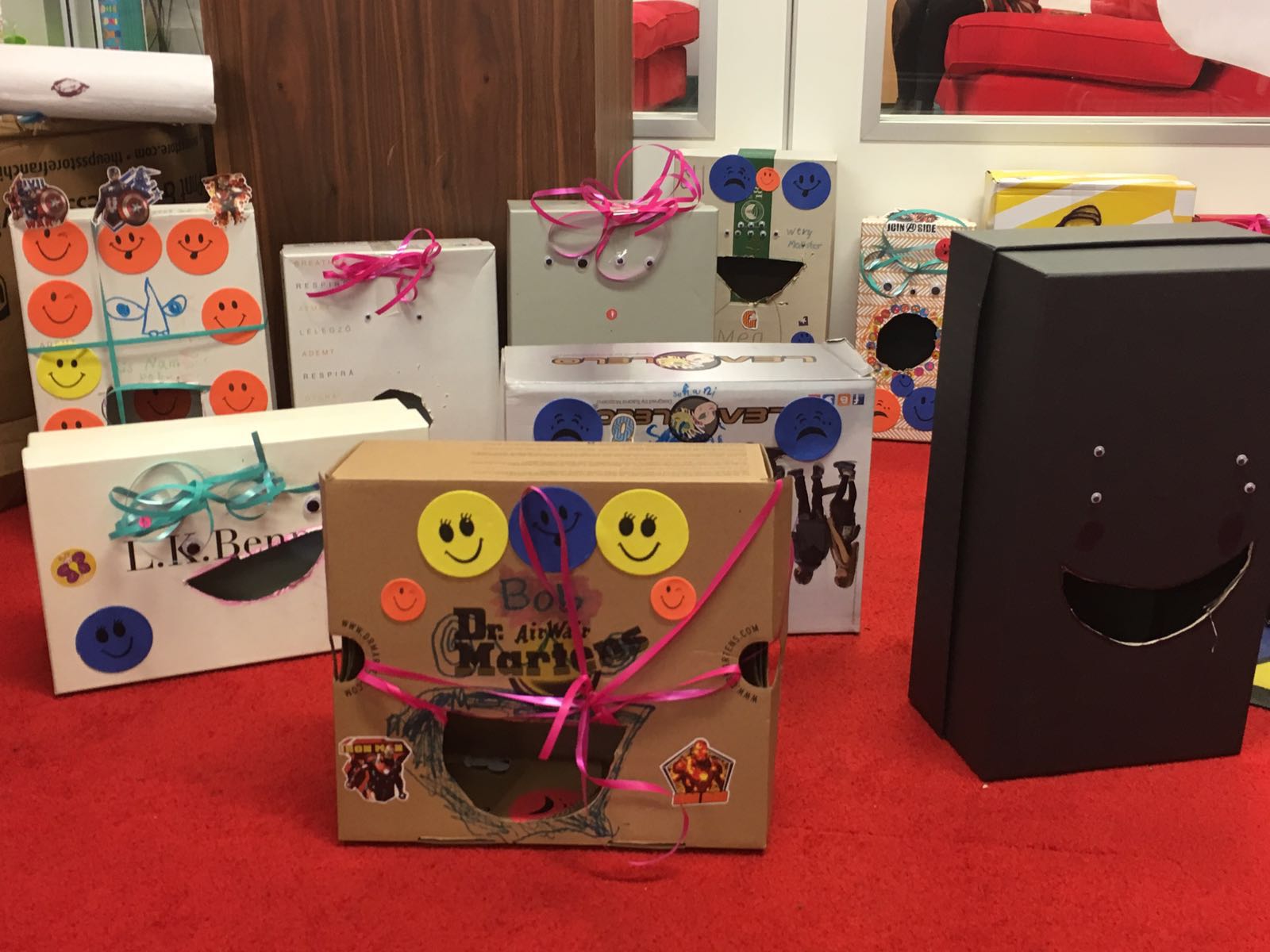 Meditation Workshop
We thoroughly enjoyed making our Worry Monsters. These Monsters love to eat worries so when we write our worries on a piece of paper and feed them to our Worry Monster, they gobble up all our worries so that we feel much better!
Our Perfect School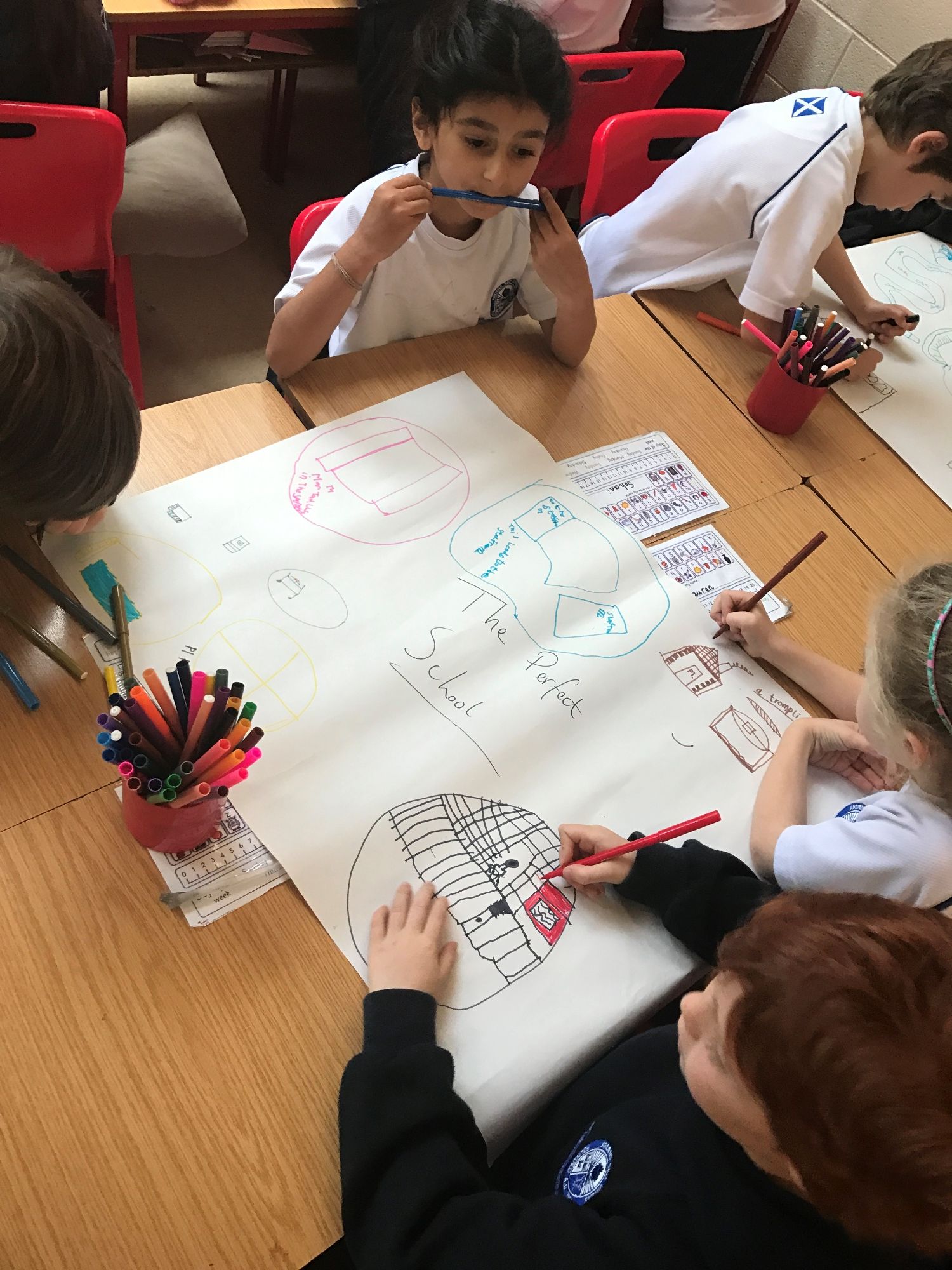 We have been helping Ms Campbell come up with new ideas for our perfect school. We hope that one of us will win the amazing prize for best idea!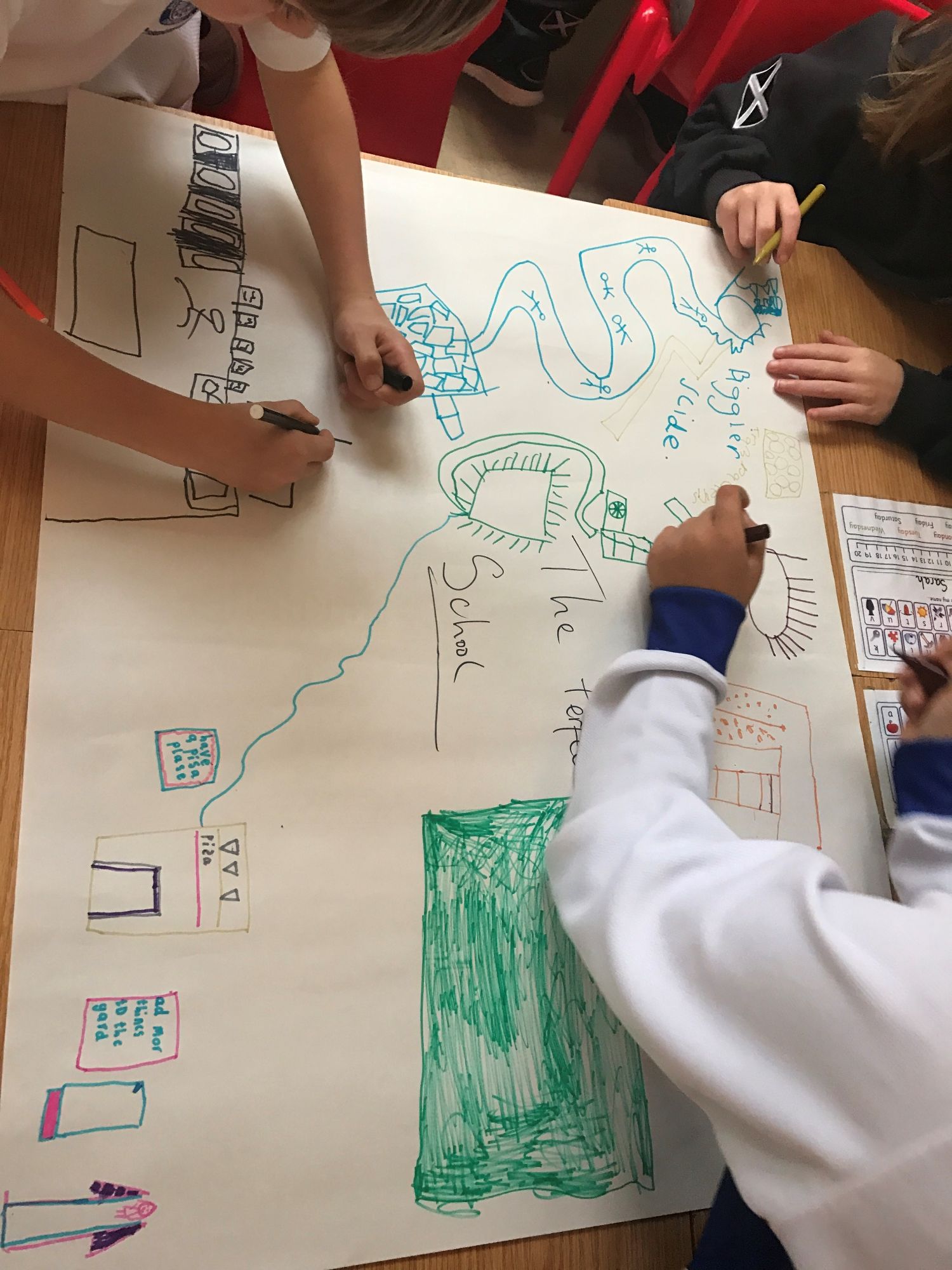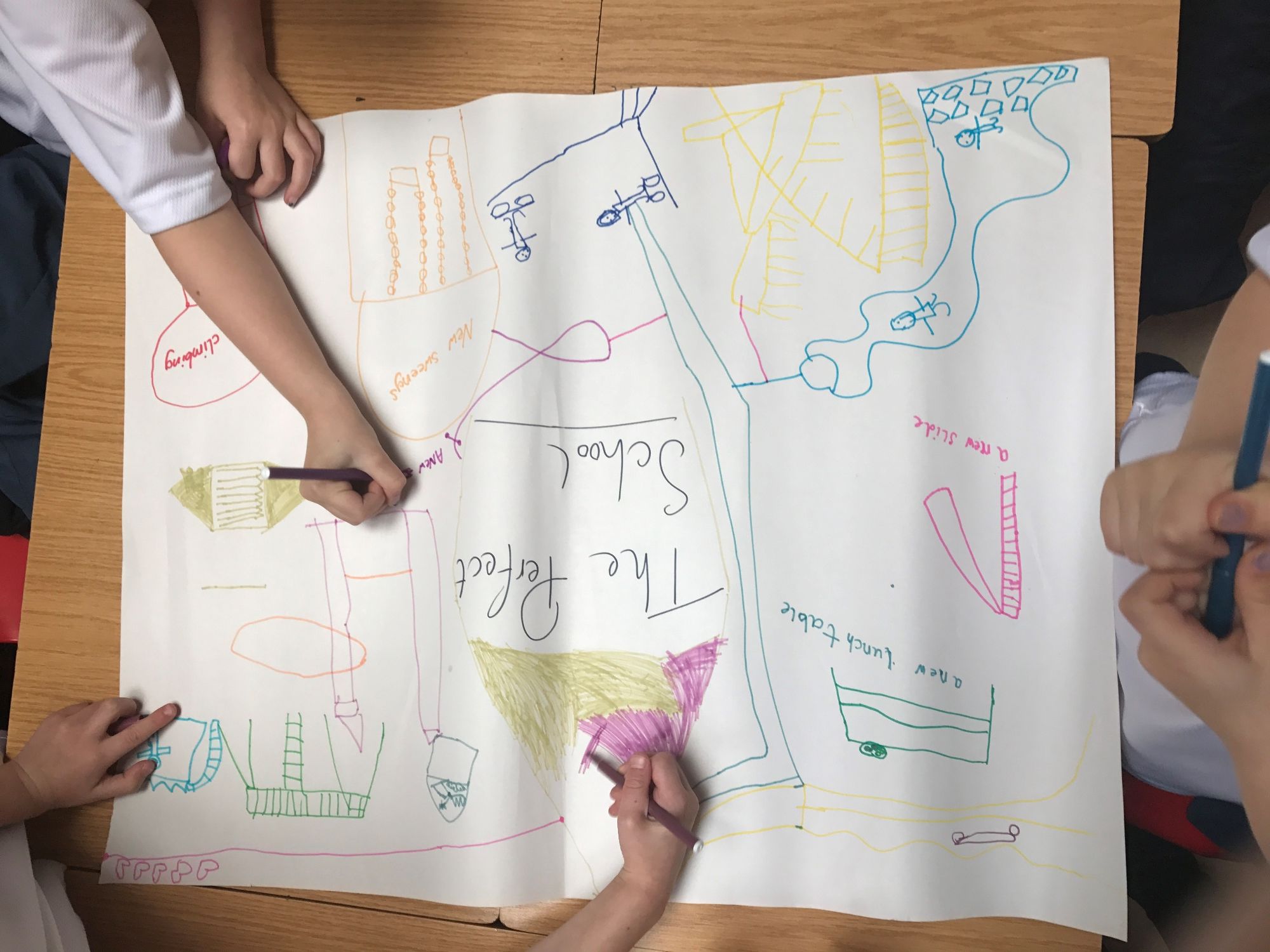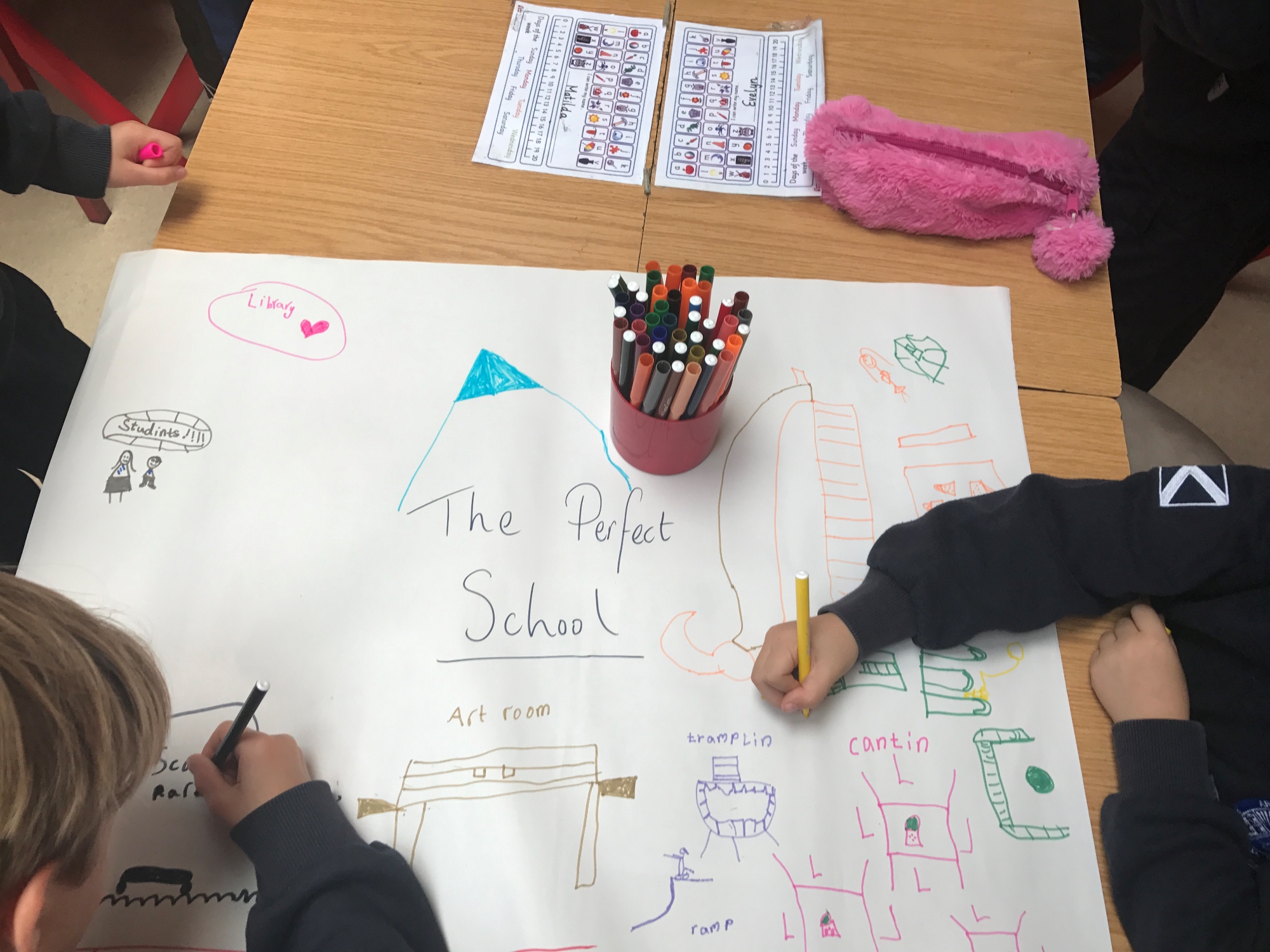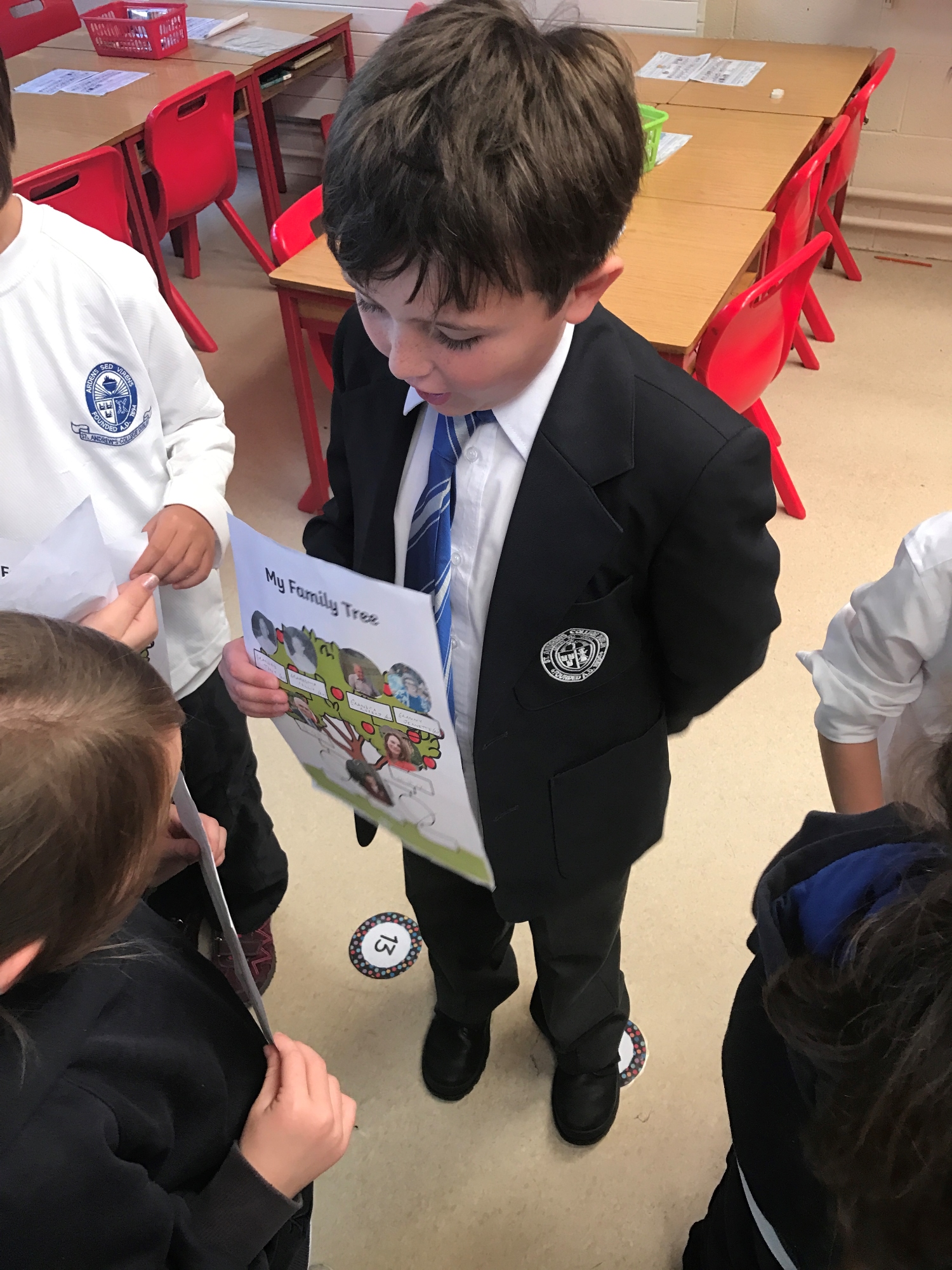 Here we are Checking Out our Timelines!
We have been teaching each other all about our personal timelines and family trees.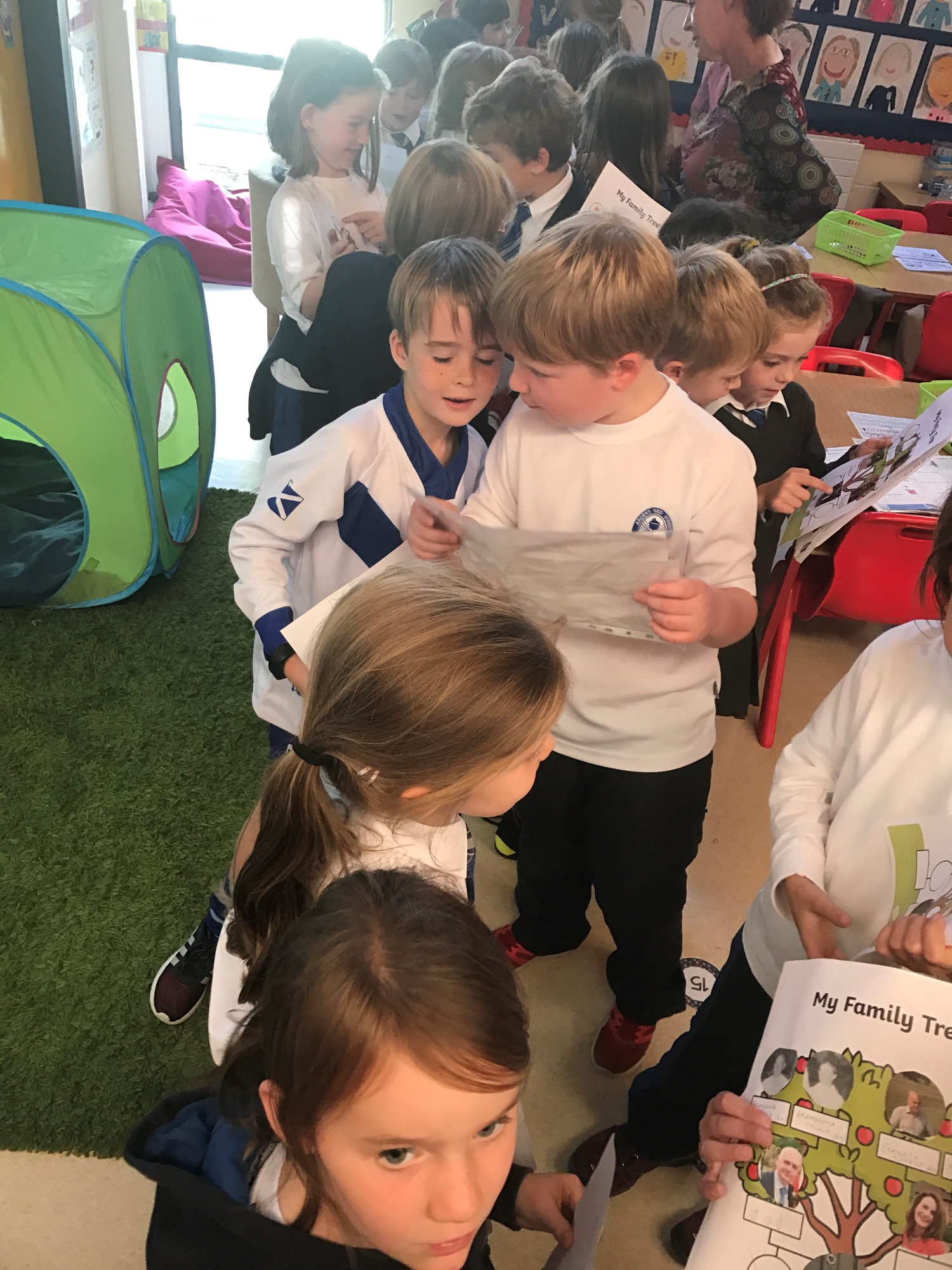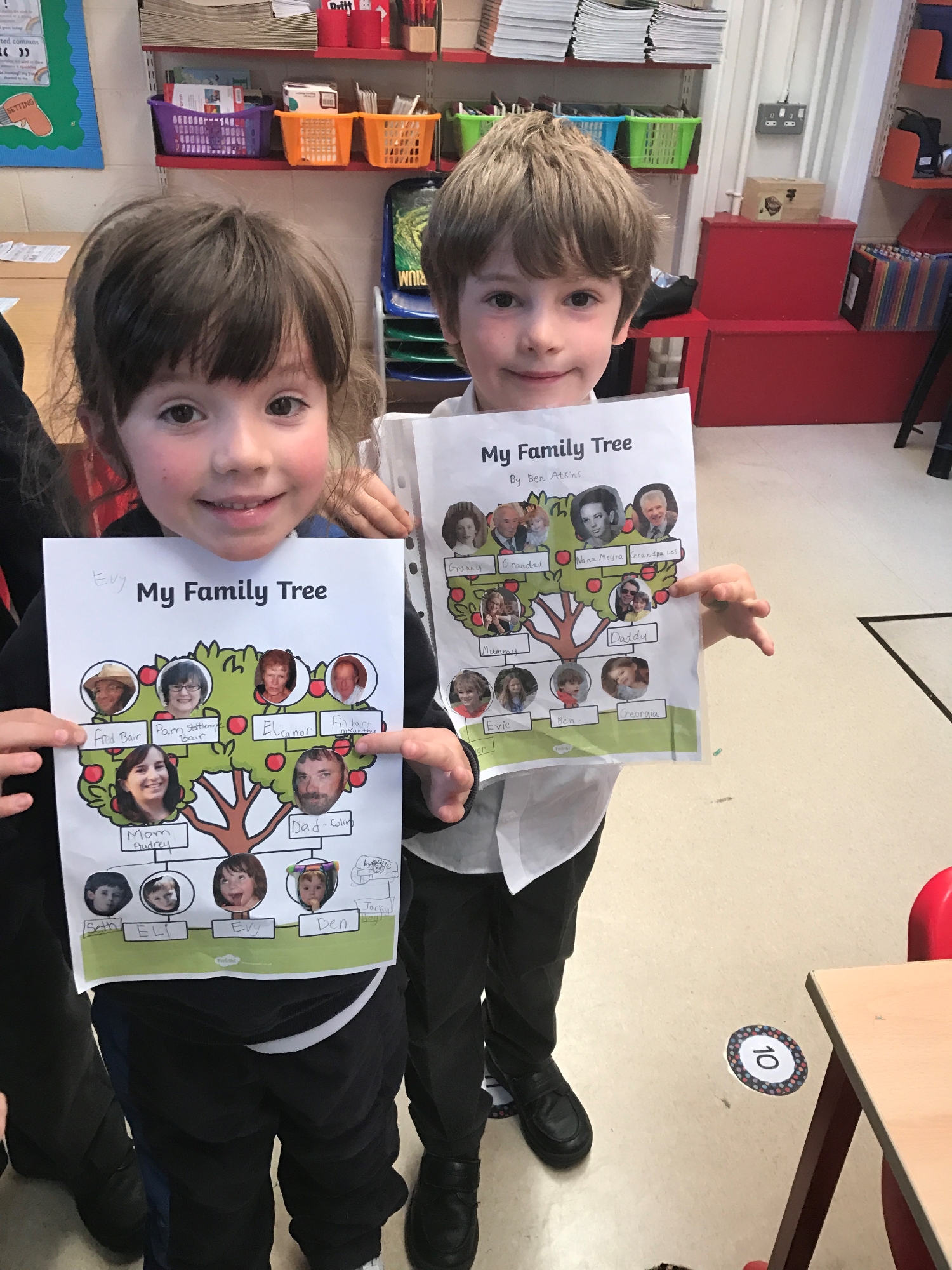 It is so interesting to see how we've changed and to learn about our own family histories.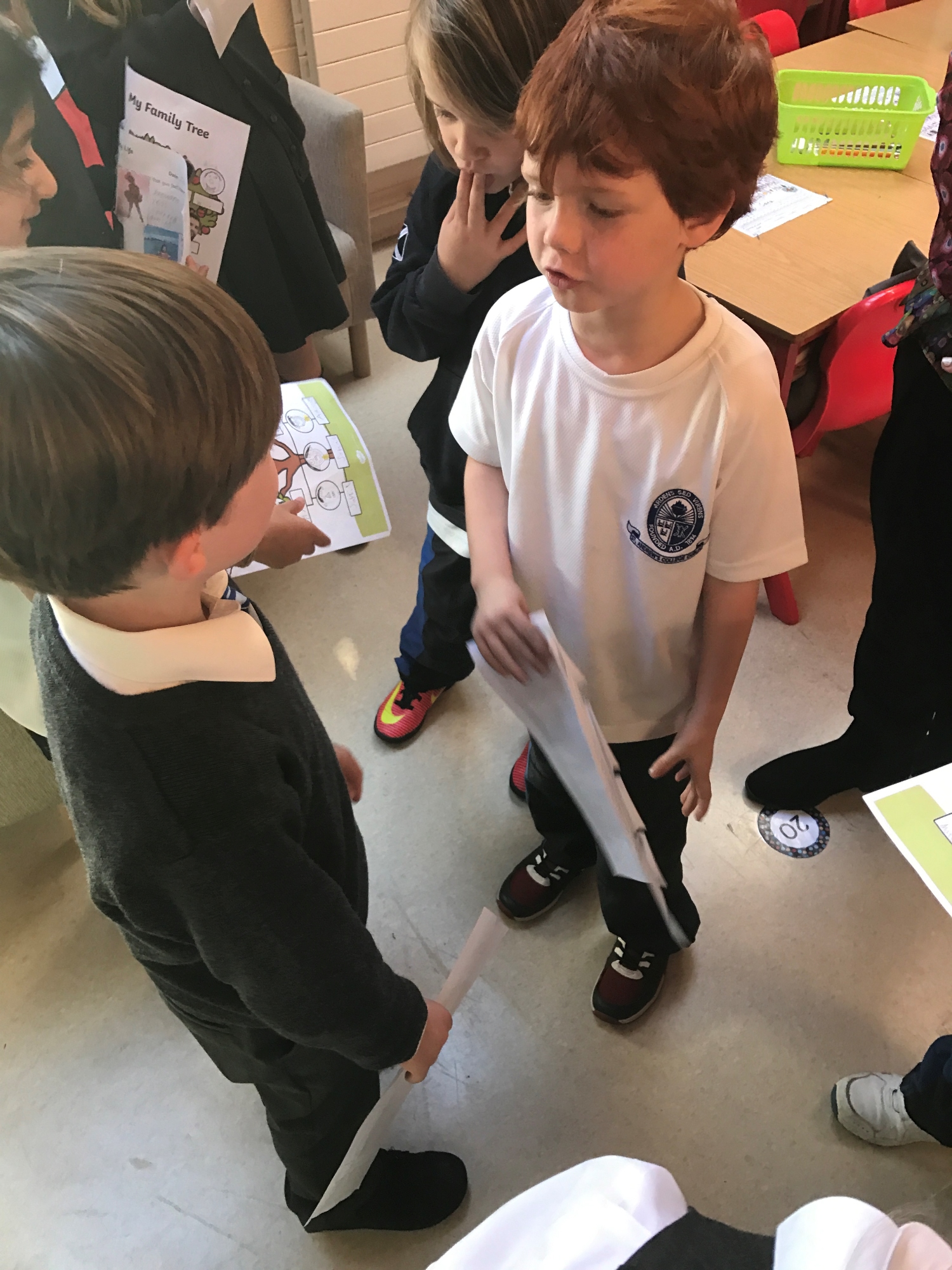 September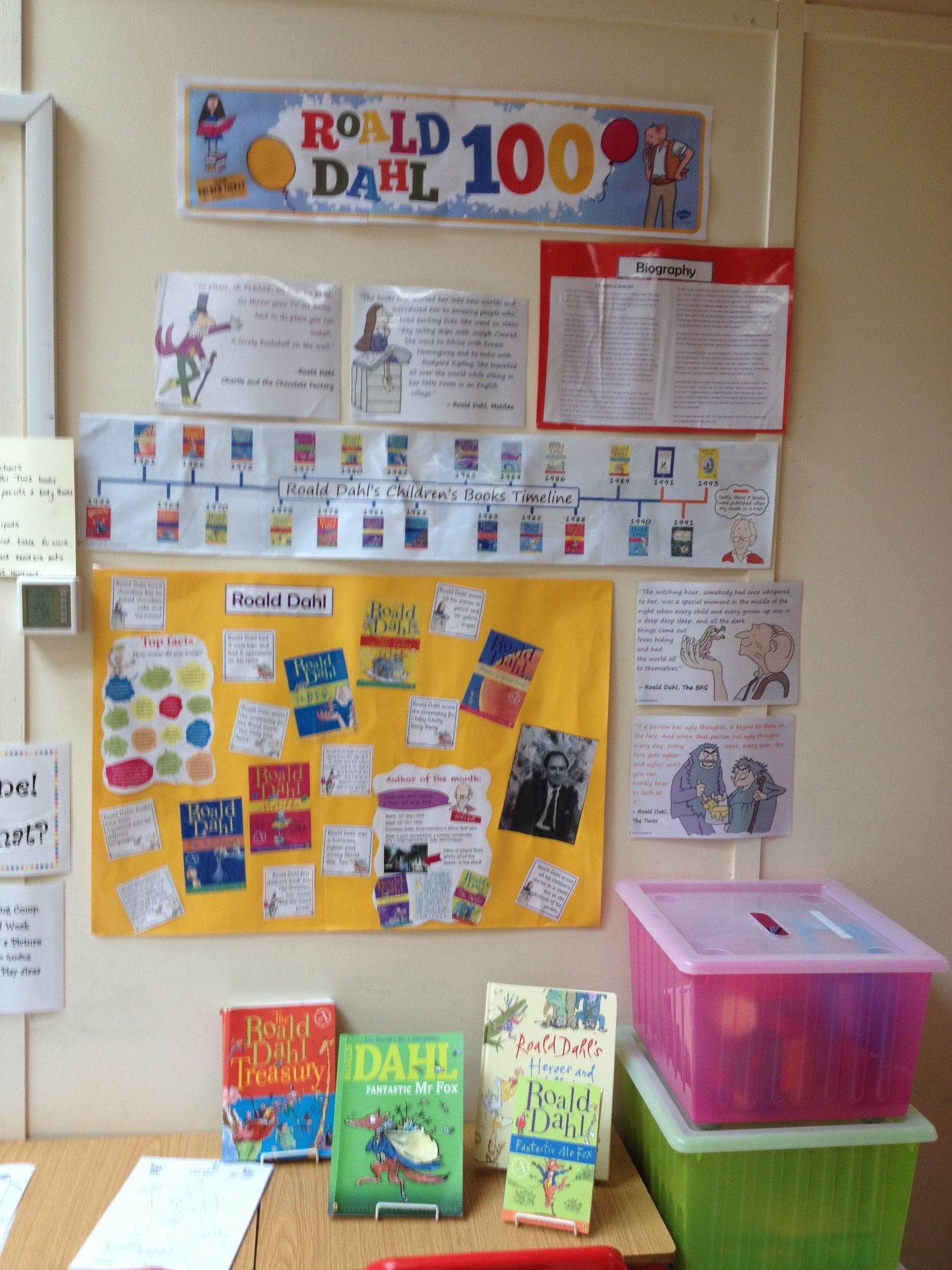 We've been busy this month celebrating Roald Dahl's 100th birthday! We have been enjoying reading the BFG and delving into the story. We've been mixing dreams and coming up with all kinds of stories and even made our own dream jars!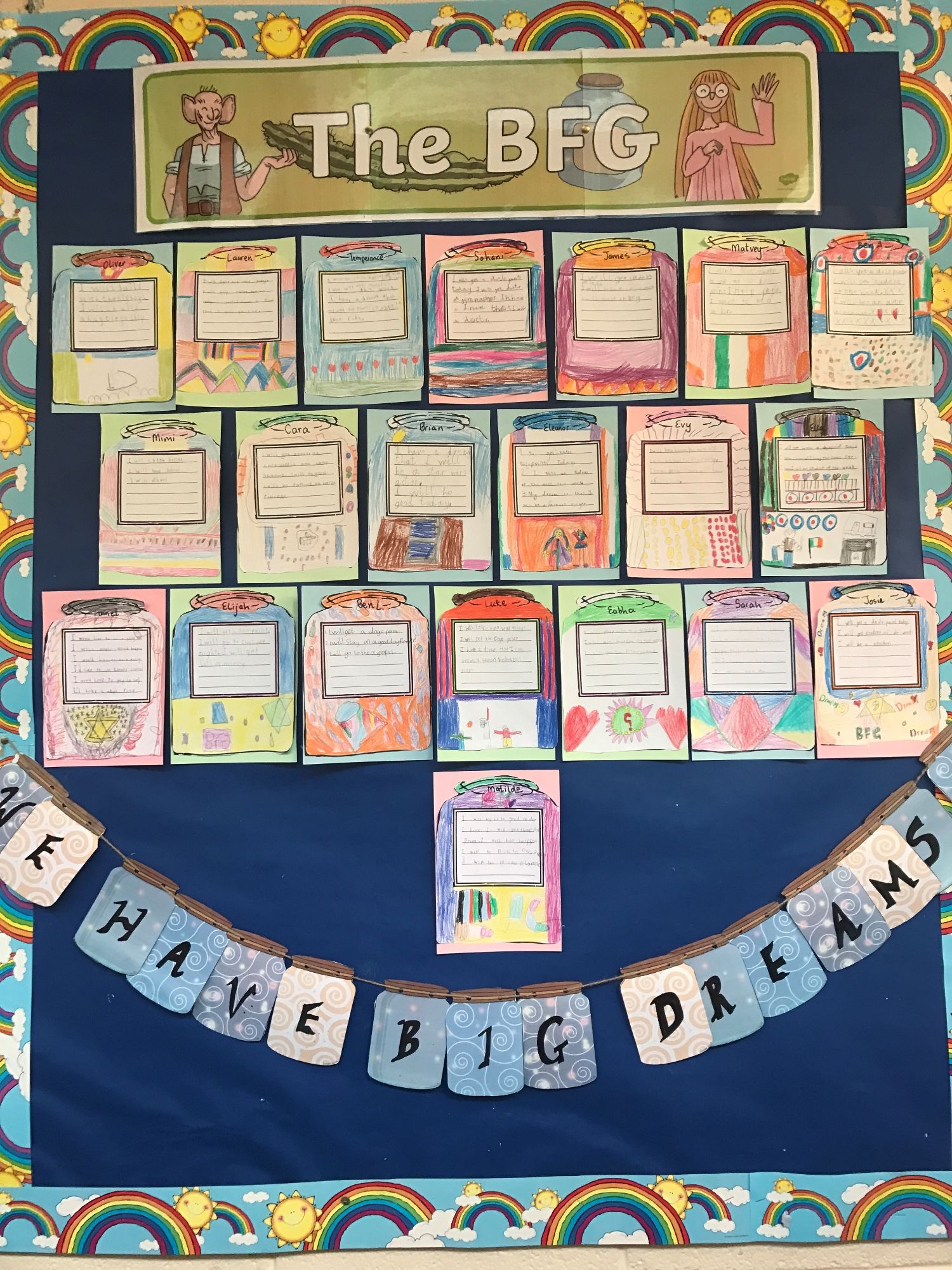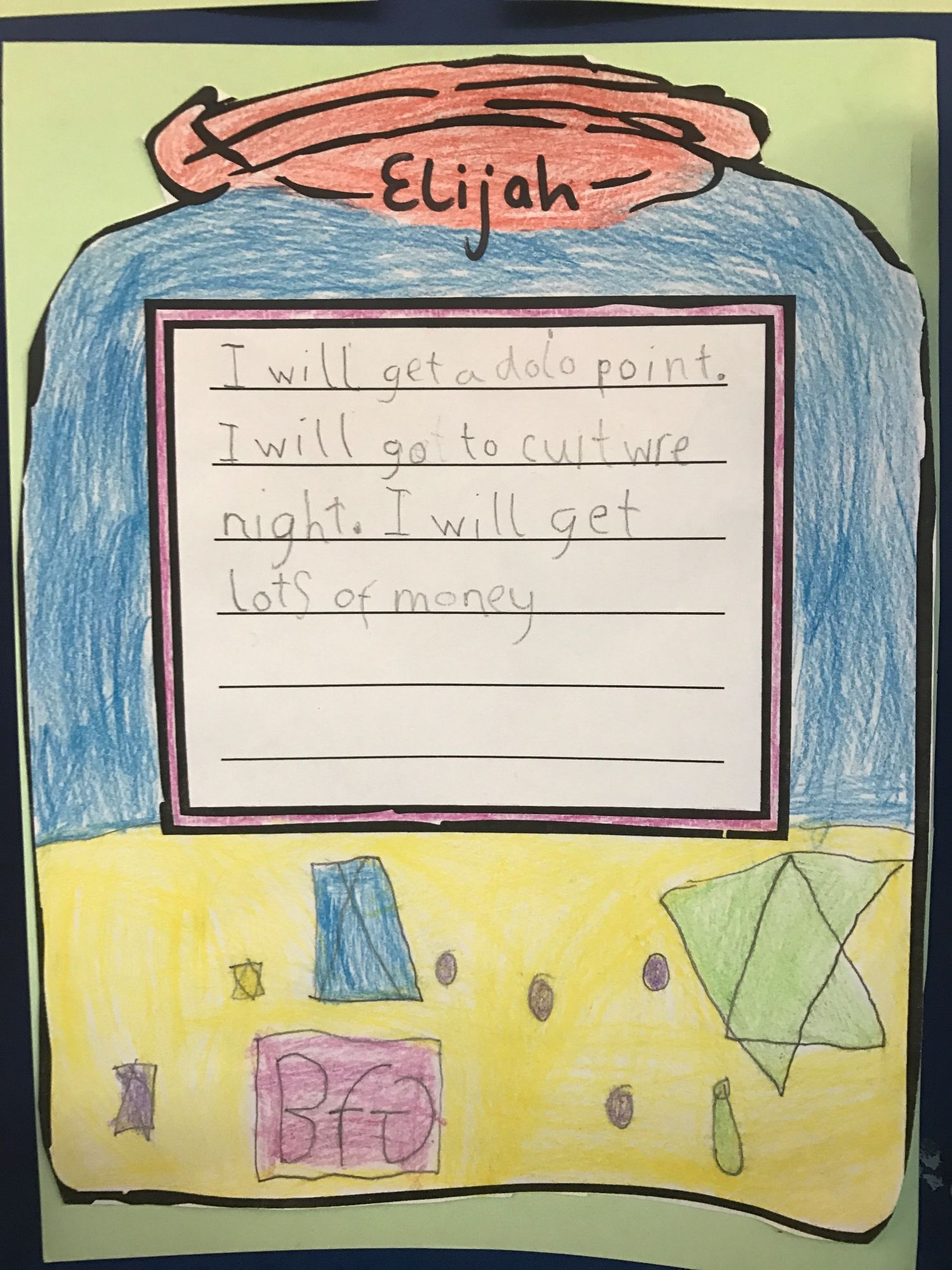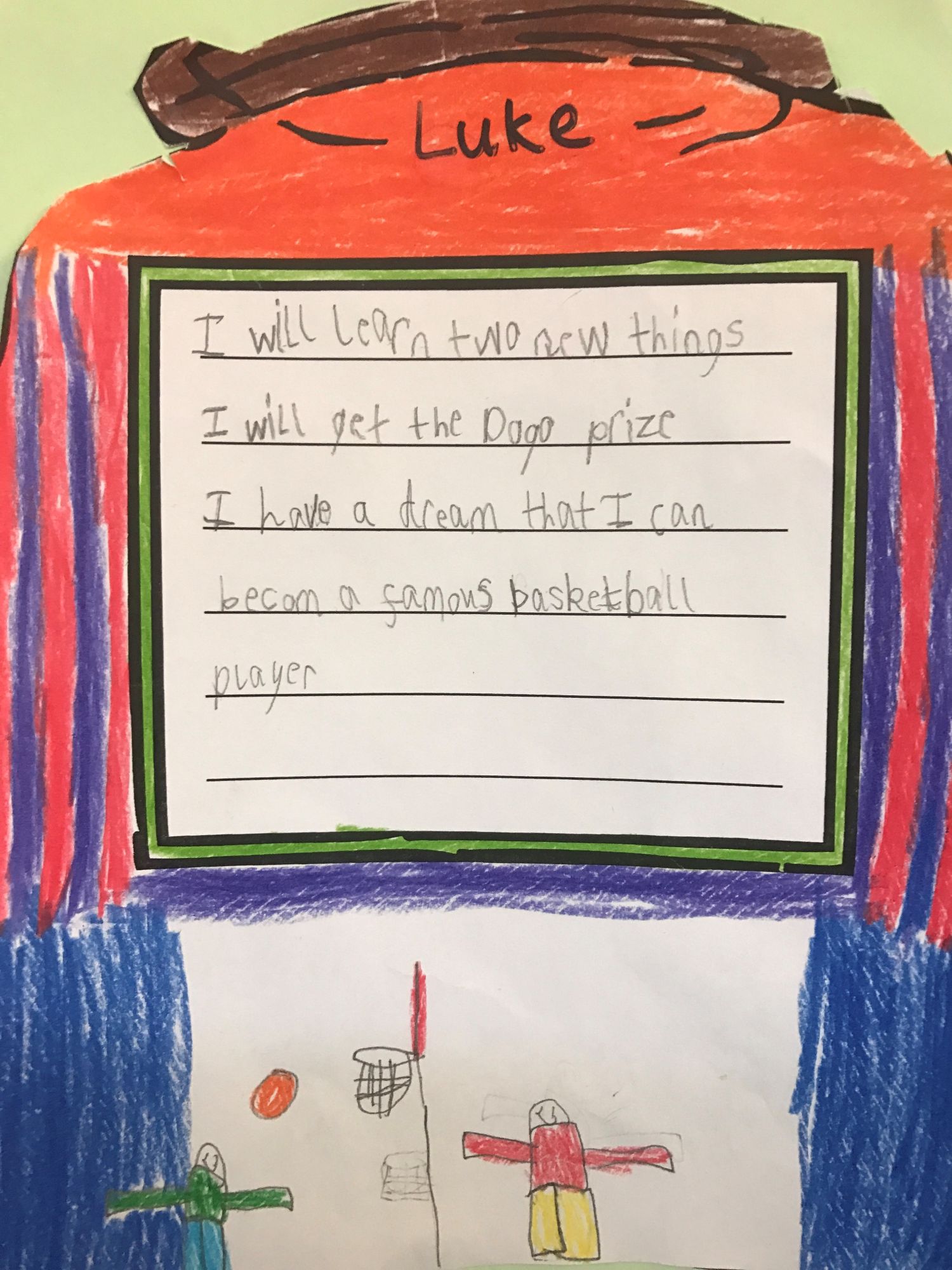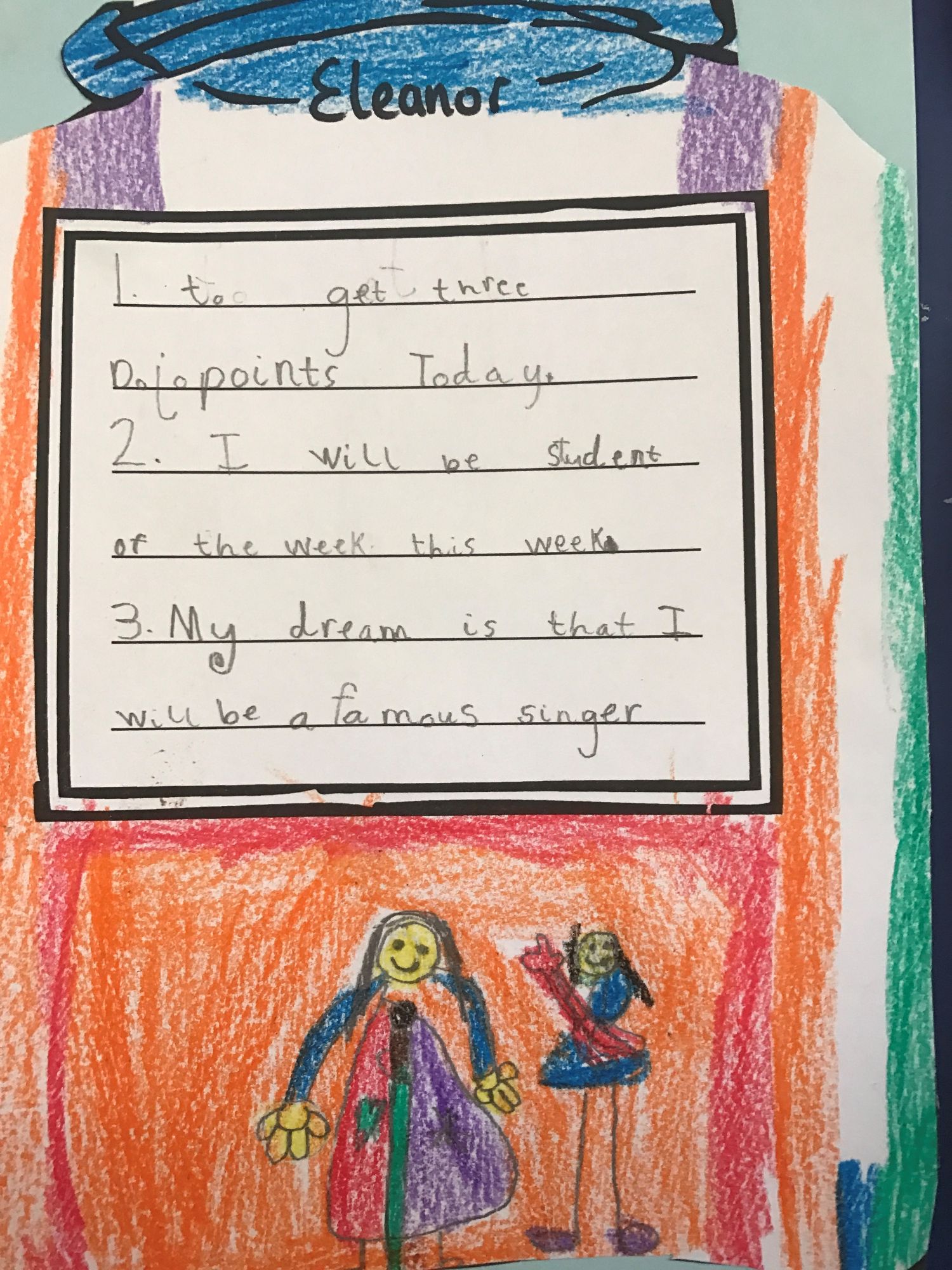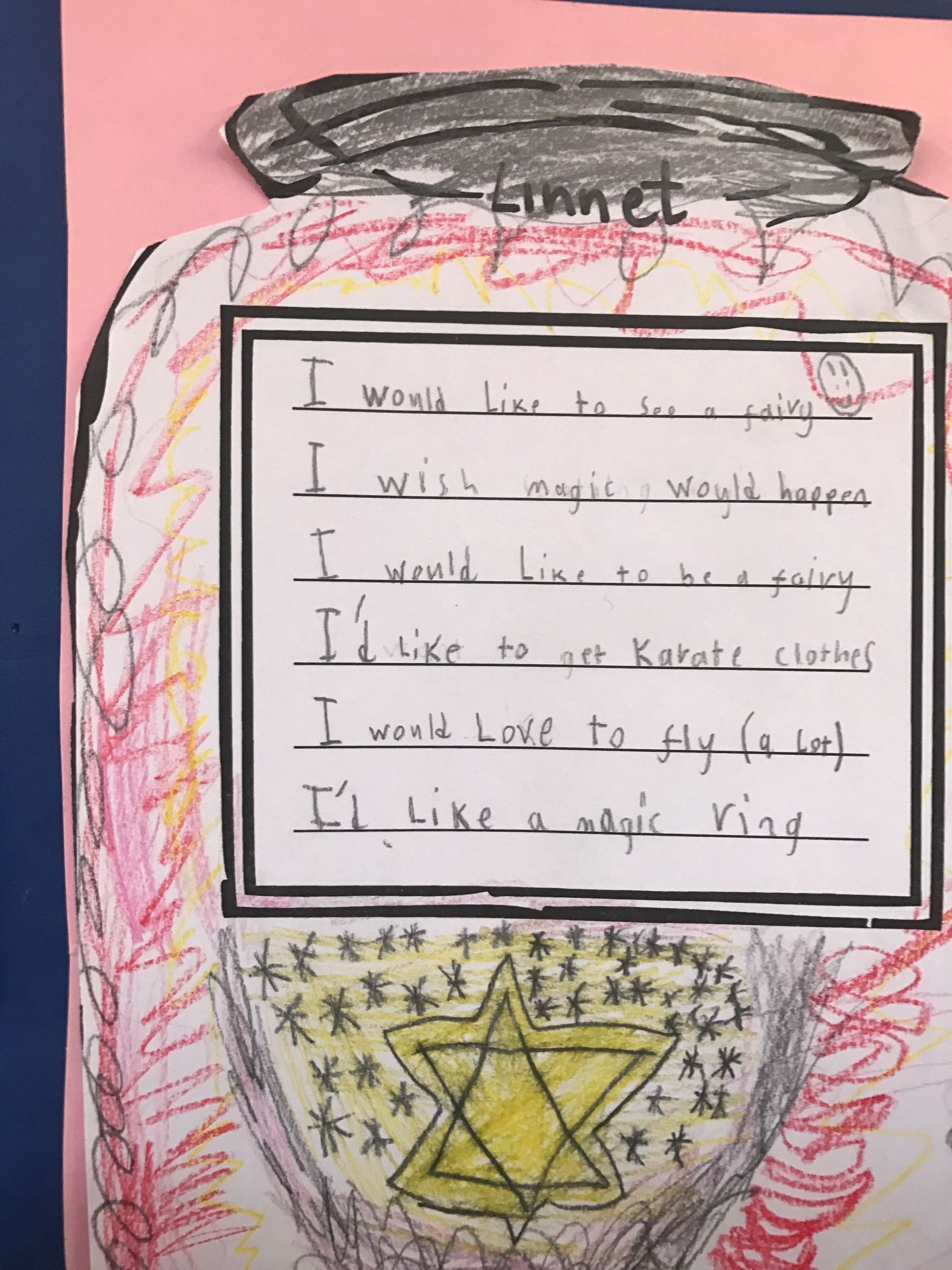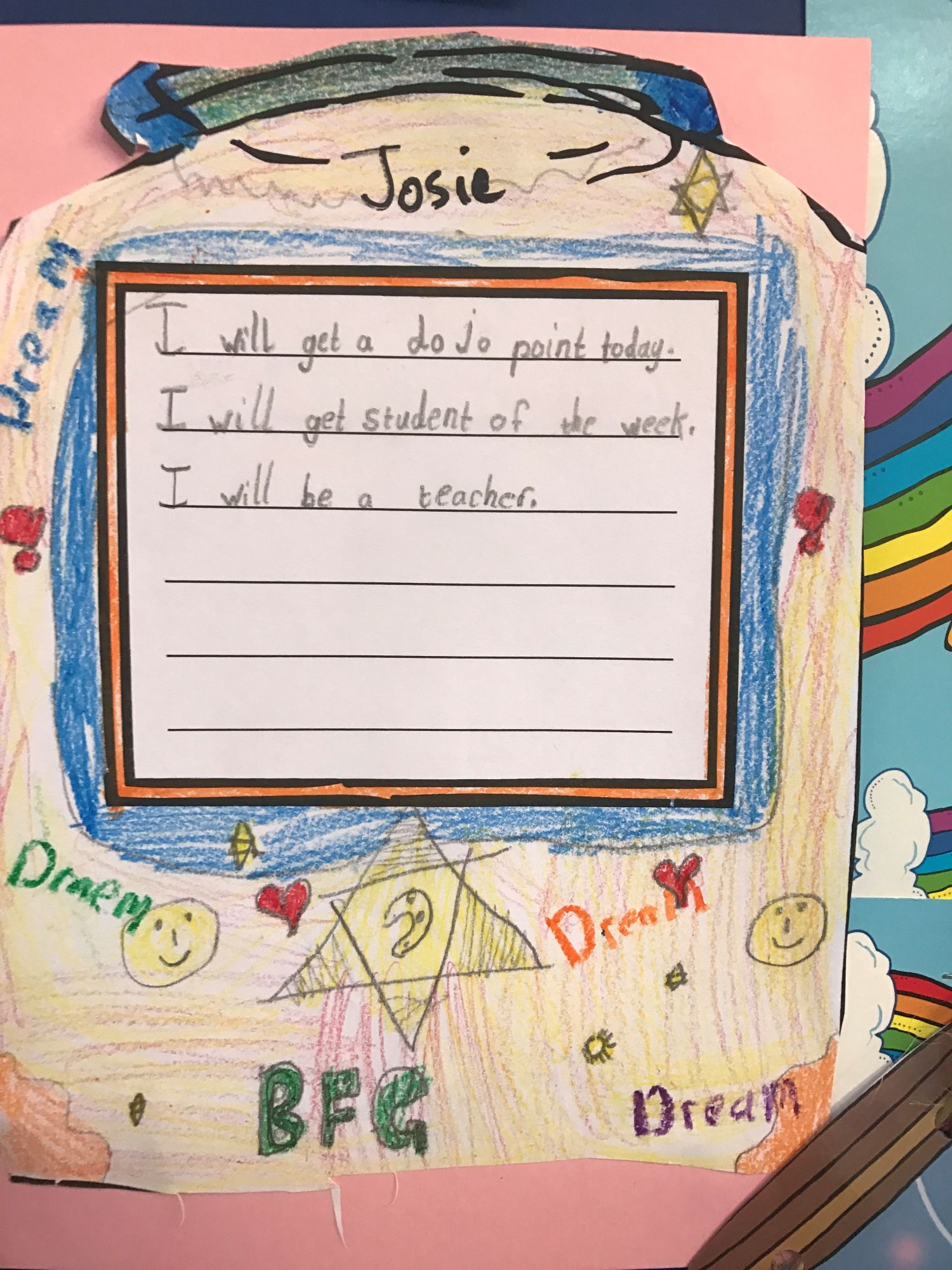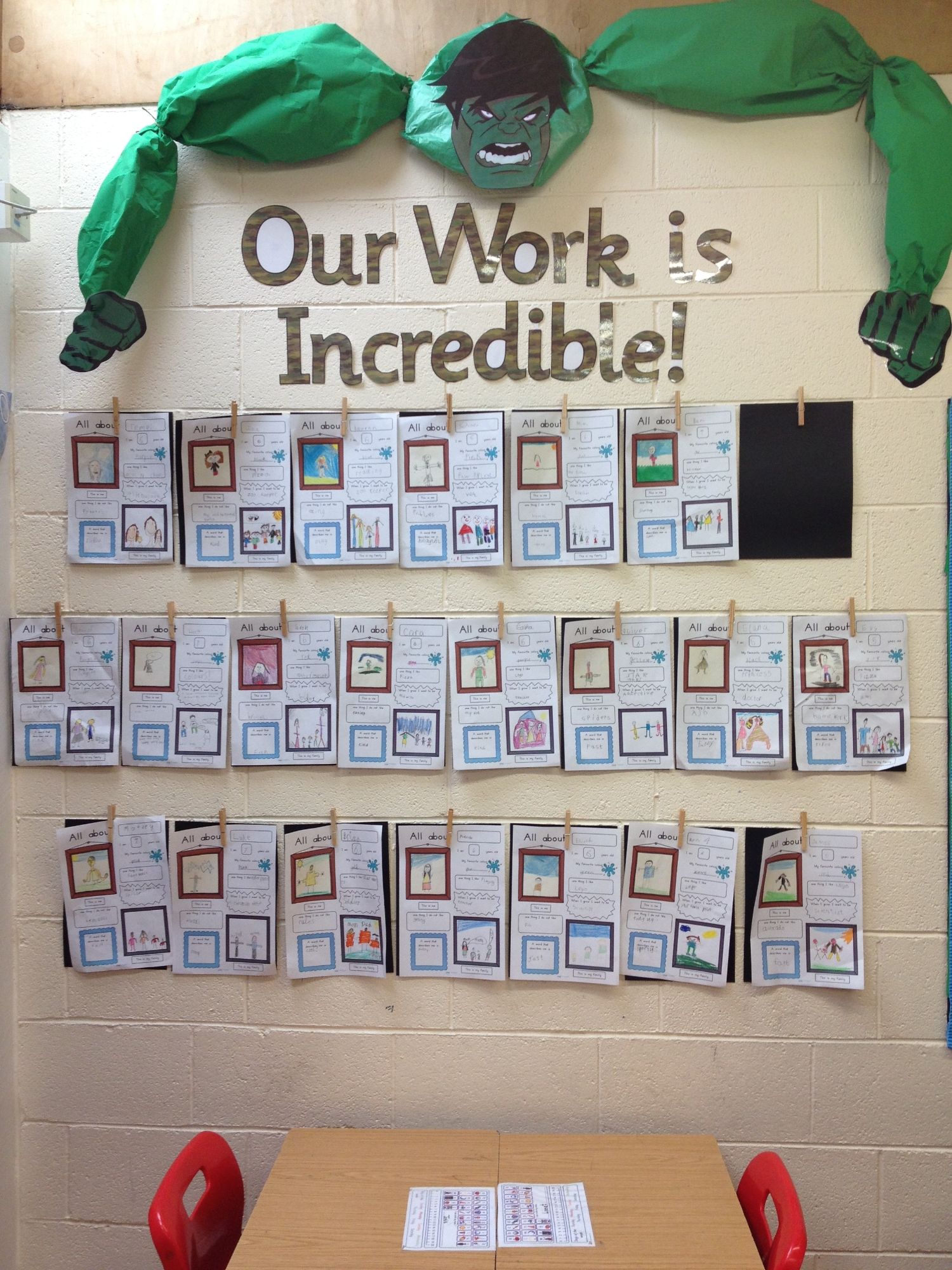 To tie in our assembly performance we have been working on the book, The Crayon Box That Talked. We looked at what it means to be unique and how we are unique in SPHE. In drama we looked at characterisation and the use of body language and facial expression. We wrote stories about a crayon box- and what would happen if all the colours were the same colour! We examined also the ways the author uses rhyme in the story.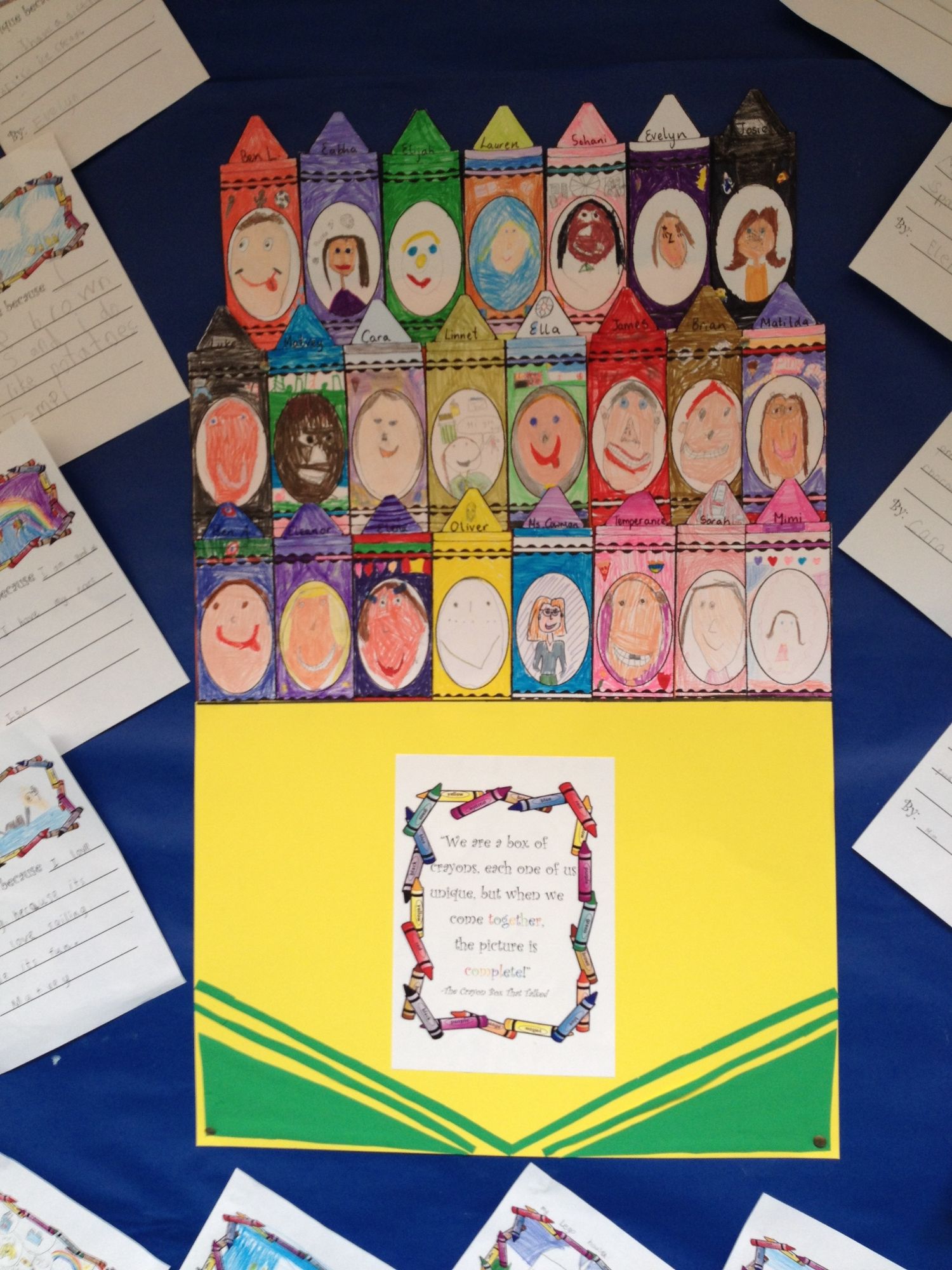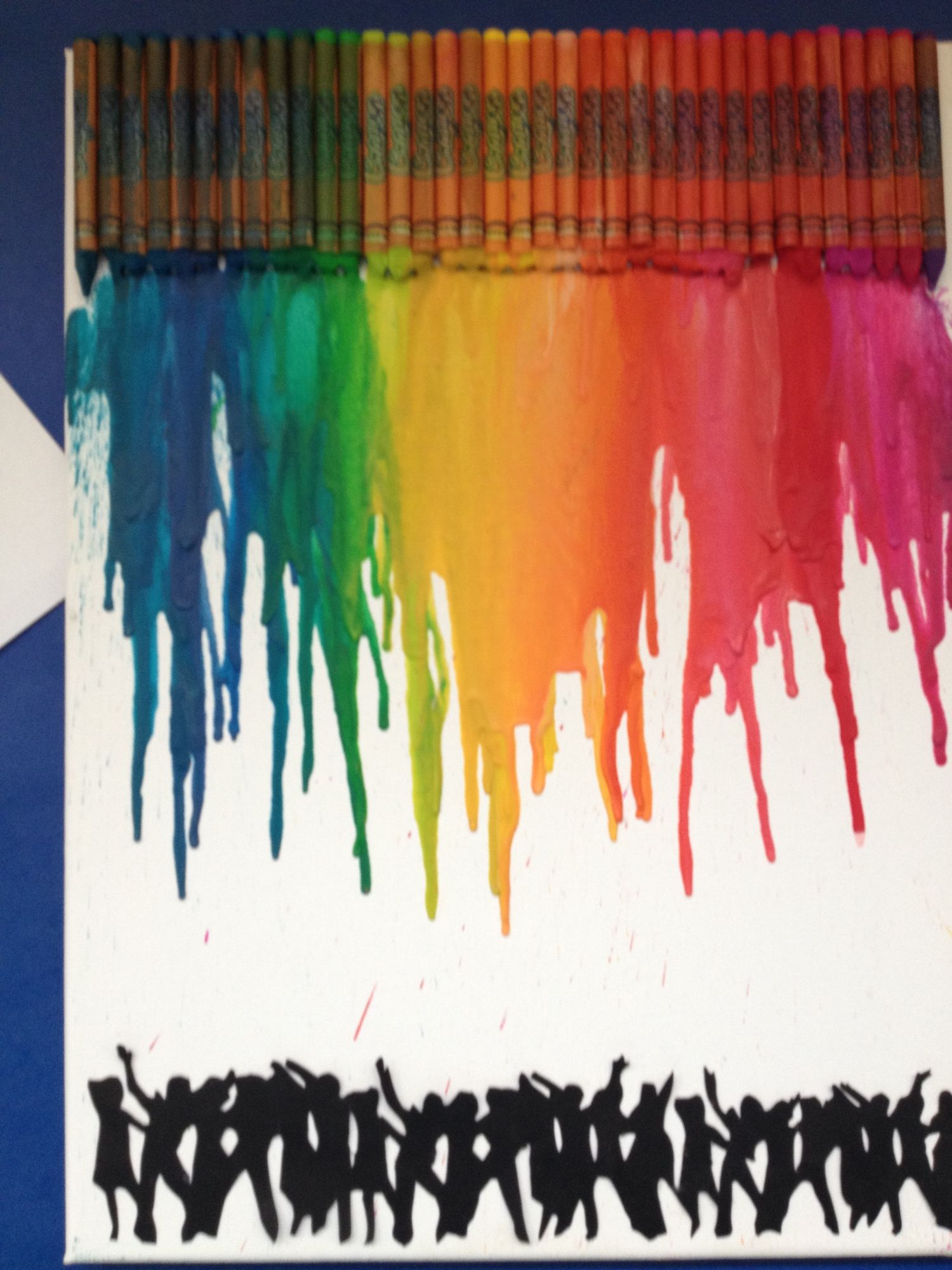 In science we experimented with crayons and their colours and discovered that the darker pigmented colours melted before the lighter ones! We even made a beautiful picture from the experiment! In Art we incorporated the theme by drawing with fabric and fibre to illustrate our personal physical differences in our own self-portraits.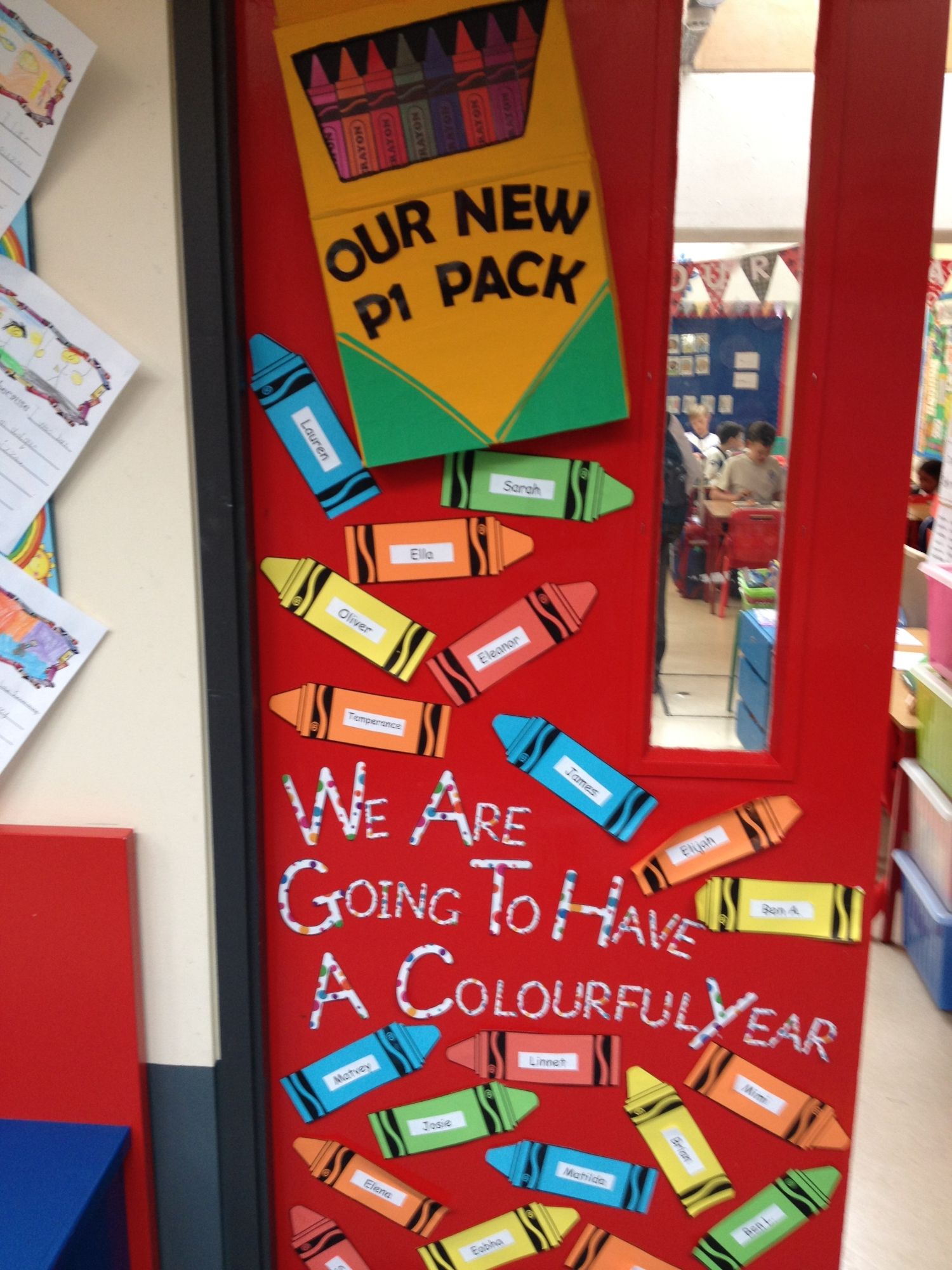 A Colourful Start to P1!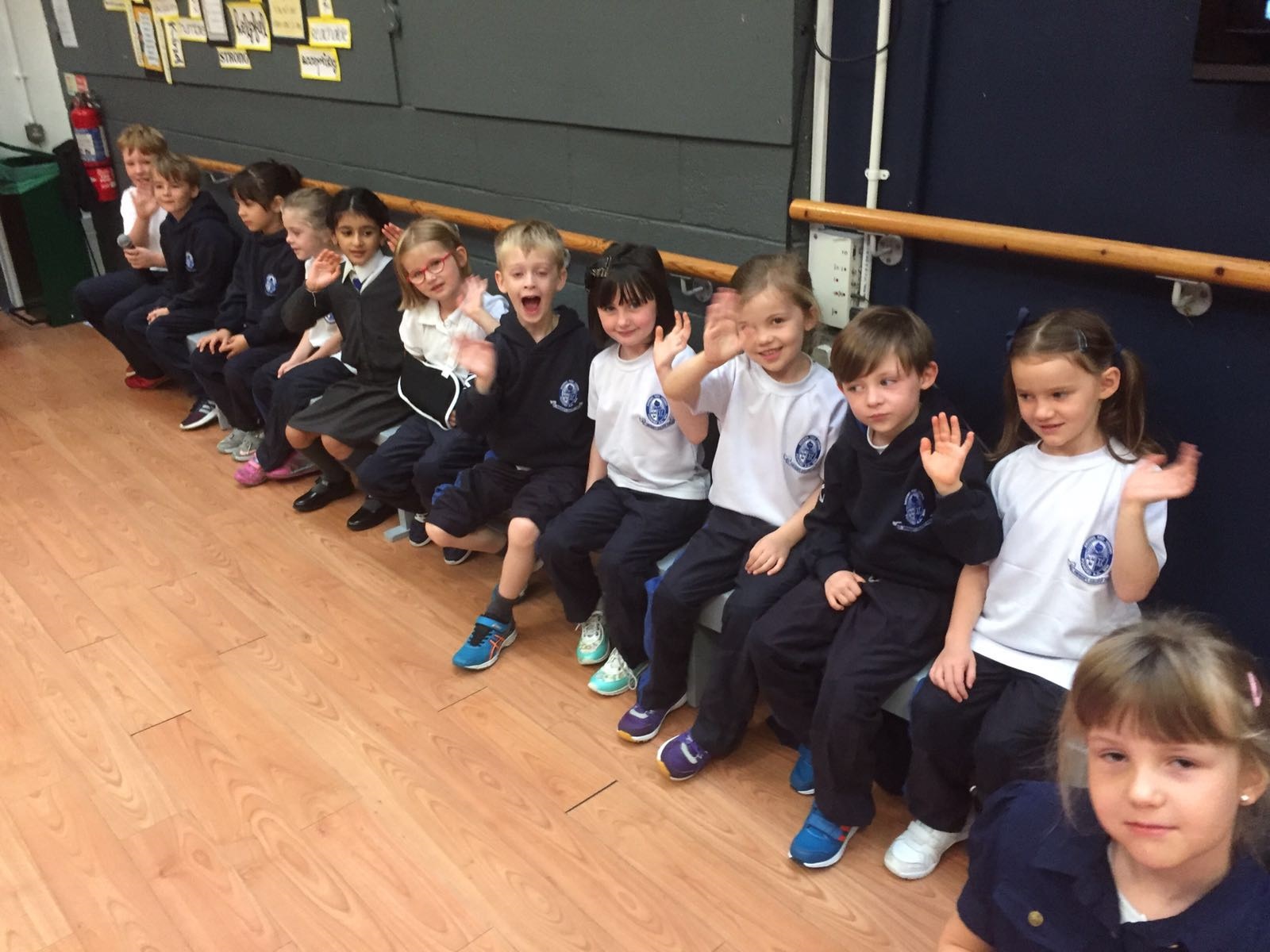 P1 opened this year's weekly assemblies with a great performance of the story The Crayon Box That Talked by Shane Derolf. We have been learning all about being unique and different, but still being a valued member of a group.
We are a box of crayons,
Each one of us unique.
But when we get together
The picture is complete.