Information
The School Day
The school day begins with registration from 8.50am - 9.00am in the students' form room. On one day a week the year group has an Assembly in the main hall taken by the Year Head or the Deputy Principal responsible for that year group.
Classes begin at 9.00am. There are four periods in the morning, lasting 40 minutes each.
Small break is from 11.30 until 11.50am
Students then have two classes and break for lunch at 1.10pm. On Wednesdays students are free to go home / go to sports training / matches at this time.
Afternoon school commences at 1.50pm and the academic day ends at 3.50pm.
From 3.50pm onwards sports training / extra-curricular activities take place in prearranged locations.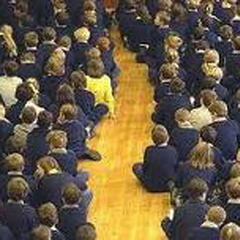 Assembly Days
Monday - 3rd year
Tuesday - 2nd year. TY Assembly is held during lectures
Wednesday - 5th year
Thursday - 1st year
Friday - 6th year